---
Album info
Album including Album cover Booklet (PDF)
1

Rapid Eye Movements

03:42

2

Trigger

05:48

3

Pristine Dawn

04:57

4

Evolution

05:26

5

Slomo

03:47

6

Song yet Untitled

04:25

7

Untold Stories

04:41

8

Multitasking

02:23

9

So Far

04:42

10

Piercing Love

04:02

11

Sphere

04:02

Total Runtime

47:55
Info for Evolution

Who doesn't long for clarity, calm, peace these days... We all know by now that there are no simple answers for the complex problems of our time, BUT: there are simple melodies that appeal to our sensuality, to our humanity, that open spaces through their simplicity. Stories that lie like a warm blanket over the mental overload in our brain. And so music gives us strength that lingers.
Andreas Schaerer and Kalle Kalima have reinvented themselves for their new project 'Evolution'. Normally contemporary jazz and electronic music belong to their playgrounds. Quite a top musical sport, if you pursue it as seriously as the two of them: They have been on stage together for ten years, among others with the quartet "A Novel Of Anomaly". Especially for the vocal artist Schaerer, who gained attention through his creative beatboxing and his band "Hildegard Lernt Fliegen", perfect body control and ingenuity that can be called up on command were normal everyday life on stage.
And now: "Four Chords and the Truth"? No. But maybe "twisted jazzcore ballads", because they are indeed ballads written by Andreas Schaerer, Kalle Kalima and Essi Kalima. It's about self-optimization, as in "Multitasking", about obsessions, as in "Piercing Love", about science fiction dreams and of course about love and loss. What's interesting about it is the in-between world in which the songs are set, as if Henry David Thoreau were wandering around in one of James Cameron's fantasy forests.
Musically, the two dare to do a lot. Until now, Schaerer has mainly painted with lutes, but now he wants to lend weight to content with his voice. And Kalima now heads for depth of feeling instead of dizzying technical flights of fancy. For this project, both take a short leave from perfection and from the fast lane and turn their innermost outward. - Think outside the (Beat)Box!
"Maybe you know this: We are sitting in a very exciting concert and are completely sucked in. The concert has been running for about forty minutes and is, yes, complex. We marvel without being overwhelmed and are sucked in, especially because of the unfamiliarity, partly also the intelligence of the sounds. It is multilayered, profound. We could wander deeper and deeper into it with our ears.
And then suddenly: this totally simple melody, a song structure, quite clear in comparison. Suddenly the light goes on, we the world wide and the seriousness, with which is told, arises from the reduction. It arises from the "nothing to prove", from the sudden absence of obvious complexity. And it arises because our ear is already so open that it hits us with full force.
The new album by Andreas Schaerer, Kalle Kalima and Tim Levebvre is that moment. Anyone who has ever accidentally stumbled into a concert space in Europe knows the three of them. Of course, the album is not a complete reboot: we hear Lefebvre playing on David Bowie's album "Blackstar"; we hear the last "Hildegard Lernt Fliegen" album in Schaerer's melodic lead; we hear Kalle Kalima's love of the blues. And yet, somehow, everything is quite different.
Andreas Schaerer, vocals, beatboxing
Kalle Kalima, guitar
Tim Lefebvre, bass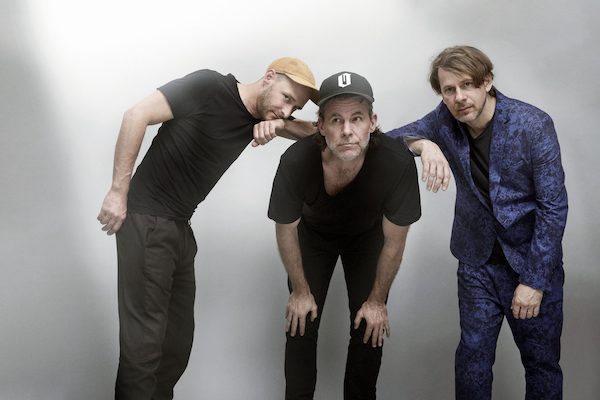 Andreas Schaerer
was born in Switzerland in 1976. He spent his childhood in the Valais region of the Alps mingling with the sheep, later moving to Bern and the picturesque region of the Emmental. He left to complete the acclaimed teacher-training course at Hofwil.
Schaerer's musical career began when he was young, using early tape decks to produce compositions such as, 'Duo for Sewing Machine and Harmonica', before gaining his first stage experience as a teenage guitarist for the renowned punk band of the time, Hector Lives.
In 2000, after two extended trips to South and Central America, Schaerer attended the University of Arts in Bern. For six years he studied singing with Sandy Patton and Denise Bregnard, improvisation with Andy Scherrer and composition with Klaus König, Christian Henking and Frank Sikora.
After graduating he began performing professionally and founded the Bern Jazz Workshop (Jazzwerkstatt Bern) in 2007 with Marc Stucki and Benedikt Reising. This ongoing collective acts as a communication point and promotes artistic exchange.
As a vocalist Schaerer explores a wide range of techniques including raw sprechgesang (an expressionist style between singing and speaking), sound imitation, beat-boxing and scatting right through to operatic coloratura. Today he performs with his own projects: the sextet, Hildegard Learns to Fly (Hildegard Lernt Fliegen) and duos with bassist Bänz Oester, and drummer, Lucas Niggli. He's part of the quartett "Out Of Land" with Emile Parisien, Vincent Peirani and Michael Wollny and works with the band "A Novel Of Anomaly" together with Kalle Kalima, Luciano Biondini and Lucas Niggli.
Schaerer also collaborates with the classical saxophone quartet ARTE and is in a trio with the Viennese musicians Martin Eberle and Peter Rom, as well as playing with The Beet. In 2015 his first symphonic piece "the Big Wig" was premiered at the LUCERNE FESTIVAL.
Schaerer is a sought-after studio musician and composer, working in diverse genres from jazz and freestyle music through to hip-hop and soundtracks. His concerts and tours take him across Europe, Russia, China, Japan, Egypt, Libanon, Southcorea, Mexico, Canada, Argentine and South Africa.
In 2008, Hildegard Learns to Fly won the prestigious Jazz ZKB prize and became one of the priority jazz acts for the Swiss Arts Council, Pro Helvetia. In 2014 they won the BMW World-Jazz Award aswell as the BMW-audience prize. In 2015 Andreas Schaerer was awarded the title of International Vocalist of the Year at the 2015 ECHO Jazz Awards (in the year immediately following Gregory Porter). In 2016 he receives the Music-price of the district of Berne. 2018 he's awarded with two ECHO Jazz Awards as "Ensemble International" of the year aswell as "Large Ensemble"
In 2009/10 Schaerer was invited by Bobby McFerrin to contribute to the improvised, wordless opera, 'Bobble'. As well as performing with Bobby McFerrin, Schaerer has performed with Soweto Kinch, Bänz Oester, Luciano Biondini, Lucas Niggli, Kalle Kalima, Emile Parisien, Vincent Peirani, Michael Wollny, Anton Goudsmit, Barry Guy, Mars Williams, Peter Rom, Martin Eberle, Lucerne Festival Academy, Christy Doran's New Bag, The Ploctones, Kaspar Ewald's Exorbitantes Kabinett, Colin Vallon, Elina Duni amongst others.
Since 2010 Schaerer has taught vocal jazz, improvisation and ensemble-playing as part of a lectureship at the University of Arts in Bern.
Kalle Kalima
(b. 1973 in Helsinki, Finland) has worked with trompeters Tomasz Stanko and Leo Wadada Smith, sax players Juhani Aaltonen, Anthony Braxton, bass players Greg Cohen and Sirone, guitarist Marc Ducret, composers Michael Wertmüller and Simon Stockhausen, pianists Jason Moran and Hans Lüdemann, drummers Jim Black and Tony Allen and singers Andreas Schaerer, Linda Sharrock as well as with Ensemble Resonanz and Jazzanova Djs.
2000-2019 have been busy years for Kalima, touring mostly in Europe but also in Africa, Asia and Americas. Kalima´s latest album "Flying like Eagles" with Knut Reiersrud on guitar, Jim Black on drums and Phil Donkin on bass was released in August 2019 and the record release concert was in the Philharmony of Berlin. Kalima´s Trio "Long Winding Road" with bass player Greg Cohen (Tom Waits, Ornette Coleman) and Max Andrzejewski was touring in 2016 with the "High Noon" album (ACT). The group Klima Kalima with Oliver Steidle and Oliver Potratz won "Neuer Deutscher Jazzpreis" in 2008 and has released four albums. Kalima is also leading K-18, a Finnish group with quarter-tone accordion that won Jazz-Emma in Finland in 2013. With his solo program "Pentasonic" he plays guitar through electronics into 5 amps surrounding the audience. He is a member of the group "Kuu" with Christian Lillinger, Jelena Kuljic and Frank Möbus which claimed positive resonance with their second album "Lampedusa Lullaby". He has a trio "Tenors of Kalma" with Jimi Tenor, Finnish underground pop star. Their first album "Electric Willow" was released in early 2015 and brought Kalima "Echo –Jazz" Prize nomination in 2016. Kalima is member of "A Novel of Anomaly", group of Swiss virtuoso singer Andreas Schaerer. Kalima is a professor of jazz guitar at the university of Lucerne since 2017.

Booklet for Evolution