---
Album info
Album including Album cover Booklet (PDF)
I`m sorry!
Dear HIGHRESAUDIO Visitor,
due to territorial constraints and also different releases dates in each country you currently can`t purchase this album. We are updating our release dates twice a week. So, please feel free to check from time-to-time, if the album is available for your country.
We suggest, that you bookmark the album and use our Short List function.
Thank you for your understanding and patience.
Yours sincerely, HIGHRESAUDIO
Sergei Prokofiev (1891-1953): 12 Movements From Romeo And Juliet, Op. 64:

1

1. Juliet's Death (Transcription For 2 Pianos By Sergei Babayan)

01:42

2

2. Montagues And Capulets (Transcription For 2 Pianos By Sergei Babayan)

03:39

3

3. Morning Dance (Transcription For 2 Pianos By Sergei Babayan)

01:40

4

4. Quarrel (Transcription For 2 Pianos By Sergei Babayan)

01:28

5

5. Gavotte (Transcription For 2 Pianos By Sergei Babayan)

03:38

6

6. The Young Juliet - The Nurse And Romeo (Transcription For 2 Pianos By Sergei Babayan)

00:48

7

7. Folk Dance (Transcription For 2 Pianos By Sergei Babayan)

03:58

8

8. Dance With Mandolines (Transcription For 2 Pianos By Sergei Babayan)

02:12

9

9. Aubade (Transcription For 2 Pianos By Sergei Babayan)

02:18

10

10. Dance Of Five Couples (Transcription For 2 Pianos By Sergei Babayan)

01:45

11

11. Romeo And Juliet Before Departure (Transcription For 2 Pianos By Sergei Babayan)

08:06

12

12. Death Of Tybalt (Transcription For 2 Pianos By Sergei Babayan)

04:14

Incidental Music To Hamlet, Op. 77:

13

The Ghost Of Hamlet's Father (Transcription For 2 Pianos By Sergei Babayan)

05:37

Incidental Music To Eugene Onegin, Op. 71:

14

Mazurka (Transcription For 2 Pianos By Sergei Babayan)

01:26

15

Polka (Transcription For 2 Pianos By Sergei Babayan)

01:33

The Queen Of Spades, Op. 70:

16

Polonaise (Transcription For 2 Pianos By Sergei Babayan)

02:21

Pushkin Waltzes, Op. 120:

17

Waltz No.2 In C Sharp Minor (Transcription For 2 Pianos By Sergei Babayan)

02:57

War And Peace, Op. 91:

18

Natasha's And Andrei's Valse (Transcription For 2 Pianos By Sergei Babayan)

04:55

The Queen Of Spades, Op. 70:

19

Idée fixe (Transcription For 2 Pianos By Sergei Babayan)

05:55

Total Runtime

01:00:12
Info for Prokofiev For Two

Pianists Martha Argerich and Sergei Babayan have recorded two selections from Prokofiev's music for stage and screen in magnificent two-piano transcriptions by Babayan. Prokofiev for Two, set for release worldwide March 23 via Deutsche Grammophon/Universal Music Canada, the country's leading music company, captures for posterity the sense of mutual inspiration felt by these kindred spirits, palpable in their live performances together. The upcoming album features Babayan's twelve-movement transcription of numbers from the ballet Romeo and Juliet and his seven-movement suite transcribed from Prokofiev's incidental music for Hamlet and Eugene Onegin, film score for The Queen of Spades and opera War and Peace.
Martha Argerich and Sergei Babayan first met in Brussels in 1991 when, on a whim, he looked her up in the phonebook and, to his own surprise, found her name and telephone number listed. His call from a phone box in the city started a strong friendship that led to numerous joint appearances in Europe and America. After one performance of Rachmaninov's "Suite No.2" and other works for two pianos, Babayan told Argerich of his dream to transcribe pieces from Romeo and Juliet for their next duo date. "She was very inspired by the idea," he recalls. "It was the greatest pleasure – and an honour – to create something that we would play together." Babayan's take on Prokofiev, coupled with a suite of rarities from the composer's stage and film music, can be heard in Prokofiev for Two.
The freshly transcribed Prokofiev score received its premiere performance as part of the Martha Argerich Project at the 2013 Lugano Festival. Argerich and Babayan have since performed this work together with the revised Romeo and Juliet suite several times, most recently in concert at Stuttgart's Liederhalle last November.
Martha Argerich is already renowned for her interpretations of Prokofiev's music. The Argentine-born artist, hailed as one of the greatest pianists of all time, included the composer's turbulent "Toccata" in her Deutsche Grammophon recital debut album, recorded in 1960. She reinforced her international reputation seven years later with a landmark recording for the yellow label of Prokofiev's "Third Piano Concerto" with the Berliner Philharmoniker and Claudio Abbado. "I have loved Prokofiev ever since I can recall," notes Argerich. "And people think he loves me too sometimes! I love the way Sergei [Babayan] plays Prokofiev and many other things. The first solo recital of his I heard was Bach's Goldberg Variations and I was incredibly impressed by it. I very much liked his proposal that we should play his transcription of Romeo and Juliet and feel very honoured that he dedicated it to me."
Babayan's love for Prokofiev, like Argerich's, is deeply rooted, dating back to his childhood in Armenia and student days at the Moscow Conservatoire. Having left the USSR for the first time in 1989, he settled in the U.S. Time and again, Babayan has paid tribute to Prokofiev, playing several of his piano concertos with Valery Gergiev including at the 2015 BBC Proms in a monumental concert with the London Symphony Orchestra featuring all five of the works.
His new Prokofiev transcriptions are both dedicated to Martha Argerich. "This project happened because of my love for Prokofiev, my love for Martha and my love for the ballet Romeo and Juliet," reflects Babayan. The idea of transcribing Romeo and Juliet first arose decades ago while he was studying Prokofiev's colourful instrumentation in close detail with an orchestra. Already aware of Argerich's playing, he was further inspired after hearing a pirate recording of her 1981 Carnegie Hall performance of the "Ten Pieces Op.75" from Romeo and Juliet. "I listened and was immediately drawn to learn the cycle. But I felt that Prokofiev used chamber-like numbers for his selection of music for his transcription for solo piano. If you first became acquainted with the ballet through this piano score, you would never guess or understand the whole tragic, violent, and dark nature of the original work. Of course, the ballet contains lyrical, romantic music; music filled with humour and dance movement. But it also contains music for the "Death of Tybalt" – music of love and hate."
Believing it would be impossible for music of such powerful emotion to be conveyed by two hands, and aware of Prokofiev's own fondness for transcription, Babayan felt driven to exploit the full expressive force and tonal richness of two pianos. His created version contains what Martha Argerich, with a wry laugh, calls "difficult and demanding" technical and musical challenges. Both musicians, however, agree that transcription is "an act of love" and Babayan's experience with Romeo and Juliet soon led him to explore some of the composer's lesser-known works and create the second suite on this album. As he points out, this music will be new to most listeners. For example, only fragments of the film score for The Queen of Spades have ever been performed or recorded. He underlines its imaginative and innovative qualities, adding, "I'm sure if Prokofiev had lived longer he would have used the material for The Queen of Spades for a new movie, symphony, quartet or maybe even a piano duo. This music stayed on the shelf and it was my luck to hear it."
Prokofiev for Two is driven by the passion and power of an ideal keyboard partnership. Martha Argerich considers playing in duo with Babayan to be "a thing of alchemy – a discovery". For his part, Babayan says the experience of performing with Argerich is like joining a conversation with a divine being, one in which "you cannot be mundane or ordinary … Martha will somehow pull out the best from you."
Martha Argerich, piano
Sergei Babayan, piano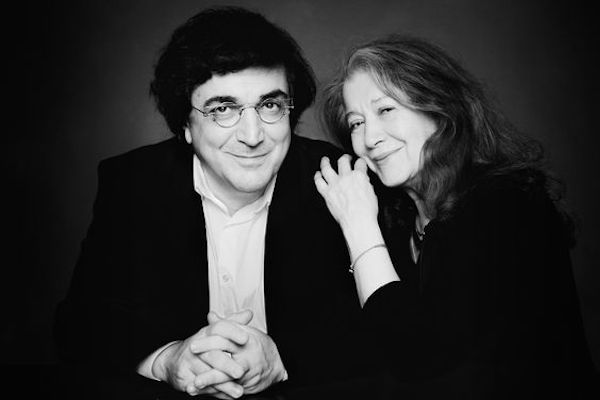 Martha Argerich
was born in Buenos Aires. From the age of five, she took piano lessons with Vicenzo Scaramuzza. In 1955 she went to Europe with her family, and received tuition from Friedrich Gulda in Vienna; her teachers also included Nikita Magaloff and Stefan Askenase. Following her first prizes in the piano competitions in Bolzano and Geneva in 1957, she embarked on an intensive programme of concerts. Her victory in the Chopin Competition in Warsaw in 1965 was a decisive step on her path to worldwide recognition.
Martha Argerich rose to fame with her interpretations of the virtuoso piano literature of the 19th and 20th centuries. But she does not regard herself as a specialist in "virtuoso" works - her repertoire ranges from Bach through Beethoven, Schumann, Liszt, Debussy and Ravel, to Bartók.
Martha Argerich has worked as a concert pianist with many famous conductors. She has also attached great importance to chamber music ever since, at the age of 17, she accompanied the violinist Joseph Szigeti - two generations older than herself. She has toured Europe, America and Japan with Gidon Kremer and Mischa Maisky and has also recorded much of the repertory for four hands and for two pianos with the pianists Nelson Freire, Stephen Bishop-Kovacevich, Nicolas Economou and Alexandre Rabinovitch. Martha Argerich has performed at Gidon Kremer's festival in Lockenhaus, at the Munich Piano Summer, the Lucerne Festival and at the Salzburg Festival, where she gave, for instance, a recital with Mischa Maisky in 1993.
She appeared with Claudio Abbado and the Berlin Philharmonic at the 1992 New Year's Eve Concert with Strauss's Burleske and also at the Salzburg Festival at Easter 1993. May 1998 saw the long-awaited musical "summit meeting" between Martha Argerich, Mischa Maisky and Gidon Kremer. On the occasion of a memorial concert for the impresario Reinhard Paulsen, the three artists came together in Japan, where they performed piano trios by Shostakovich and Tchaikovsky (recorded live by DEUTSCHE GRAMMOPHON). In March 2000 Martha Argerich gave her first great solo appearance in almost 20 years in New York's Carnegie Hall.
Martha Argerich has close ties with DEUTSCHE GRAMMOPHON, dating back to 1967. She has recorded prolifically during this period: solo works by Bach, Brahms, Chopin, Liszt and Schumann; concerto recordings of works by Chopin, Liszt, Ravel and Prokofiev with Claudio Abbado, Beethoven with Giuseppe Sinopoli, and Stravinsky's Les Noces with Leonard Bernstein. Her recording of Shostakovich's First and Haydn's Eleventh Piano Concertos with the Württembergisches Kammerorchester Heilbronn conducted by Jörg Färber was crowned with the Tokyo RECORD ACADEMY AWARD in 1995 and that of Tchaikovsky's Piano Concerto No. 1 with Claudio Abbado and the Berlin Philharmonic Orchestra was awarded the CD COMPACT AWARD in 1997.
She has also dedicated herself to chamber music, and has recorded works by Schumann and Chopin with Mstislav Rostropovich, and cello sonatas by both Bach and Beethoven with Mischa Maisky. She has made numerous successful recordings with Gidon Kremer, such as violin sonatas by Schumann and works by Bartók, Janácek and Messiaen (PRIX CAECILIA 1991), and Mendelssohn's concerto for violin and piano with the Orpheus Chamber Orchestra. Their recording of Prokofiev sonatas and melodies received the 1992 Tokyo RECORD ACADEMY AWARD, the DIAPASON D'OR 1992 and the EDISON AWARD 1993. One of their most outstanding recording achievements was that of the complete Beethoven violin sonatas (Nos.1-3: RECORD ACADEMY AWARD 1985), which was concluded with the release of the Sonatas op. 47 "Kreutzer" and op. 96 in 1995. Among her more recent releases is the above-mentioned live recording of piano trios by Shostakovich and Tchaikovsky with Mischa Maisky and Gidon Kremer.
Martha Argerich takes a great supportive interest in young artists. In September 1999 the first International "Martha Argerich" Piano Competition took place in Buenos Aires - a competition which does not only carry her name but in which she is president of the jury. In November 1999 the second "Martha Argerich Music Festival" took place in southern Japan, with concerts and masterclasses being given not only by Martha Argerich but also by Mischa Maisky and Nelson Freire among others.
Sergei Babayan
He is one of the leading pianists of our time: Hailed for his emotional intensity, bold energy and remarkable levels of color, Sergei Babayan brings a deep understanding and insight to a stylistically diverse repertoire, which includes a performance history of 60 concerts. Le Figaro has praised his "unequaled touch, perfectly harmonious phrasing and breathtaking virtuosity." Le Devoir from Montreal put it simply: "Sergei Babayan is a genius. Period."
Sergei Babayan has collaborated with such conductors as Yuri Temirkanov, Neeme Järvi, Hans Graf, David Robertson, Tugan Sokhiev, and Dima Slobodeniouk, among others. Over the years, Babayan has performed with Valery Gergiev numerous times to great critical acclaim, including appearances at the International Festival "Stars of the White Nights", the Moscow Easter Festival, the Barbican Centre with Mo. Gergiev conducting the London Symphony Orchestra, in St. Petersburg's Mariinsky Theatre, the Great Hall of the Moscow Conservatory, Théâtre des Champs-Elyseés in Paris, at the Salzburg Festival, and at the Rotterdam Philharmonic-Gergiev Festival where Babayan was artist-in-residence.
In the 2017/18 season, Mr. Babayan's European schedule includes concert performances with the Orchestre de la Suisse Romande, the Cameristi del Teatro alla Scala, BBC Scottish Symphony Orchestra, the Mariinsky Orchestra, Szczecin and Belgrade Philharmonics and the Verbier Festival Orchestra, at Daniel Barenboim's spectacular new Pierre Boulez Hall in Berlin, at Philharmonie Essen, Stuttgart Liederhalle and Wigmore Hall. With Martha Argerich, with whom he has frequently collaborated for many years, he will also appear in a number of European cities. Sergei Babayan has been regularly invited to leading festivals in Verbier and Lugano, Klavier-Festival Ruhr, Edinburgh Festival and the 'Stars of the White Nights' Festival in St. Petersburg. Mr. Babayan performs with the world's foremost orchestras, including the London Symphony, Cleveland Orchestra, Orchestra of the Mariinsky Theatre, Warsaw Philharmonic, BBC Scottish Symphony Orchestra, Orchestre Nationale de Lille, Detroit Symphony Orchestra, Baltimore Symphony Orchestra and the New World Symphony.
His engagements and tours have brought him to preeminent international concert venues including Salle Gaveau in Paris, Wigmore Hall in London, Carnegie Hall in New York, the Warsaw Philharmony, Severance Hall in Cleveland, Mariinsky Theatre in St. Petersburg, Herkulessaal in Munich, Liederhalle in Stuttgart, Meistersingerhalle in Nuremberg, Konzerthaus Berlin, Brahms-Saal Karlsruhe, Beethovenhalle Bonn, Rudolfinum-Dvorak Hall in Prague, Victora Hall in Geneva and many others. Mr. Babayan's performances have been broadcast by Radio France, Polish Radio and Television, BBC-TV and BBC Radio 3, NHK Satellite Television and Medici TV.
Born in Armenia into a musical family, Babayan began his studies there with Georgy Saradjev and continued at the Moscow Conservatory with Mikhail Pletnev, Vera Gornostayeva and Lev Naumov. Following his first trip outside of the USSR in 1989, he won consecutive first prizes in several major international competitions including the Cleveland International Piano Competition, the Hamamatsu Piano Competition, and the Scottish International Piano Competition. An American citizen, he lives in New York City.

Booklet for Prokofiev For Two