---
Album info
Album including Album cover
I`m sorry!
Dear HIGHRESAUDIO Visitor,
due to territorial constraints and also different releases dates in each country you currently can`t purchase this album. We are updating our release dates twice a week. So, please feel free to check from time-to-time, if the album is available for your country.
We suggest, that you bookmark the album and use our Short List function.
Thank you for your understanding and patience.
Yours sincerely, HIGHRESAUDIO
1

Baba Drame

04:59

2

Hour Glass

02:58

3

Valentine

06:27

4

Levees

06:04

5

Winter Always Turns To Spring

05:10

6

Keep Your Eyes Open

06:05

7

A Flower Is A Lovesome Thing

07:23

8

Electricity

03:19

9

Wagon Wheels

04:14

10

Aunt Mary

03:19

11

What The World Needs Now Is Love

05:55

12

Where Do We Go?

03:09

13

We Shall Overcome

06:25

Total Runtime

01:05:27
Info for Valentine

Duke Ellington had made about 50 albums under his name before he got around to recording a trio album, Money Jungle, with bassist Charles Mingus and drummer Max Roach. It was 1962, and Ellington was 63, a revered titan of the music with so many masterpieces behind him that listeners could be excused for not expecting him to deliver yet another one — indeed, one that would come to be seen as an all-time classic of the jazz trio art.
Bill Frisell, over 60 himself now and recognized as a titan of contemporary music, had made almost exactly the same number of albums under his name before venturing into the studio with his longtime bandmates, bassist Thomas Morgan and drummer Rudy Royston, to make Valentine. It is not only a gem-cut specimen of the trio art, but a vivid demonstration of the capacity of masters like Frisell, in the manner of Ellington, to push themselves, their collaborators, and their audiences to unexpected heights through the ever-restless force of their creativity.
Valentine captures a road band of simpatico improvisers after more than two years of performances together in jazz clubs and concert halls across the United States and throughout Europe. The group wrapped up touring for the 2019 year with a two-week engagement on the same stage where pianist Bill Evans, bassist Scott LaFaro, and drummer Paul Motian had recorded a treasure of the trio format, Sunday at the Village Vanguard. Steeped in a repertoire they varied every night, gelled as a group dedicated to fluidity and spontaneity, Frisell, Morgan, and Royston documented their collective voice as a trio for the first time, recording in three days of sessions at Flora Recording and Playback in Portland, shortly after the Vanguard run.
"This album is all about Rudy and Thomas and the musical relationship I have with them," Frisell says. "We've played a lot for a number of years, but there was no evidence of it, so I really wanted to have a document of it, if only to show that it's real and not this magical thing that I've imagined in my fantasies."
Frisell, whose eternally boyish appearance and folksy way of talking belie a probing intellect, is attuned to the mysterious but scientifically grounded strength in the combination of three improvising musicians. The trio configuration is, after all, a musical permutation of the "power of three" central to every field from mythology and religion to mathematics and physics since Zeus, Poseidon, and Hades made up the triumvirate of Greek Gods. "There's the physical mathematics of a trio. There is so much strength in it — it can lean to one side, but it will still stay up," Frisell says. "The music is about everyone trusting each other to the point where everybody's in the state of mind where you don't know what's going to happen next, and you feel safe enough to try anything.
"It's like when you're dreaming and you're on the edge of a cliff, and you know on a certain level that it's a dream, so you can just jump off. With this music, we could do that. All three of us could take big chances, and we'd always be rescued. It's about the trust that makes risks possible."
The Bill Frisell Trio joins a rich legacy of three-member groups with varying instrumental configurations who have made important jazz recordings: the Nat Cole Trio of piano, guitar, and bass; the trios of piano, bass, and drums led by Hank Jones, Erroll Garner, Bill Evans, and many others; and, in more recent years, the Carla Bley Trio of piano, saxophone, and bass. It's a heritage all but defined by the tensions between tradition and individuality, continuity and change, that have always informed jazz and spark every performance by the Frisell Trio. In the view of Lee Townsend, who produced this album and the great majority of Frisell's albums over the past 30 years, "All three of these musicians have a deep sense of structure along with their exploratory approach to making music, so they can elaborate but never move too far away from what they need to do to serve the song. This trio is a sterling example of balancing that architectural sensibility with the spirit of spontaneity at the same time."
As with every triangle, the Bill Frisell Trio draws its strength from having three separate sides (the musicians, each with his own sensibility) connected by three vertices (the harmony, melodies, and tempi of the material). Frisell, as the leader and chief composer, established the framework of meticulous untidiness and open-eared generosity, playing with economical wisdom and unforced daring. Thomas Morgan plays in and around Frisell's guitar lines, supporting them and building from them in counterpoint that sounds both wholly organic and full of surprise. And Rudy Royston brings a third layer of feeling to the group while holding everything together.
"When Thomas is playing with me, it's like he's time-travelling. His presence in what's happening in the moment is so extreme that it's like he knows what I'm going to play before I play it. There's almost a physical sensation like he's caressing my hands when I'm playing my instrument. He becomes a part of me," Frisell says.
"Rudy is also amazingly present. The first time we played together, we did 'A Change Is Gonna Come,' and I looked over at him, and he was mouthing the words. That was the clincher for me! He doesn't just keep the time. He puts his whole being in the music."
In recording a road-tested group, Frisell and Townsend aimed to tap the communicative energy the trio developed on the road without allowing the music to sound pat or canned. The repertoire they chose for Valentine includes a good number of pieces the band had performed in various gigs: "Baba Drame," a hypnotic tune by the Malian singer and songwriter Boubacar Traore, who taught it to Frisell; "Winter Always Turns to Spring," a dreamy piece originally recorded on Frisell's Ghost Town album, inspired by a message on a vintage telegram a friend of his gave him when Frisell's father died; "Keep Your Eyes Open," a buoyant tune that first appeared in a more traditional setting on Frisell's Nashville album; "A Flower Is a Lovesome Thing," the Billy Strayhorn prayer to nature; "What the World Needs Now is Love," the Sixties-pop entreaty of compassion by Burt Bacharach and Hal David; and more.
To keep things fresh, they added tunes they had never played together before or maybe did just once and maybe didn't but can't remember: "Hour Glass," adapted from music Frisell wrote for a performance of Allen Ginsburg's "Kaddish" staged by Frisell's late friend Hal Willner; "Valentine," the title track, an affectionate wink to one of Frisell's jazz heroes, Thelonious Monk; "Levees," a spare piece of bluesy atmosphere written originally for a Bill Morrison film, The Great Flood; "Electricity," a playful tune intended for another Morrison film but cut and never before recorded; "Where Do We Go?," a Coplandesque Frisell composition deconstructed by trio, with Frisell on acoustic guitar; and others.
The album closes, as many sets by the trio have, with "We Shall Overcome," the anthem of the Civil Rights crusade that Frisell holds dear as a message of hope in all dark times. "I just keep hoping that we're going to get things together," Frisell says. "I've been playing the song for years, and I'm going to keep playing it till there is no need anymore. I can't help but hope that day will come."
Bill Frisell's career as a guitarist and composer has spanned more than 40 years and many celebrated recordings for labels including ECM, Nonesuch, and Okeh/Sony, and with the 2019 release of HARMONY, Frisell made his debut for Blue Note Records. Frisell's association with Blue Note stretches back nearly 3 decades to his appearance on John Scofield's 1992 album Grace Under Pressure — and has included invaluable contributions to Blue Note albums by Don Byron (Romance With The Unseen), Ron Carter (Orfeu), Norah Jones (Come Away With Me), Charles Lloyd & The Marvels (I Long To See You & Vanished Gardens featuring Lucinda Williams), and the collective project Floratone, which featured Frisell, drummer Matt Chamberlain, and producers Lee Townsend and Tucker Martine.
Bill Frisell, guitar
Thomas Morgan, bass
Rudy Royston, drums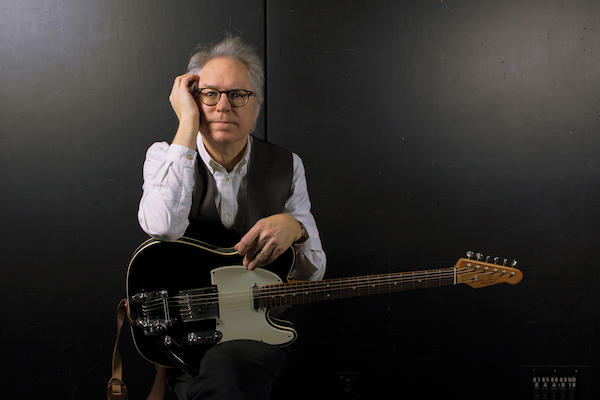 Bill Frisell
Frisell's career as a guitarist and composer has spanned more than 40 years and many celebrated recordings, whose catalog has been cited by Downbeat as "the best recorded output of the decade."
Released March of '18, Frisell's latest album for OKeh/Sony is a solo album titled, Music IS - "Taken as a whole, the album beautifully encapsulates Frisell's depth and range in all its meditative glory."- Chicago Reader. It was recorded in August, 2017 at Tucker Martine's Flora Recording and Playback studio in Portland, Oregon and produced by longtime collaborator Lee Townsend. All of the compositions on Music IS were written by Frisell, some of them brand new – Change in the Air, Thankful, What Do You Want, Miss You and Go Happy Lucky – others being solo adaptations of now classic original compositions he had previously recorded, such as Ron Carter, Pretty Stars, Monica Jane, and The Pioneers. In Line, and Rambler are from Frisell's first two ECM albums.
Frisell's previous project, the Grammy nominated When You Wish Upon a Star also with OKeh/Sony, germinated at Lincoln Center during his two-year appointment as guest curator for the Roots of Americana series (September '13 – May '15). It features Frisell with vocalist Petra Haden, Eyvind Kang (viola), Thomas Morgan (bass) and Rudy Royston (drums) performing Frisell's arrangements and interpretations of Music from Film and Television. Jazz Times described the project as follows: "unforgettable themes are the real draw here, reconfigured with ingenuity, wit and affection by Frisell and a terrific group."
"Frisell has had a lot of practice putting high concept into a humble package. Long hailed as one of the most distinctive and original improvising guitarists of our time, he has also earned a reputation for teasing out thematic connections with his music... There's a reason that Jazz at Lincoln Center had him program a series called Roots of Americana." - New York Times
Recognized as one of America's 21 most vital and productive performing artists, Frisell was named an inaugural Doris Duke Artist in 2012. He is also a recipient of grants from United States Artists, Meet the Composer among others. In 2016, he was a beneficiary of the first FreshGrass Composition commission to preserve and support innovative grassroots music. Upon San Francisco Jazz opening their doors in 2013, he served as one of their Resident Artistic Directors. Bill is also the subject of a new documentary film by director Emma Franz, entitled Bill Frisell: A Portrait, which examines his creative process in depth.

This album contains no booklet.