---
Album info
Album including Album cover
I`m sorry!
Dear HIGHRESAUDIO Visitor,
due to territorial constraints and also different releases dates in each country you currently can`t purchase this album. We are updating our release dates twice a week. So, please feel free to check from time-to-time, if the album is available for your country.
We suggest, that you bookmark the album and use our Short List function.
Thank you for your understanding and patience.
Yours sincerely, HIGHRESAUDIO
1

Cuz I Love You

02:59

2

Like A Girl

03:04

3

Juice

03:15

4

Soulmate

02:55

5

Jerome

03:51

6

Crybaby

02:55

7

Tempo (feat. Missy Elliott)

02:55

8

Exactly How I Feel (feat. Gucci Mane)

02:23

9

Better In Color

02:13

10

Heaven Help Me

03:22

11

Lingerie

03:21

Total Runtime

33:13
Info for Cuz I Love You

Lizzo has announced the release of her long awaited full-length debut album.
Lizzo kicked off what is sure to be an epic 2019 with the release of her acclaimed new single, "Juice," available now via all digital music retailers and streaming services. The track is joined by a new companion visual, streaming now at Lizzo's official YouTube channel HERE following its YouTube Live premiere earlier this month. In addition, that same day saw "Juice" played every hour on the hour on MTV Live and MTVU, along with two screenings on the Viacom Times Square billboard screens.
"Juice" has fast proven Lizzo's most popular track to date, with close to 3x as many first week streams as any of her previous releases. What's more, "Juice" was greeted with a range of worldwide radio play and unprecedented rave reviews, with Entertainment Weekly hailing the single as "the latest (and poppiest yet) from the infectiously poised 30-year-old artist, whose ascent in the hip-hop scene has been as rousing to watch as her live performances…Let 'Juice' be your introduction to an uplifting up-and-comer." "From the first moments, it's clear this will be a favorite and become the 'juice' that gets you through the year. Rolling out the track with an electric guitar reminiscent of Katy Perry's 'Teenage Dream,' Lizzo continues to release next-level bangers, making us all impatient as we wait for her next album." "Great news everybody," exclaimed British GQ. "We're just four days into January and we've got the best song of the year, and it just won't get topped." Rolling Stone agreed, declaring, "Four days into the new year, Lizzo released the first great song of 2019. The Minneapolis singer-rapper-flautist specializes in propulsive self-empowerment anthems — feel-good songs about feeling good about yourself — and 'Juice' may be her finest yet, a near-perfect retro-funk nugget that would have felt just right on a mirror-balled dance floor in 1982… If life were fair, ('Juice') would be as big as 'Uptown Funk.'"
2018 was yet another amazing year for Lizzo, as she was featured on several "Best Of" lists for her hit track "Boys," including Time's "10 Best Songs of 2018," Pitchfork's "100 Best Songs of 2018," and Paste's "50 Best Songs of 2018" and more. "Fitness" was also included in Paper Magazine's "Top 100 Songs of 2018." Highlighted also by a stellar live performance at Lollapalooza – Lizzo was named #1 on Time Out's "The Five Best Things We Saw At Lollapalooza on Friday" – as well as a remarkable show at New York City's MoMa PS1 Warm Up 2018 and multiple high profile appearances during New York Fashion Week. The year also saw a stunning range of media attention, spanning cover appearances on Galore and Teen Vogue's "Pass The Mic Music Issue" to feature interviews including Rolling Stone, the New York Times, V, Glamour, and Allure, which named Lizzo among its "Beauty Disruptors: 12 People Changing the Beauty Industry for the Better."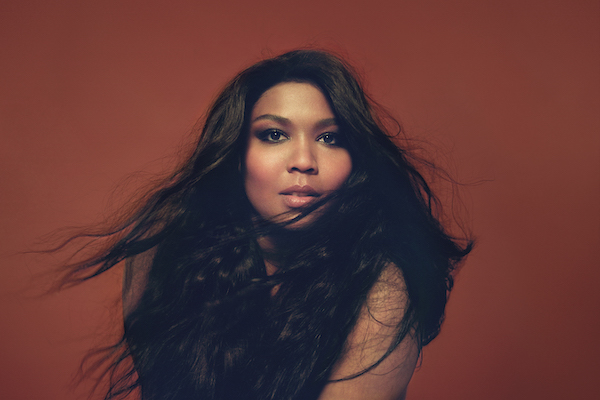 Lizzo
When you love yourself, anything becomes possible. Channeling boundless self-confidence through a downright earth-quaking voice, colorful persona, and undeniable star power, Lizzo struts into the spotlight and steps up with a whole lot of sass, spirit, and soul. Embracing her vocal range like never before and celebrating herself to the fullest, she speaks her mind, censors nothing, and delivers an enviable level of honesty, pure passion, and fresh fire. In doing so, she reaches the precipice of a personal and creative breakthrough in 2019 as evidenced by a string of new releases for Nice Life Recording Company and Atlantic Records.
"This is a way more confident Lizzo who believes in her confidence," she exclaims. "For the last three years, I've been working on myself and learning how to love who I am. There were moments that would've completely defeated me when I was younger. Instead, I was able to not just survive, but thrive. This is the person who I truly want to be. It's a self-filling prophecy ready for the world. I really found my voice. I love it. I love my body. I love talking shit, and it's what I'm doing," she laughs.
She's quietly worked towards these realizations since the release of her 2016 EP, Coconut Oil, which delivered such hits as "Good As Hell," "Phone," "Water Me," and "Truth Hurts." Building on enthusiastic critical acclaim and a rapidly growing fan base, 2018 represented a high watermark for the Detroit-born and Houston-raised songstress. A string of singles hit maximum velocity as "Boys" took the culture by storm. A definitive and inescapable anthem for 2018, it closed out the year on Time's "10 Best Songs of 2018," Pitchfork's "100 Best Songs of 2018," and Paste's "50 Best Songs of 2018." She covered both Teen Vogue's "Pass The Mic Music Issue" and Galore in addition to being profiled in Rolling Stone, the New York Times, V, and Glamour. Allure also proclaimed her among its, "Beauty Disruptors: 12 People Changing the Beauty Industry for the Better." Additionally, she brought down the house with rapturous performances at Lollapalooza and the MoMa PS1 Warm Up in New York City as well as maintaining an undeniable presence at New York Fashion Week.
However, Lizzo recognized a turning point the summer before everything popped off…
Paying homage to some of music's most influential women, she took the stage at NPR Music's "Turning the Tables Live" at Lincoln Center's Damrosch Park Bandshell. During the proceedings, she covered Aretha Franklin's "Respect" and Lauryn Hill's "Ex Factor." The show helped her put a longstanding fear to rest.
"I never really loved my voice," she admits. "Touring strengthened it, but it's like I was still afraid of it. When I was able to sing 'Ex Factor' and 'Respect' by these great vocalists whom I adore, I was really proud for the first time, not just as an artist or a performer, but as a singer. Those are big shoes to fill, and I was able to scream, do runs, belt, and go from soulful to beautiful tones. I left with some brand new shoes of my own though. I finally got my singer heels." With those heels on, she hit the studio in late 2018 to record her third full-length, Cause I Love You. For the first time, she enlisted the production talents of X Ambassadors' Sam Harris. Recording in a "haunted ass studio," the producer encouraged her to break out of her comfort zone. "He reached inside of me and brought out a vulnerability I didn't realize I had," she says. "He called out my lyrics by name and pulled them out of my life experiences."
Galvanized by those sessions, she also reteamed with an old friend Oak Felder [Rihanna, Alessia Cara, Kehlani] as well as longtime collaborator Ricky Reed [Meghan Trainor, Halsey]. She introduced this chapter with "Juice." Eighties-style synths slink hand-in-hand with a steady beat before climaxing on funky guitar and boisterous horns. She drops eyebrow-raising lines like, "No, I'm not a snack at all. Look, baby, I'm the whole damn meal" before the breakdown, "Somebody come get this man. I think he got lost in my DMs." Touting the hummable hook, "Blame it on my juice," she turns up with an empowering call-to-arms.
"I didn't really have a song talking the way I talked," she goes on. "This gave me the opportunity to talk the talk and celebrate my swag and all of the hard work I've done to get here. It's a timestamp of where I am in my life right now. I'm enjoying myself on 'Juice.'"
Whether it's the emotionally charged "Jerome" or dynamically delicate "Crybaby," she clings to an overarching message on Cause I Love You intimated by the title.
"I want people to know this process is all because I love them—and because I love me," she says. "It's a double-sided statement. You can say Cause I Love You to millions of people, or you can say it to yourself in the mirror. It's about what you go through when you're trying to love yourself in a world that makes it so hard. You can persevere and come out stronger on the other side though."
In the end, Lizzo's message of empowerment and love rings true because it comes straight from the heart.
"When you listen to this, I want you to know you're not alone," she leaves off. "I want you to hear my songs and feel a connection to me. I hope you can apply what I'm saying to your own life and maybe have a better day. Share this experience with me. Celebrate who you are. If I can change the world for the better one song at a time, I'm cool."

This album contains no booklet.