---
Album info
Album including Album cover Booklet (PDF)
Franz Schubert (1791 - 1828): Adagio for Piano Trio in E-Flat Major, D. 897:

1

Adagio for Piano Trio in E-Flat Major, D. 897

08:22

Ingeborg Bachmann (1926 - 1973):

2

Erklär' mir Liebe

02:48

Rainer Maria Rilke (1875 - 1926):

3

Die Liebenden

01:21

4

Liebes-Lied

01:00

Frederic Chopin (1810 - 1849): Piano Trio in G-Minor, Op. 8:

5

Piano Trio in G-Minor, Op. 8: I. Allegro con fuoco

10:25

Else Lasker-Schüler (1869 - 1945):

6

Fortissimo

01:17

Gottfried Benn (1886 - 1956):

7

Liebes-Lied

01:08

Else Lasker-Schüler:

8

Die Liebenden

00:52

9

Ouvertüre

01:14

Gottfried Benn:

10

Noch einmal

00:51

Frederic Chopin: Piano Trio in G-Minor, Op. 8:

11

Piano Trio in G-Minor, Op. 8: II. Scherzo. Vivace - Trio

06:38

12

Piano Trio in G-Minor, Op. 8: III. Adagio. Sostenuto

05:10

Gottfried Benn:

13

Auf deine Lider senk' ich Schlummer

00:54

Else Lasker-Schüler:

14

Mein Tanzlied

00:38

Gottfried Benn:

15

Rosen

00:45

Else Lasker-Schüler:

16

Als ich Tristan kennen lernte

00:42

17

An den Gralprinzen

00:27

18

An den Prinzen Tristan

00:40

19

An den Ritter aus Gold

00:56

20

An Tristan

00:37

21

Abschied

00:56

22

Madonna

00:49

23

Botte wo?

00:44

24

Was hat die Lieb mit der Saison zu tun

00:20

Frederic Chopin: Piano Trio in G-Minor, Op. 8:

25

Piano Trio in G-Minor, Op. 8: IV. Finale.Allegretto

05:47

William Shakespeare (1564 - 1616):

26

Sonett No. 23

01:12

27

Sonett No. 43

01:04

28

Sonett No. 56

01:03

Berthold Brecht (1898 - 1956):

29

Die Liebenden

01:57

Total Runtime

01:00:37
Info for … O sink hernieder, Nacht der Liebe

….o night of love, descend upon us
That motif from Wagner's Tristan and Isolde sets the musical and lyrical mood for the selection of pieces and poems in the Feininger Trio's programme, performed for the first time at the Baden-Baden Easter Festival.
Love and death: The goal in selecting the poems was to find a mood similar to Schubert's Notturno and Chopin's Piano Trio Op. 8: texts that could establish a lyrical dialogue with those pieces. How can we grasp the great subject of love and death? How can we associate language with music, but without relegating language to a subordinate role? How can a series of poems tell their own story while at the same time highlighting the expression conveyed by the music, which is still the precondition for this musical-poetical programme?
Start at the beginning: Following Schubert's Adagio (later renamed Notturno ), the theme of love is addressed in Ingeborg Bachmann's poem Erklär mir Liebe ("Explain love to me") and in Rilke's Liebes-Lied ("Love Song"), which features metaphors associated with string music. Allegro con fuoco is the tempo marking of the first movement in Chopin's Piano Trio, Op. 8. As if the poem had been listening to the music, it starts out with a "Fortissimo", the title of Elke Lasker-Schuler's poem Du spieltest ein ungestümes Lied ("You played me a wild song").... (Excerpt from the booklet notes by Brigitte Landes)
Katharina Thalbach, realisation
Feininger Trio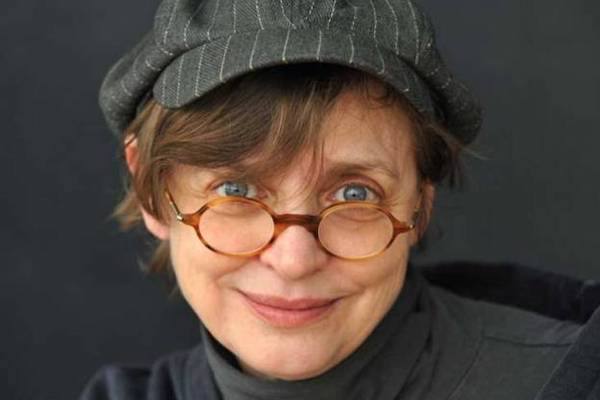 Katharina Thalbach
is a member of the German Film Academy, of the Hamburg Free Academy of the Arts, and of the Berlin Academy of the Arts. She has been awarded a number of outstanding German prizes including the Grimme Television Prize and the Berliner Zeitung Drama Critics' Prize; in 2015 she received the German Federal Cross of Merit, and in 2018 she was knighted Officier de l'Ordre des Arts et des Lettres in Paris.
The Feininger Trio
was founded in 2005 by pianist Adrian Oetiker and two members of the Berlin Philharmonic: Christoph Streuli (violin) and David Riniker (cello). They named their piano trio after painter, designer and Bauhaus co-founder Lyonel Feininger (1871-1956), whose former atelier in the Berlin district of Zehlendorf was located in the vicinity of the room where the trio now rehearses.
The Feininger Trio has performed in a variety of venues in Berlin, Hamburg, Salzburg, and Munich, and has participated in a number of recital series; they are also regularly invited to the Baden-Baden and Zurich festivals, and performed at the Prague Spring Festival for the first time in 2019.
The ensemble has started to focus its programmes, for example, devoting a series of recitals to music from Bohemia, as documented in their 2013 release on the CAvi-music label with works by Suk, Smetana and Dvorak.

Booklet for … O sink hernieder, Nacht der Liebe