---
Album info
Album including Album cover
1

Black Magic (2020)

03:14

2

Little Robots

03:31

3

Aurora Borealis

04:45

4

Infinito 1122

03:30

5

Attack Of The Massive

06:12

6

The Way Home

04:46

7

Whiplash

03:22

8

Hawkdance

04:05

9

Cutting Loose

03:28

10

Sea Of Tranquillity

05:13

Total Runtime

42:06
Info for A View from the Inside

Reb Beach is simply one of the Hard Rock Guitar Giants of the current era.
Influenced by the monster rockers of the 70's, Reb spent his teen years jamming along with recordings of Aerosmith, Sammy Hagar and Ronnie Montrose. But it was Steve Morse, then with the Dixie Dregs, that had the biggest influence on the young Reb. The complexity and the speed of the Dregs was a challenge compared to the blues-based playing of most musicians of that era. Reb not only loved the Dregs - they were a catalyst that drove his playing into the greatness now so well known to music fans the world over. He improved his skills at the Berkeley School of Music but after a couple of semesters he moved on and soon became one of the most sought-after session players in the music industry; working with such all-time great talents as Eric Clapton, Bob Dylan, Roger Daltrey, Chaka Kahn, Howard Jones, and Twisted Sister.
While living in NYC he hooked up with his future band mate - bassist and frontman Kip Winger. Reb and Kip formed the band Winger and the rest is history. The two proved to be great writing partners, producing platinum records that featured no less than six top-forty singles with music that was commercial yet complex. Guitar for the Practicing Musician voted him "Best New Guitarist." Guitar World Magazine voted him "Best New Talent" and asked him to write a column. He also designed a line of guitars for Ibanez and toured, teaching guitar clinics. He also produced an instructional video entitled "Cutting Loose" that sold very successfully.
After Winger went on a hiatus in the 90's his career continued in the spotlight thanks to collaborations with Alice Cooper, Dokken and Night Ranger and debuted as a solo artist in 2002 with the album "Masquerade".
Following the Winger reunion, Reb finally got the gig with a guy he'd been sending tapes to for many years - David Coverdale. The band? Whitesnake. Since 2003, Reb has toured the world with Whitesnake releasing with them masterpiece albums such as "Good to Be Bad," "Forevermore," "The Purple Album," and the recent "Flesh & Blood" plus a number of live albums.
Reb now releases his first instrumental album but be aware this is not a mere exercise of self indulgence but the culmination of over 30 years of study and work on the guitar. Fans of Morse and Satriani will find a lot to like in the 11 songs on offer here and while there is certainly a lot for the musicians, you will find so many melodies and moments where the songs take over regardless of the lack of vocals. Helping Reb on the album there is his Whitesnake bandmate Michele Luppi on piano among others.
Reb Beach, guitars, bass on (tracks 4, 9), keyboards on (tracks 4, 6, 11), strings on (track 10)
David Throckmorton, drums (except on track 6)
Robert Langley, drums on (track 6)
Michele Luppi, piano on (tracks 3, 10)
Phillip Bynoe, bass on (tracks 1, 2, 3, 8, 10, 11)
John Hall, bass on (tracks 5, 6, 7)
Paul Brown, keyboards on (tracks 1, 2, 5, 7)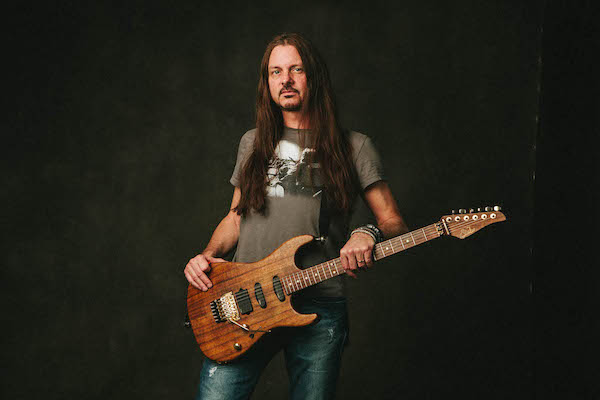 Reb Beach
The quick rise of guitar virtuoso Reb Beach (born: Richard Earl Beach), in the mid-'80s, was nothing short of sensational. Arriving in New York, after a couple of semesters at the Berklee College of Music, in Boston, he swiftly became one of the most-sought session players in the Big Apple, recording with such top-notch acts as Eric Clapton, Roger Daltry, Chaka Kahn, and Twisted Sister. Beach's talents were too obvious for him to remain a hired hand. Joining with ex-Alice Cooper bassist/singer Kip Winger, he formed a full-time band, Winger, in 1986. One of the hardest-hitting pop-metal bands of the late '80s, the group released two million-selling albums -- Winger, in 1988, and In the Heart of the Young, in 1990. Beach was voted Best New Talent by Guitar World magazine and Ibanez Guitars asked him to design a line of guitars.
Winger's success was short-lived and the group disbanded after their third album, Pull, failed to reach previous sales in 1993. Beach launched his own band, the Rob Beach Project. His plans to record a solo album were scrapped, however, after he accepted an invitation to join Alice Cooper's band. Beach remained with Cooper's group for three years, leaving to replace George Lynch as lead guitarist and co-writer for head-banging metal group, Dokken.

This album contains no booklet.