---
Album info
Album including Album cover Booklet (PDF)
Ludwig van Beethoven (1770 - 1827): Symphony No. 7 in A Major, Op. 92:

1

Symphony No. 7 in A Major, Op. 92: I. Poco sostenuto - Vivace

14:02

2

Symphony No. 7 in A Major, Op. 92: II. Allegretto

08:17

3

Symphony No. 7 in A Major, Op. 92: III. Presto - Assai meno presto

09:26

4

Symphony No. 7 in A Major, Op. 92: IV. Allegro con brio

09:01

The Creatures Of Prometheus, Op. 43:

5

The Creatures Of Prometheus, Op. 43: Overture. Adagio - Allegro molto e con brio

04:34

6

The Creatures Of Prometheus, Op. 43: Introduction "La Tempesta". Allegro non troppo

02:01

7

The Creatures Of Prometheus, Op. 43: 1. Poco adagio - Allegro con brio

02:58

8

The Creatures Of Prometheus, Op. 43: 2. Adagio - Allegro con brio

01:37

9

The Creatures Of Prometheus, Op. 43: 3. Allegro vivace

02:00

10

The Creatures Of Prometheus, Op. 43: 4. Maestoso - Andante

01:20

11

The Creatures Of Prometheus, Op. 43: 5. Adagio - Andante quasi allegretto

06:58

12

The Creatures Of Prometheus, Op. 43: 6. Un poco adagio - Allegretto

01:19

13

The Creatures Of Prometheus, Op. 43: 7. Grave

03:50

14

The Creatures Of Prometheus, Op. 43: 8. Marcia. Allegro con brio - Presto

06:38

15

The Creatures Of Prometheus, Op. 43: 9. Adagio - Allegro molto

03:32

16

The Creatures Of Prometheus, Op. 43: 10. Pastorale. Allegro

02:38

17

The Creatures Of Prometheus, Op. 43: 11. Coro di Gioja. Andante

00:20

18

The Creatures Of Prometheus, Op. 43: 12. Solo di Gioja. Maestoso - Adagio - Allegro

02:52

19

The Creatures Of Prometheus, Op. 43: 13. Terzettino - Grotteschi. Allegro - Comodo

04:04

20

The Creatures Of Prometheus, Op. 43: 14. Solo della Signora Cassentini. Andante - Adagio - Allegro - Allegretto

05:17

21

The Creatures Of Prometheus, Op. 43: 15. Coro e Solo di Viganò. Andantino - Adagio - Allegro

04:10

22

The Creatures Of Prometheus, Op. 43: 16. Finale. Allegretto - Allegro molto - Presto

06:11

Total Runtime

01:43:05
Info for Beethoven: Symphony No. 7 - Die Geschöpfe des Prometheus

A true 'apotheosis of the dance' in the words of Richard Wagner, Beethoven's Seventh has enjoyed perennial popularity ever since its premiere - unlike his sole ballet, The Creatures of Prometheus, of which only the overture has remained (more or less) familiar to us. To offer a new version of a key work in Beethoven's corpus while reviving the complete version of one of his most unjustly forgotten masterpieces: such is the challenge brilliantly taken up by the musicians of the Freiburger Barockorchester, under the direction of their Konzertmeister Gottfried von der Goltz.
Freiburger Barockorchester
Gottfried von der Goltz, conductor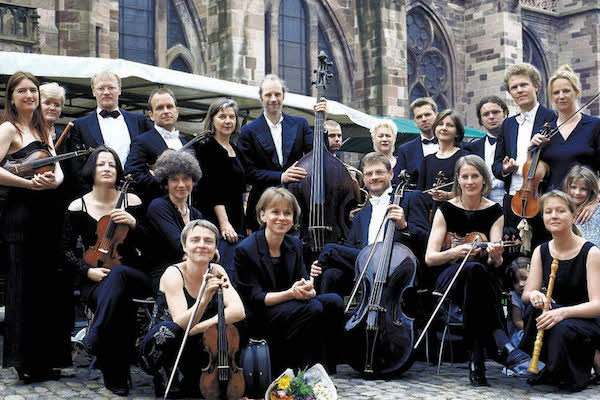 Das Freiburger Barockorchester
According to legend, it all began on New Year's Eve in 1985, when several students at the College of Music in Freiburg – excited about the upcoming new year and in full flush thanks to a few glasses of sparkling wine – decided to form an ensemble and play Baroque music on historical instruments.
After two years of rehearsals, with intensive research into sources and animated discussions on how on earth to play this or that phrase in Baroque style, they were ready: the musicians appeared for the first time under the name 'Freiburg Baroque Orchestra' in the Burgheim Church in Lahr on 8 November 1987. The program consisted of Baroque music from England (Purcell), France (Lully), Italy (Corelli), Austria (Muffat) and the Netherlands (Wassenaer).
Even after more than twenty years, the musicians of the Freiburg Baroque Orchestra still approach every single work or concert programme from this perspective. Though in the meantime its repertoire has enlarged impressively, ranging from the Baroque 17th century, through the Classic and Romantic periods, to current works. Yes, the 'Freiburgers' (as they are often referred to in the music scene) have also inspired experimental musical interest amongst contemporary composers to create works for their Baroque instruments. Indeed, very often with an explicit Baroque reference, for example during the Bach Week in Ansbach where the musicians baptised an 'Ansbachian Concert' by Manfred Trojahn in August 2009, whose instrumentation and operatic concert form referred to Johann Sebastian Bach's Fourth Brandenburg Concerto.
Another property inseparably connected with the FBO is that they mostly play without a conductor. As was usual in the 18th century, the Freiburg Baroque Orchestra is also led from the concertmaster's platform. Less historically, actually in an extremely modern manner, the Freiburgers fill this position with two Artistic Managers of equal status (a form of dual command), who alternately manage individual projects: Gottfried von der Goltz and Petra Müllejans. Conductors are, of course, invited for works involving a larger number of players. The most prominent guest, and particularly popular amongst the musicians, is René Jacobs, under whose leadership the FBO won the German Record Critics' Award in 2009 for their recording of Mozart's opera Idomeneo. Often, and this too is a special quality of the FBO, the ensemble's own musicians appear as soloists in concerts and on CD. And this brings us to the trade mark of the Freiburg Baroque Orchestra: major aspirations, enormous playing pleasure and a lively musical inquisitiveness. Whereby rediscovering unknown music is just as important as getting familiar music to speak in a new dialect. The Freiburg Baroque Orchestra has conquered the most famous concert halls on the international music scene with this artistic credo, where they can be heard with about 100 appearances per year. Often with some of the most famous interpreters of our time, such as Christian Gerhaher, Isabelle Faust, Philippe Jaroussky and René Jacobs. The orchestra's discography has meanwhile grown to over 60 CDs, of which many recordings have won prizes. That the Freiburg Baroque Orchestra has also played itself to the top of the traditional classical scene is demonstrated by the fact that it was the very first Baroque orchestra to be invited to open the Salzburg Festival, in 2009.
In addition to its own series of concerts in the Freiburg Concert Hall, the FBO has also found a musical home in Stuttgart's Liederhalle and Berlin's Philharmonie for over 15 years with a series of concerts that it organises itself.

Booklet for Beethoven: Symphony No. 7 - Die Geschöpfe des Prometheus