---
Album info
Album including Album cover
I`m sorry!
Dear HIGHRESAUDIO Visitor,
due to territorial constraints and also different releases dates in each country you currently can`t purchase this album. We are updating our release dates twice a week. So, please feel free to check from time-to-time, if the album is available for your country.
We suggest, that you bookmark the album and use our Short List function.
Thank you for your understanding and patience.
Yours sincerely, HIGHRESAUDIO
1

One World, One Prayer

03:16

2

Philosophy Of Life

02:44

3

When Love Is Right

03:44

4

Walk And Talk (Never Go Astray)

04:33

5

What A Shame

02:41

6

Destiny

03:16

7

Only In Jamaica

03:04

8

Love Will Find You

03:23

9

It's Alright, It's Alright

03:45

10

Can't Handle The Truth

04:33

11

Good Time

02:32

12

Can't Get I Out (Rastaman)

03:21

13

Stand Firm Inna Babylon

04:04

14

When Love Is Right (with Natiruts)

03:44

Total Runtime

48:40
Info for One World

The iconic and legendary band The Wailers just released their new song One World, One Prayer today, a powerful piece focused on unity, love and inclusion beyond cultural differences.
The track, which puts every music lover on the lookout, demands the union of "one world" through "a prayer" in the current global situation, in collaboration with the international titan Farruko, the Jamaican superstar Shaggy and continuing the legacy of Bob Marley alongside Cedella Marley and her son Skip Marley, who recently had chart topping hits with Katy Perry & H.E.R.
Produced & Written by 19x Grammy winner Emilio Estefan and recorded at Crescent Moon Studios in Miami, FL, One World, One Prayer mixes Jamaican reggae with the sounds of the urban Latin genre.
"When I wrote the song about 2 years ago, I wrote it thinking about how we, as human beings, have to love each other more, be kinder to each other and to nature," said Emilio Estefan, who also reaffirmed that we need a world with less separation of race, religion and politics.
"Who would have thought that we would be living this current situation and that the message of One World, One Prayer would resonate so strongly? We need to appreciate the simple things in life and especially the love that begins with our families and extends to our community and beyond ... because in the end we are all One World, One Heart!" added Estefan.
Bob Marley and the Wailers made history together between 1972 and 1981. It was Bob Marley himself who asked the Wailers to stay together. Aston Barrett Jr, son of Aston "Familyman" Barrett (bassist for Bob Marley & The Wailers), is the one in charge of keeping the flame of the band alive. And so he has! The Wailers have been touring the world far and wide, keeping an impressive agenda of over 150 shows a year.
"The music of the Wailers represents peace, love and unity. That is what I want to keep alive," said Barrett, and that is precisely the powerful message that starting today, can be heard on all digital platforms through One World, One Prayer, the exciting new single from the forthcoming album releasing august 2020, produced entirely by Emilio Estefan.
The Wailers
Wendel 'Junior Jazz' Ferraro, vocals
Owen 'Dreadie' Reid, vocals
Josh David Barrett, vocals
Skip Marley, vocals
Farruko, vocals
Shaggy, vocals
Cedella Marley, vocals
Andres Lopez, keyboards
Glen Dacosta, saxophone
Donald Kinsey, guitar
Aston Barrett Jr., drums
Aston Barrett, bass
Shema McGregor, backing vocals
Judy Mowatt, backing vocals
Freddie McGregor, backing vocals
Anne-Marie Thompson, backing vocals
Produced by Emilio Estefan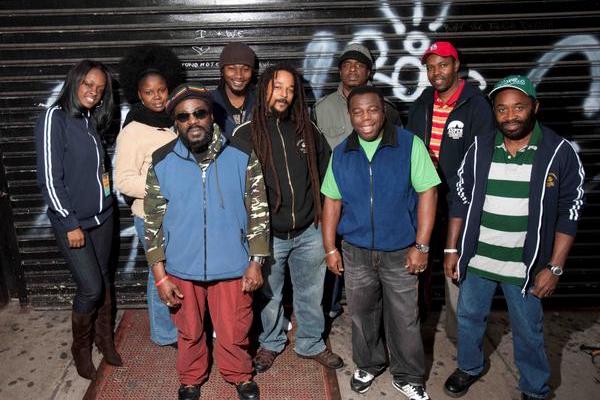 Wailers and Bob Marley
Together with Bob Marley, the Wailers have sold in excess of 250 million albums worldwide. In England alone, they've notched up over twenty chart hits, including seven Top 10 entries. Outside of their groundbreaking work with Marley, the Wailers have also played or performed with international acts like Sting, the Fugees, Stevie Wonder, Carlos Santana, and Alpha Blondy, as well as reggae legends such as Peter Tosh, Bunny Wailer, and Burning Spear. As the greatest living exponents of Jamaica's reggae tradition, the Wailers have completed innumerable other tours, playing to an estimated 24 million people across the globe. They have also been the first reggae band to tour new territories on many occasions, including Africa and the Far East. Their nucleus formed in 1969, when Bob Marley, Bunny Wailer, and Peter Tosh recruited the Barrett brothers – bassist Aston "Family Man" and drummer Carly – from Lee Perry's Upsetters to play on hits such as Lively Up Yourself, Trenchtown Rock, Duppy Conqueror, and many more besides. Inspired by Rastafari and their ambitions of reaching an international audience, this is the line-up that pioneered roots rock reggae, and signed to Island Records in 1971. Bunny and Peter left two years later. It was at this point that the in-demand Barrett brothers – whose rhythms also underpinned innumerable seventies' reggae hits by other acts – assumed the title of Wailers, and backed Marley on the group's international breakthrough album, Natty Dread. Under Family Man's musical leadership, they then partnered Bob Marley on the succession of hit singles and albums that made him a global icon, winner of several Lifetime Achievement awards, and Jamaica's best-loved musical superstar. Drummer Carlton "Carlie" Barrett died in 1987, leaving his brother as the main beneficiary of the Wailers' mantle. Subsequent line-ups have revolved around Family Man, who is widely regarded as one of the world's greatest bass players. Modest and unassuming, he was present on all of those unforgettable performances by Bob Marley & The Wailers from the seventies. He and lead singer Elan Atias form the main axis of the current Wailers – a group that's one of the last, great reggae institutions, yet which refuses to live off past glories. That's because whereas Family Man represents tried and trusted roots authenticity, Elan injects fresh excitement into a show that continues to attract enthusiastic audiences from around the world.
Wailers After Bob

Reggae music has never stopped evolving but for millions of people from around the world it's still defined by the songs of Bob Marley and the Wailers. It's been their heartbeat rhythms that have inspired so much of what's followed since, as evidenced by the enduring popularity of the "one-drop" reggae sound.
The history of the band during Marley's lifetime is well known. Just to recap, their music has sold in excess of 250 million albums worldwide. In England alone, they've notched up over twenty chart hits, including seven Top 10 entries. This was no accident. Apart from Marley, the Wailers have performed with international acts such as Sting, Stevie Wonder, Carlos Santana, as well as reggae legends Peter Tosh, Bunny Wailer and Burning Spear. Their most recent collaborators include Kenny Chesney, Eve, Jason Mraz and Colbie Caillat. They've also completed innumerable tours over the years, playing to an estimated 24 million people across the globe, including groundbreaking performances in Africa and the Far East.
The anchor of the band is Aston "Family Man" Barrett, who in addition to being Marley's most trusted lieutenant, played on countless other classic reggae hits throughout the seventies. The authenticity he brings to the Wailers' sound is indisputable and yet today's line-up combines old school know-how with lead vocals from one of Jamaica's most exciting new singers.
Koolant joined the Wailers soon after his cameo appearance in the film Made In Jamaica. A solo track, Rat Race, was getting regular airplay and things were looking up for this young Rasta artist from St. Thomas, who'd already performed at East Fest and several other major stage shows in Jamaica. His first recording was Keep The Faith produced by Morgan Heritage, who included it on their 2002 album Family & Friends Vol. 3. By then, he'd gained valuable experience from entering national song competitions and was writing his own material, inspired by reggae's golden era.
"As a youth coming up people always say, 'How come you don't listen to any new artists?'" he recalls. "They say I'm always listening to some Jacob Miller, Barrington Levy or Bob Marley. They were amazed I knew so many of those old songs but after I leave school I like to go amongst bigger people and so I just naturally gravitate towards vintage music. I like how it's the backbone of what's happening now too, because those old classics never die."
Like Marley, Koolant spent his formative years in the Jamaican countryside. He was raised between Bath and Wilmington, some thirty miles outside Kingston. After singing in school he was inspired by Bushman, who lived nearby. Local fame beckoned but it's Koolant's dynamic performances with the Wailers that have reaped most acclaim to date.
"It's been a wonderful experience, singing with the Wailers because so many of Bob Marley's songs are still relevant to what's happening right now. They are of the times," he continues. "Bob Marley was a prophet, and it's a honor to be part of that. I put my whole self into spreading that message, and it can only help my own development as an artist and as a songwriter."
As enthusiastic audiences have already discovered, Koolant brings his own personal expression to Marley's songs, revitalizing them for young and old alike. Yet there's a great deal more to the Wailers than reliving the past. Apart from featuring on a forthcoming Wailers' album studded with celebrity guest artists, Koolant sings lead vocals on the band's two latest tracks – one a future lovers' rock classic called Shining Star, and the other a heartfelt appeal – A Step For Mankind – made on behalf of the World Food Program, co-starring Duane Stephenson.
Both songs stand comparison with the band's finest work from the past. The Wailers have succeeded in turning a fresh page and led by their charismatic new singer, they're ready to make history once more.

This album contains no booklet.