---
Album info
Album including Album cover
Jean-Philippe Rameau (1683 - 1764): Anacréon:

1

Anacréon: Ritournelle

01:14

Anacréon, Scene 1:

2

Anacréon, Scene 1: Air accompagné "Mirthes fleuris, naissant feuillage"

02:26

Anacréon, Scene 2:

3

Anacréon, Scene 2: Récitatif "Vous nous cachez l'objet"

04:49

Anacréon, Scene 3:

4

Anacréon, Scene 3: Air accompagné "Tendre Amour!"

03:03

Anacréon, Scene 4:

5

Anacréon, Scene 4: Récitatif "Ciel, c'est Batile... Hélas!" – Ariette "Des Zéphyrs, que Flore rappelle" – Récitatif

03:42

6

Anacréon, Scene 4: Air accompagné "Mille fleurs parfument les airs" – Récitatif "Dieux ! Ces chants ne sont pas pour moi"

02:33

Anacréon, Scene 5:

7

Anacréon, Scene 5: Air accompagné avec chœur "Régnez"

00:46

8

Anacréon, Scene 5: Airs Vifs 1 & 2 pour les jeunes Théoniens et Théoniennes

02:47

9

Anacréon, Scene 5: Air accompagné "Des caprices du sort"

01:37

10

Anacréon, Scene 5: Air pour les jeunes

03:01

11

Anacréon, Scene 5: Récitatif "C'est lorsque vous chantez"

02:37

12

Anacréon, Scene 5: Ariette "Qu'Anacréon dans ce séjour"

01:13

Anacréon, Scene 6:

13

Anacréon, Scene 6: Air pour les Bacchantes

02:11

14

Anacréon, Scene 6: Gavottes 1 & 2 pour les Égipans et les Bacchantes

02:25

15

Anacréon, Scene 6: Ariette "Quand l'Amour enflamme nos cœurs"

02:23

16

Anacréon, Scene 6: Pantomime pour Silène et deux Bacchantes

01:46

17

Anacréon, Scene 6: Airs 1 & 2 pour Silène et deux Bacchantes

01:30

18

Anacréon, Scene 6: Ariette "L'Amour, riant et sans bandeau"

03:28

19

Anacréon, Scene 6: Tambourins 1 & 2

02:00

20

Anacréon, Scene 6: Trio "Chantons Bacchus"

01:00

21

Anacréon, Scene 6: Chœur "Chantons Bacchus"

01:34

22

Anacréon, Scene 6: Contredanse

02:11

Total Runtime

50:16
Info for Rameau: Anacréon (1754)

Rameau wrote two operas called Anacréon, both one-act actes-de-ballet but with completely different music and plots. The opera presented here is the first of the two, a setting of a libretto by Rameau's most frequent collaborator, Louis de Cahusac, Following its first performance at the beautiful chateau of Fontainebleau in 1754, Anacréon enjoyed some success in Paris after Rameau's death before becoming all but lost for over 200 years. From fragmented manuscripts scattered through Paris's libraries, Jonathan Williams reconstructed the work, had his edition published by Ba?renreiter, and now leads this world-premiere recording with a leading cast of soloists and the Orchestra of the Age of Enlightenment.
"4* – An important landmark." (The Observer)
"A valuable addition to the catalogue and Signum Records and especially Jonathan Williams, should be praised and thanked for bringing it to the attention of the listening public." (Music Web International)
"This is a fine disc, and an excellent introduction to the distinctive sounds of the French baroque." (North East Music Magazine)
"Bright-eyed energy and finesse." (Financial Times)
The Rameau Project: Founded and directed by Jonathan, The Rameau Project is a major multidisciplinary research project devoted to the operas of Jean-Philippe Rameau (1683-1764). The Project began in November 2012 when the Orchestra of the Age of Enlightenment and Jonathan gave the première of his Bärenreiter edition of Rameau's Anacréon (1754). From this auspicious start has grown a collaboration which has so far given rise to two conferences, the first UK studio recording of a Rameau opera since 1980, numerous radio broadcasts, dance workshops in the UK and Paris, and the performance with eighteenth-century choreography of three Rameau operas at London's South Bank, all with Jonathan and the OAE. Jonathan has subsequently run Rameau workshops for postgraduate HIP students at RAM and with gifted musicians on the OAE Experience Scheme. Most recently, Jonathan has conducted fully staged productions of Les fêtes d'Hébé at the Opéra de Bastille and the Royal College of Music and Dardanus with English Touring Opera.
Orchestra of the Age of Enlightenment
The Choir of the Enlightenment
Matthew Brook, baritone (Anacreon)
Anna Dennis, soprano (Chloe)
Agustin Prunell-Friend, tenor (Batile)
Jonathan Williams, conductor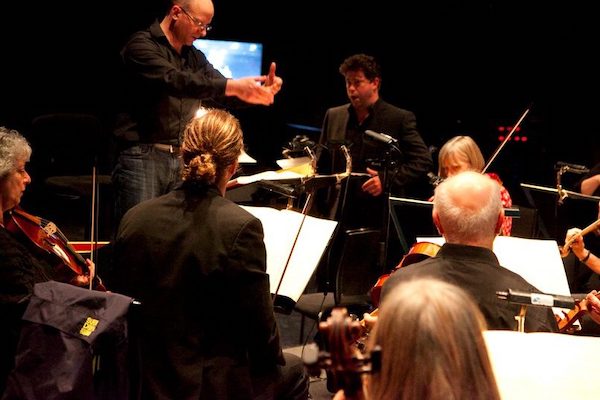 Jonathan Williams
enjoys working as a conductor, composer and musicologist. Equally at home performing live or in the studio, he has conducted such groups as the Orchestra of the Age of Enlightenment, English Chamber Orchestra, London Mozart Players, Royal Philharmonic Concert Orchestra and BBC Concert Orchestra. His work at Abbey Road studios can be heard on NOVELLO and BAFTA award-winning soundtracks with sales of over 70 million copies, including his award-winning choral music for Sony's blockbuster video game, Horizon Zero Dawn. A professor at GSMD from 1994 to 2004, Jonathan is now Tutor and Examiner of Orchestration at Oxford University, and the Director of College Music at St Hilda's College, Oxford, where conducts the college choir and organises over 30 concerts a year.
Jonathan's love of the operas of Jean-Philippe Rameau led him to undertake doctoral work at Oxford; his edition of Rameau's Anacréon (1754) was subsequently published by Bärenreiter and performed and recorded by Jonathan and the OAE. He subsequently founded the Rameau Project and was at the forefront of the UK celebrations during Rameau's anniversary year in 2014, performing three Rameau operas at the Queen Elizabeth Hall, again with the OAE.
Most recently, Jonathan has stood in for Sir Simon Rattle to rehearse Bruckner's Symphony no. 6 and assisted Sir Roger Norrington in a Beethoven programme. He conducted Beethoven's Missa Solemnis at the Cadogan Hall in London, a concert of Elgar, Fauré and Finzi with the English Chamber Orchestra, Rameau's Les fêtes d'Hébé in Paris and London, and Dardanus with English Touring Opera.
Future projects include co-editing a volume on Rameau's life and work, taking workshops at the Utrecht Early Music Festival and Royal Academy of Music, and performances of the St John Passion, and of Beethoven, Bruch and Schumann's 'Spring' symphony.
Orchestra of the Age of Enlightenment
Ok, it's a not very snappy name, so we tend to call ourselves the OAE. The OAE is probably one of the top 'period instrument' Orchestras in the world. What does this mean? Well, over the years instruments and techniques have changed. We try to be authentic, by using instruments and playing styles similar to those the composer would have been familiar with. You get to hear what Vivaldi actually wrote, not a modern version of it.
You might be wondering what difference this makes to the actual sound. Well, it tends to be a more edgy sound than polished modern orchestras. It's a gutsy and definitely a less 'polite' sound. Plus the OAE is well known for its sheer enthusiasm for music, which comes across at every performance.
Now more than 30 years old, the OAE has become one of the UK's top orchestras. We've released over 50 albums and have toured the world, from the USA to South East Asia, working with some of the biggest names in classical music. We've chosen not to have a permanent musical director, which gives us the flexibility to work with a range of soloists and conductors across a wide range of music.
We are a resident orchestra at London's Southbank Centre, and give around 12 concerts a year there, but that's only part of what we do. Our regular Sunday morning series Bach, the Universe & Everything combines cantatas with invigorating talks from leading scientists at Kings Place, while our Night Shift series takes our musicians from 400-year old pubs in Whitechapel to clubs in Peckham. We're an associate orchestra at Glyndebourne Festival Opera and regularly tour our programmes nationally and internationally. On top of that, our education department reaches around 20,000 participants per year around England.

This album contains no booklet.