---
Album info
Album including Album cover
I`m sorry!
Dear HIGHRESAUDIO Visitor,
due to territorial constraints and also different releases dates in each country you currently can`t purchase this album. We are updating our release dates twice a week. So, please feel free to check from time-to-time, if the album is available for your country.
We suggest, that you bookmark the album and use our Short List function.
Thank you for your understanding and patience.
Yours sincerely, HIGHRESAUDIO
1

Would You Be Mine

04:32

2

Wait

03:11

3

Always

02:39

4

Lost in the Woods

03:33

5

Deep Sea Diver

03:39

6

Life Forms

02:57

7

Invisible Storm

03:32

8

Everything All at Once

03:02

9

Tomorrow

03:11

10

Smoke and Mirrors

05:05

11

Don't Know Much

03:46

Total Runtime

39:07
Info for Invisible Storm

After seven studio albums and a million records sold worldwide, Turin Brakes might've been excused a bit of downtime, however... 2016 saw them return to national radio playlists with all 3 singles from the critically acclaimed album 'Lost Property,' coupled with 18 months touring across the UK, Europe and Australia, with a plethora of festival appearances in between. But along the way new songs just kept on bubbling through. The band (Olly Knights, Gale Paridjanian, Rob Allum and Eddie Myer) along with co/producer Ali Staton made a hasty return to the legendary Rockfield Studios in Wales (where Queen recorded Bohemian Rhapsody) to strike while the inspiration was buzzing... no downtime!
The music starts as it has since the beginning - with voices and guitars, and evolves outwards from there – the journey 'Invisible Storm' takes runs from the acoustic centre of the band's sound in tracks like 'Deep Sea Diver' and 'Don't Know Much' through to the indie-pop groove of 'Wait' and 'Life Forms' and far beyond into wide-screen space with 'Would You be Mine.'
Olly Knights: "The idea of an invisible storm came to me as a theme during the end of writing the album, I've always loved the quote "everyone you meet is fighting their own war, so be kind." Invisible Storm (the album) is very much coming from that sentiment, that we are all at the mercy of our own internal weather systems despite outward appearances that may paint different pictures.
This album tries to trace a line between these tense internal struggles and what's happening outside of ourselves. Perhaps even suggesting a link between the invisible storms of our inner worlds and the outer tensions and social and political storms that seem to be sweeping the world these days."
"The ninth album from Turin Brakes, 2018's Invisible Storm, has a certain feel of "If it ain't broke, don't fix it," and fans of the U.K. indie rock outfit's folk-inflected indie pop will be glad to know the band has delivered more of what they've been looking for. That said, Invisible Storm is a more upbeat set than 2016's Lost Property; the tempos are a bit faster, the melodies are more enthusiastic, and the previous LP's lovelorn mood has given way to a sunnier perspective, dwelling less on romance gone stale and more on making sense of the present. Turin Brakes haven't entirely gone all smiles and sunshine on us, as the blues-infused "Deep Sea Diver" and melodramatic title track demonstrate, but the energy and high spirits of "Would You Be Mine" and "Wait" and the emotional warmth of "Lost in the Wood" tip the scales in favor of a cautious optimism. And Turin Brakes are in fine form on Invisible Storm; Olly Knights' vocals are expert and emotive without excess showboating, Gale Paridjanian's guitar work is intelligent and evocative whether he's picking electric or acoustic, bassist Rob Allum and drummer Eddie Myer help give the backings strength and personality, and Ali Staton's production and mix lend just the right amount of sheen to the finished product. Invisible Storm doesn't move Turin Brakes very far forward stylistically, but it doesn't sound rote either, and given that they've been together for close to two decades, the album finds them delivering music that feels fresh and inspired; this is what Turin Brakes do, and Invisible Storm shows they continue to do it quite well." (Mark Deming, AMG)
Turin Brakes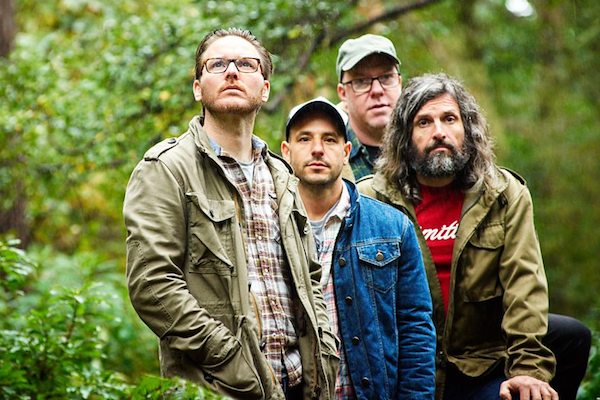 Turin Brakes
After an impressive 17 years together, seven studio albums and over a million records sold worldwide, they might be excused a bit of downtime. But no…….the estimable London 4-piece Turin Brakes have announced their eighth studio album 'Invisible Storm' coming in January 2018 on Cooking Vinyl, followed by a major UK tour. 2016 saw them back lighting up the airwaves with national radio playlisting for three singles from critically acclaimed album 'Lost Property' coupled with a packed schedule of touring. Yet all along the way new material kept bubbling through. New songs kept popping up, in soundchecks. Light-bulb moments materialised in midnight sessions in hotel rooms or in any spare moments found.
The band – founder members and former primary school friends Olly Knights and Gale Paridjanian, along with longtime bandmates Rob Allum and Eddie Myer – quickly decided to catch that wave. Completed by producer Ali Staton they all returned to their favourite bolthole – Rockfield Studios in the Monmouth Valley, where they could absorb the vibes left hanging in the air by a long line of musical mavericks, sit down at the piano where Freddie recorded 'Bohemian Rhapsody' and let the music take shape, revealing the next stage in the journey.
Invisible Storm is big-picture music played on a small screen, refracted through lyrics that embrace the personal and the universal, without offering the comfort of easy answers. Formed in Balham South London, Turin Brakes released their Mercury Music Prize nominated debut album The Optimist in 2001 followed by Ether Song in 2003 which featured the top 5 hit single Pain Killer (Summer Rain). One of the finest indie bands of the last decade with 7 top 40 hits to their name Turin Brakes are a band that's weathered many Invisible Storms, that are sure of who they are and what they've set out to do, and know that there's always a story left to tell…

This album contains no booklet.