---
Album info
Album including Album cover
1

Laverne Walk (Live)

12:16

2

Candle Light (Live)

06:47

3

Golden Striker (Live)

07:46

4

Samba de Orfeu (Live)

07:20

5

Eddie's Theme (Live)

09:14

6

A Nice Song (Live)

07:26

7

My Funny Valentine (Live)

10:44

8

Cedar Tree (Bonus Track)

06:26

Total Runtime

01:07:59
Info for Golden Striker (Live at Theaterstübchen Kassel)

Ron Carter has just been appointed into the Hall of Fame by the American Don Beat Magazine. The trio is shown in front of a picturesque and historic scenery with his long term Trio members Mulgrew Miller (piano) & Russell Malone (guitar) in the best playing mood. The Gentleman und true King of the contrabass present here to his 70 Birthday a Masterpice of timeless beauty.
The release of a new album by the universally acclaimed master of the double bass, Ron Carter, is always a cause for celebration – and this new Golden Striker CD and DVD will be warmly welcomed by all discerning jazz lovers. In a foreword to Dan Quellette's 2008 biography – Ron Carter – Finding The Right Notes – published b ArtistShare, Nat Hentoff wrote: "Not only is he an internationally acknowledged master bassist, composer and leader, but Ron Carter is also deeply rooted in the history of the music and, in my experience, an especially lucid educator who brings newcomers and long- time jazz a cionados inside the music – and the musicians whose life stories are the music."
Ronald Levin Carter, from Ferndale, Michigan, Mulgrew Miller, from Greenwood, Mississppi and Russell Malone, from Albany, Georgia, are all acknowledged virtuosi of their respective instruments and, on this album, they manifest a magical rapport.
Mulgrew Miller is a powerful and resourceful pianist who has played with a host of jazz greats, including Mercer Ellington, Betty Carter, Woody Shaw, Art Blakey, Johnny Grif n, Branford Marsalis, Terence Blanchard and Freddie Hubbard.
Russell Malone is a self-taught swing and bop guitarist who learned his technique from listening to recordings by Charlie Christian, George Benson and Wes Montgomery. He began working with organist Jimmy Smith in 1988 and subsequent musical associates have included Benny Green, Diana Krall, Harry Connick Jr., Hank Jones and Bobby Hutcherson.
Before the start of the San Sebastian concert, Ron Carter was presented with the Donostiako Jazzaldia Award. This award is presented annually by the festival to an "outstanding person in the eld of jazz."
The San Sebastian concert was a sell-out, attracting an audience of more than 2,000 people and rave reviews from the critics. And, as Mike Hennessey observes in the booklet note, it produced an album to treasure.
Golden Striker Trio:
Ron Carter, double bass Russell Malone, guitar Donald Vega, piano
Please Note: We offer this album in its native sampling rate of 48 kHz, 24-bit. The provided 96 kHz version was up-sampled and offers no audible value!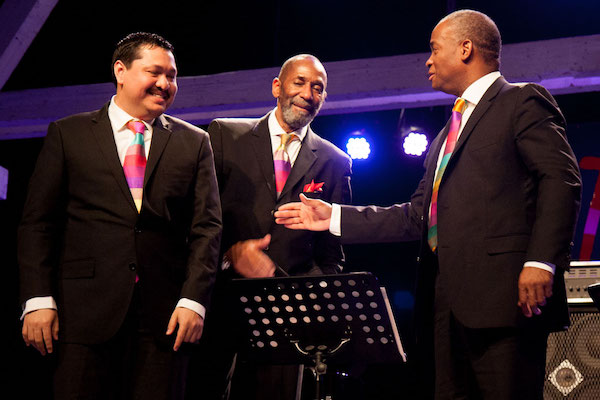 Ron Carter
is among the most original, prolific and influential bassists in Jazz. With more than 2,000 albums to his credit, he has recorded with many of music's greats: Tommy Flanagan, Gil Evans, Lena Horne, Bill Evans, B.B. King, the Kronos Quartet, Dexter Gordon, Wes Montgomery and Bobby Timmons. In the early 1960s he performed throughout the United States in concert halls and nightclubs with Jaki Byard and Eric Dolphy.
He later toured Europe with Cannonball Adderley. From 1963 to 1968, he was a member of the classic and acclaimed Miles Davis Quintet. He was named Outstanding Bassist of the Decade by the Detroit News and Jazz Bassist of the Year by Downbeat magazine.
Russell Malone
begna working with Jimmy Smith in 1988 and spent the 1990's in the touring band of both Harry Connick Jnr and Diana Krall. Russell fronts his own Quartet and has played alongside Dianne Reeves, Bobby Hutcherson, Dr. Lonnie Smith, Hank Jones & Sonny Rollins.
Donald Vega
was born in Nicaragua and joined the Golden Striker Trio in 2013.

This album contains no booklet.