---
Good Apollo I'm Burning Star IV Volume One: From Fear Through The Eyes Of Madness (Remastered) Coheed and Cambria
Album info
Album including Album cover
I`m sorry!
Dear HIGHRESAUDIO Visitor,
due to territorial constraints and also different releases dates in each country you currently can`t purchase this album. We are updating our release dates twice a week. So, please feel free to check from time-to-time, if the album is available for your country.
We suggest, that you bookmark the album and use our Short List function.
Thank you for your understanding and patience.
Yours sincerely, HIGHRESAUDIO
1

Keeping The Blade (Album Version)

02:09

2

Always & Never (Explicit Album Version)

02:24

3

Welcome Home

06:17

4

Ten Speed (Of God's Blood & Burial)

03:47

5

Crossing The Frame (Album Version)

03:27

6

Apollo I : The Writing Writer (Explicit Album Version)

05:15

7

Once Upon Your Dead Body (Explicit Album Version)

03:19

8

Wake Up

03:36

9

The Suffering

03:44

10

The Lying Lies & Dirty Secrets of Miss Erica Court (Album Version)

03:17

11

Mother May I (Album Version)

04:32

12

The Willing Well I: Fuel for the Feeding End (Album Version)

07:17

13

The Willing Well II: From Fear Through the Eyes of Madness

07:28

14

The Willing Well III: Apollo II: The Telling Truth (Explicit Album Version)

07:19

15

The Willing Well IV: The Final Cut

07:40

Total Runtime

01:11:31
Info for Good Apollo I'm Burning Star IV Volume One: From Fear Through The Eyes Of Madness (Remastered)

Released in 2005, the breakthrough third studio album by progressive rockers Coheed and Cambria continued the band's ambitious four-album "Armory Wars" sci-fi storyline and featured the mainstream rock hit "Welcome Home." Now, Good Apollo, I'm Burning Star IV, Volume One: From Fear Through the Eyes of Madness is remastered from the original sources and releases on HighResAudio for the first.
The album is Coheed and Cambria's greatest success to date, selling over a million copies worldwide. It has also received mostly positive reviews with a Metacritic score of 73%. The album made its way to #7 on the Billboard 200, selling over 500,000 copies, according to Nielsen Soundscan. The album was ranked number 69 in the October 2006 issue of Guitar World magazine's list of the greatest 100 guitar albums of all time.
This album is also Coheed and Cambria's first album to have a Parental Advisory sticker. The edited version is known for being heavily censored, including cutting out words such as "crush", "die", "hell", and "kill".
Claudio Sanchez, lead and backing vocals, rhythm guitar
Travis Stever, lead guitar, lap steel guitar, backing vocals
Michael Todd, bass, backing vocals
Josh Eppard, drums, keyboards, percussion, backing vocals
Additional musicians:
Danny Louis, keyboards (tracks 5–10 & 15)
Kara Bullock & Nick Gardner, ukulele
Chester Brockwell, didgeridoo
Daniel Sadownick, percussion (tracks 6 & 8)
Sarah Kathryn Jacobs, backing vocals (tracks 9 & 15)
Janiris Sanchez (Claudio Sanchez's niece), child's voice (tracks 2 & 15)
Kurtis Jungersen, sound effects
Recorded February – May 2005 Applehead Recording, Woodstock, New York
Produced by Michael Birnbaum & Chris Bittner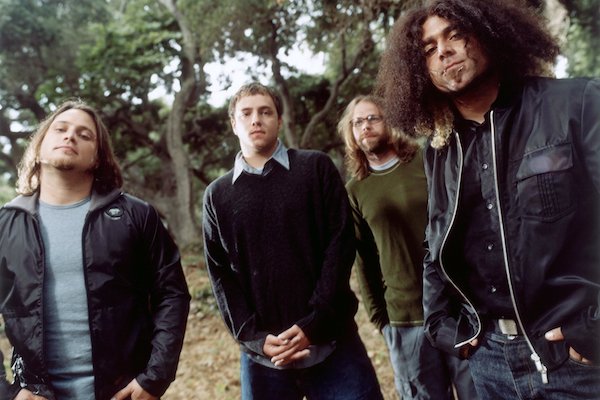 Coheed and Cambria
Driven by the gutsy lead vocals and savvy songwriting of John Cusimano, The Cringe has been bringing their blend of politicized power pop and big-belt-buckle blare to fans across the country since 2004. The band's first two albums, Scratch the Surface and Tipping Point, tipped the neo-grunge scales towards the polished blast-pop of the Foo Fighters and The Vines, but within those melodic contours lurked the ragged heart of first-generation indie bands from the Minutemen to The Replacements.
That artful, aggressive dynamic has been pushed to the hilt on The Cringe's new third full-length album, Play Thing, which kicks The Cringe up several gears in creativity, cojones and killer instinct. Play Thing showcases some of the band's heaviest, headiest moments to date, including the prog-infused "Poison," the art-thrash excursion "Where It Hurts," and the album's first single, "No Control," with its whiff of Soundgarden psychedelia and early Pumpkins snarl.
Containing some of Cusimano's most mature songcraft to date—the cautionary tale "Give and Take" is a case in point—the album is the result of a painstaking writing process and a rigorous recording ethic, a creative collision of analog purists and digital renegades, both committed to creating the strongest possible album. Recorded with longtime engineer Steve Hardy (Vertical Horizon, The Upwelling), and with input from legendary producer Steve Lillywhite (U2, XTC), Play Thing was anything but kid stuff in the studio.
"You wouldn't know it from the title," laughs Cusimano, "but, as fun as it could be, making Play Thing was definitely not always a playful process. We didn't let anything go until we were all 100% behind it, and that required a lot of extra sweat and tears. But we truly believe that the end result makes it all completely worth the effort."
The New York City band—whose members include lead guitarist James Rotondi (ex-Air, Mr. Bungle), bassist Jonny Blaze (ex-Crash Moderns) and drummer Shawn Pelton (Saturday Night Live Band, Bruce Springsteen)—have been lauded both for their incendiary performances and top-flight musicianship: "Cusimano's infectious and insightful songwriting is the foundation for the band's dynamic mix of artful, harmonic power pop and raw, aggressive punk garage-band energy," enthused All Music Guide's review of the band's 2007 sophomore release, Tipping Point.

This album contains no booklet.