---
Album info
Album including Album cover
1

Where is the Soul?

04:30

2

Emergency Extended Mix

03:58

3

Reaching

03:21

4

Pull Me In

03:38

5

Away From Me

04:04

Total Runtime

19:31
Info for Reaching

Music as soul, rhythm, and joy comes from taking one opera and jazz singing mother, adding legendary jazz influences, and laying down a base of solid spirituals as electrifying as a fiery summer revival. This is the flow of BenjaSoul. Musician, poet, and activist BenjaSoul draws inspiration from many wells, returning deep energy rhythmically and as a teacher of African American history. His sound is multi-intentional, methodically-layered, and designed to move bodies and minds. Originally performing as Benja, he started writing songs as BenjaSoul after the murder of Trayvon Martin in 2012; "Soul" to connect with all the potential lost to violence and injustice. "My songs are love letters to the modern civil rights movement."
When the beat drops, you'll hear the courage of Nina Simone; be energized by the playful mastery of Bobby McFerrin; nod at the genius of Duke Ellington, and bob at lyrical vibes like Will Smith and Talib Kweli rocked us with back in the day.
His first release, EMERGENCY, merges with life's sonic inspirations in an examination of pain, resilience, truth, and reclamation. The BenjaSoul essence: music that moves with you towards a new way for fans of Gregory Porter, Vinx, Sweet Honey in the Rock.
BenjaSoul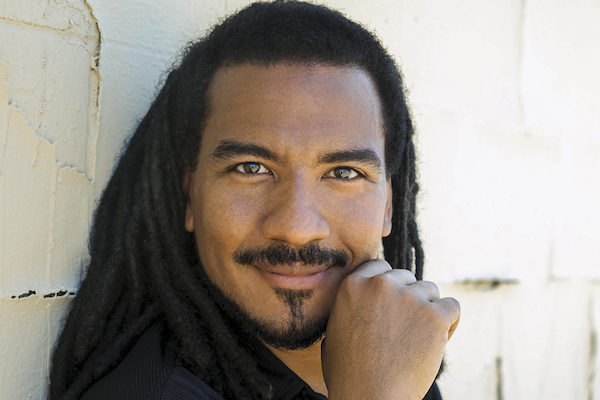 BenjaSoul
Music as soul, rhythm, and joy comes from taking one opera and jazz singing mother, adding legendary jazz influences, and laying down a base of solid spirituals as electrifying as a fiery summer revival.
This is the flow of BenjaSoul.
Musician, poet, and activist BenjaSoul draws inspiration from many wells, returning deep energy rhythmically and as a teacher of African American history. His sound is multi-intentional, methodically-layered, and designed to move bodies plus minds. Originally performing as Benja, he started writing songs as BenjaSoul after the murder of Trayvon Martin in 2012; "Soul" to connect with all the potential lost to violence and injustice. "My songs are love letters to the modern civil rights movement."
When the beat drops, you'll hear the courage of Nina Simone; be energized by the playful mastery of Bobby McFerrin; nod at the genius of Duke Ellington, and bob at lyrical vibes like Will Smith and Talib Kweli rocked us with back in the day.
His first release, EMERGENCY, in partnership with Love Conquered Records, merges with life's sonic inspirations in an examination of pain, resilience, truth, and reclamation. The BenjaSoul essence: music that moves with you towards a new way.

This album contains no booklet.