---
I`m sorry!
Dear HIGHRESAUDIO Visitor,
due to territorial constraints and also different releases dates in each country you currently can`t purchase this album. We are updating our release dates twice a week. So, please feel free to check from time-to-time, if the album is available for your country.
We suggest, that you bookmark the album and use our Short List function.
Thank you for your understanding and patience.
Yours sincerely, HIGHRESAUDIO
1

Winter Wonderland

02:22

2

Santa Claus is Coming to Town

02:21

3

Driving Home for Christmas

02:41

4

Merry Christmas, Darling

03:05

5

O Holy Night

03:04

6

River

02:57

7

Christmas Time Is Here

02:59

8

Last Christmas

02:48

9

All I Want for Christmas

03:02

10

Have Yourself a Merry Little Christmas

03:02

11

Hallelujah

03:00

12

I'll be Home for Christmas

02:32

13

The First Noel

03:29

14

Silent Night

02:46

15

White Christmas

03:09

16

Little Christmas Tree

03:05

17

The Christmas Song

02:24

Total Runtime

48:46
Info for My Favourite Christmas Songs

Die Weltklasse-Jazzsängerin Lyambiko hat ihre Lieblings-Weihnachtshits aufgenommen und mit Klavier, Gitarre, Cello und Kontrabass in farbenreichen Akustik-Pop im Stil von Sting oder Simon & Garfunkel verwandelt. Unter ihren Lieblings-Weihnachtssongs finden sich Klassiker wie "Driving Home for Christmas" (Chris Rea), "Last Christmas" (Wham!) und "White Christmas" (Bing Crosby), aber auch Mariah Careys Superhit "All I Want for Christmas" und eine Fassung von Ella Fitzgeralds Weihnachtshit "Have Yourself a Merry Little Christmas".
Ein besonderes Highlight ist Lyambikos hingebungsvolle Version von Joni Mitchells "River", bei der sie nur vom Klavier begleitet wird. Insgesamt 17 internationale Weihnachtssongs präsentiert Lyambiko auf "My Favourite Christmas Songs". Jedem Song verleiht sie mit ihrer mal samtweichen, dann wieder hocheleganten Stimme einen besonderen Ausdruck: "Sie besitzt die Dramatik einer Billie Holiday, die Erotik einer Julie London und die Schärfe einer Nina Simone" urteilte der Boston Globe. Dass Lyambiko musikalisch eine Allrounderin ist, der die klassische Jazz-Ballade genauso liegt, wie so mancher Pop-Hit, hat sie auch schon in der Vergangenheit eindrucksvoll bewiesen. Nicht zuletzt wurde sie mit einem ECHO JAZZ in der Kategorie "Sängerin des Jahres" ausgezeichnet und gilt als die kommerziell erfolgreichste Jazzsängerin mit deutschen Wurzeln. Mit "My Favourite Christmas Songs", so Lyambiko, hat sie sich einen lang gehegten Traum erfüllt und ihren Fans ein Geschenk gemacht, an dem sie nicht nur zur Weihnachtszeit ihre Freude haben werden.
Lyambiko, Gesang
Svetoslav Karparov, Klavier
Robin Draganic, Bass
Anna Schulz, Violoncello
Thomas Brendgens-Mönkemeyer, Gitarre
Luca Sestak, Klavier, Gesang (on "Christmas Time is here")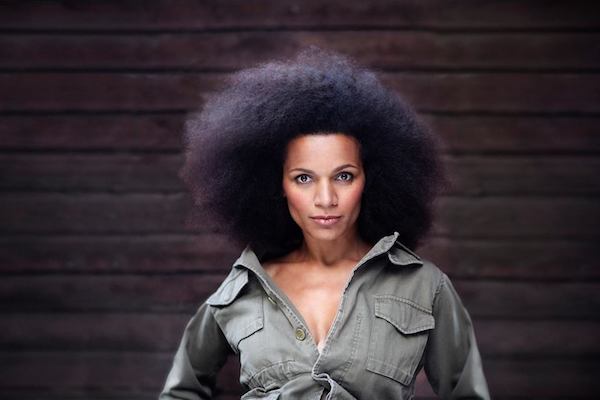 Lyambiko
The singer LYAMBIKO was born in the German state of Thuringia and grew up in a musically active family. Her grandfather was already a member of a jazz combo back in the 1930's, and her father sang in both a church choir and in jazz and world-music bands in his native Tanzania. As a child, LYAMBIKO took lessons on the saxophone and the clarinet and in classical singing, and played the tenor sax in her music school's big band. She was only 17 when she founded her first band as a singer (folk, pop and blues), and was the youngest entrant in a band contest where she won her first studio recording.
After a longer break from making music, LYAMBIKO moved to Berlin in 1999. As part of her preparations for the entrance exam for that city's College of Music she took singing and piano lessons, and rehearsed a small repertoire of jazz standards. Concerts in Berlin jazz clubs followed with different ensembles, and a regular spot in a guitar duo entitled "LYAMBIKO – Strange Fruit". Thanks to a recommendation from the singer Mark Murphy, LYAMBIKO had the chance to appear in the well-known club A-Trane in April 2000.
In April 2001 LYAMBIKO first gave her name to the successful quartet with which she then extended her concert activities to the rest of Germany, and later on to other European countries and to the USA. In 2003 the Boston Globe described LYAMBIKO as "the most promising vocalist jazz has seen in a long, long time". Two acclaimed CD's were released by Nagel/Heyer before the quartet signed with Sony BMG in 2005. These first two albums stayed in the top ten of the jazz charts for several weeks at a time, and after her move to the major label LYAMBIKO released her self-named CD, a "collection of beautiful jazz standards" and then with Love... and then "a sugar-free contemporary reflection on love" (Berliner Zeitung). Each of these two productions was awarded in Germany with the Jazz Award.
In February 2007 Sony BMG released LYAMBIKO's next album, Inner Sense, to which the singer contributed two songs from her own pen for the first time. Apart from two pop/rock covers, the album features solely original compositions, and was positively received by the press as a successful step towards musical independence: "LYAMBIKO exudes more charisma on 'Inner Sense' than ever before" (Jazzthing). In addition to her jazz projects, the singer with Tanzanian roots worked on a program of African music together with a youth choir for the first time in 2007.
February 2008 sees the release of her new CD Saffronia (Sony BMG). After five albums, LYAMBIKO now feels ready to bring out a tribute to Nina Simone, who inspired her in 2000 to embark on a career as a jazz singer.
After her tribute to Nina Simone, "Saffronia" (2008), which aroused the first substantial interest in the artist in France as well, Sony Music releases LYAMBIKO's new album "Something Like Reality" in June 2010.

Booklet for My Favourite Christmas Songs