---
Album info
Album including Album cover
I`m sorry!
Dear HIGHRESAUDIO Visitor,
due to territorial constraints and also different releases dates in each country you currently can`t purchase this album. We are updating our release dates twice a week. So, please feel free to check from time-to-time, if the album is available for your country.
We suggest, that you bookmark the album and use our Short List function.
Thank you for your understanding and patience.
Yours sincerely, HIGHRESAUDIO
1

Sunny Afternoon

03:09

2

Quicksilver Girl

03:09

3

Poor People / Justice

03:37

4

Murder In My Heart For The Judge

05:31

5

Bold Marauder

03:49

6

Itchycoo Park

03:28

7

Mrs. Brown You've Got A Lovely Daughter

02:13

8

Not So Sweet Martha Lorraine

05:17

9

If I Fell

02:40

10

Red Rubber Ball

03:38

11

Don't Let The Sun Catch You Crying

02:27

12

Hungry Freaks, Daddy

04:35

13

Wooden Ships

04:34

Total Runtime

48:07
Info for My Weekly Reader

Nellie McKay is a wonderful, complicated idiosyncrasy: a pop singer who isn't a fawned over superstar, a multi-instrumentalist in an era when singers can barely play "Chopsticks," and a historian of popular music who puts the song before her 'interpretation' of it. In short, she's extraordinarily talented and unique. Geoff Emerick, who engineered a number of The Beatles' albums, has been a key collaborator as her producer from her debut Get Away from Me (2004). She can also sing in any genre: Pop, Rock, Hip-Hop, Country, Jazz, Great American Songbook. She feels like the granddaughter heir apparent to Dinah Washington and Rosemary Clooney.
From the title My Weekly Reader, recalling the urban underground press' heyday, to the production that initially sounds like the move from mono to stereo, this sounds like the late '60s. However, she presents further nuance especially in Moby Grape's "Murder In My Heart For the Judge," which speaks to urban unrest in the aftermath of the Trayvon Martin killing and the Ferguson, MO riots and Crosby, Stills, and Kantner's "Wooden Ships," a haunting, wistful note on which to end the album. She sounds like she could be Mary Hopkin's younger sister on Steve Miller's "Quicksilver Girl" or Small Faces' "Itchycoo Park," and even channels the profound sadness of Sandy Denny on Ray Davies' "Sunny Afternoon." It's a treat to hear Paul Simon's "Red Rubber Ball," and Frank Zappa's "Hungry Freaks, Daddy." I didn't love Richard Fariña's "Bold Marauder," mainly because it seemed musically monotonous and her straight ahead version of"Don't Let The Sun Catch You Crying" is respectful, but it doesn't reveal her in the way of Rickie Lee Jones's 1989 version.
"Last time Nellie McKay took a stroll through the past, she doffed her hat at Doris Day, an obvious tribute for a singer as besotted with the stage as Ms. McKay. My Weekly Reader, the album that functions as the sequel to 2010's all-original Home Sweet Mobile Home, is a surprise as it shines a spotlight directly on some of the shadowy corners of the '60s. Despite opening with a cover of the Kinks' "Sunny Afternoon" and a leisurely reading of the Beatles' "If I Fell," McKay doesn't spend much time with the familiar. She gravitates toward folky introspection and songs that allow her to strut, two kinds of vintage styles that suit her well, but My Weekly Reader also shows her fondness for weirdo social satire, a quirk that at first glance seem like an odd fit for the singer. Upon second glance, Frank Zappa & the Mothers of Invention's "Hungry Freaks, Daddy" and Moby Grape's "Murder in My Heart for the Judge" seem odd: they're stage-bound theatrical productions fueled by cutesy curtseys, an attitude that unravels during the latter as McKay threads in protest lines from 2014, ending with a whispered "I can't breathe." Nevertheless, that ambition is admirable and its very presence is appreciated, particularly compared to the lighter pop tunes of Small Faces' "Itchycoo Park" and Herman's Hermits' "Mrs. Brown You've Got a Lovely Daughter," tunes that allow McKay to mince about more than necessary. Where My Weekly Reader shines is on the quieter moments, which range from the loveliness of Crosby, Stills & Nash's "Wooden Ships," the nostalgic gleam of Gerry & the Pacemakers' "Don't Let the Sun Catch You Crying," and the spookiness of Richard & Mimi Fariña's "Bold Marauder." Here, McKay achieves a delicate balance between '60s reverence and a sly modern wink, a blurring of eras that plays to her strengths." (Stephen Thomas Erlewine, AMG)
Béla Fleck, banjo
Bob Glaub, electric bass
Nellie McKay, bells, clarinet, congas, cymbals, harmonica, keyboards, maracas, marimbas, organ, piano, tambourine, ukelele, all vocals
Cary Park, banjo, 12-string guitar, acoustic guitar, electric guitar, steel guitar
David Raven, drums
Dweezil Zappa, guitar (on "Hungry Freaks, Daddy")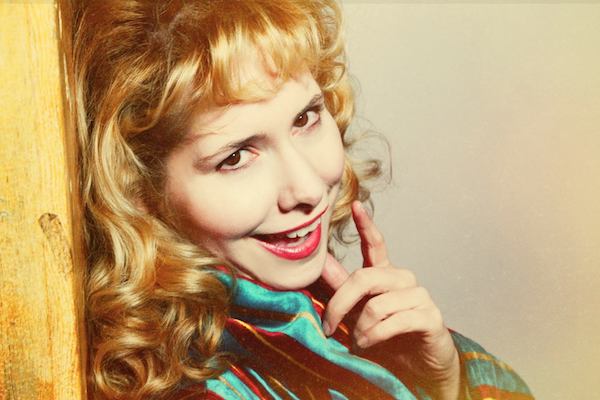 Nellie McKay
You should know that Nellie McKay is hard to categorize. She's done Brecht on Broadway, opened for Lou Reed at Carnegie Hall, sung Woody Allen movie songs at the Hollywood Bowl, performed on A Prairie Home Companion, duetted with Eartha Kitt and Triumph The Insult Comic Dog, played Hilary Swank's sister on the big screen, paid tribute to Doris Day, and released three wildly acclaimed albums of original music.
Her music is as tuneful and clever as the best of the Great American Songbook—part cabaret, part sparkly pop. But beneath the charming melodic surface is a wit that cuts, and a sharply tuned social conscience.
Home Sweet Mobile Home is McKay's latest and first album of all-original material since 2007's Obligatory Villagers, and features the musical wanderlust, lyrical playfulness and unique point of view that has characterized her music since her breakthrough debut Get Away From Me. Songs from the new project were recently debuted at her NYC engagement at Feinstein's, and The New York Post noted that "songs like 'Bodega' and 'Caribbean Time'… feature a blend of whimsical humor and social commentary that blended in beautifully alongside the Doris Day standards from the Blueberry Pie album."
The new album, produced by McKay and Robin Pappas, was recorded in Los Angeles, Salt Lake City, New York, Jamaica, the Pocono Mountains, and even more than her previous albums, combines diverse musical moods and cultures. Reviewing a recent McKay show, Stephen Holden from The New York Times described her as a "vocal chameleon," and that varied musical palette is used to great effect on the 13 songs of Home Sweet Mobile Home.
Nellie began playing her own songs (and lovingly chosen covers) in clubs in downtown New York City in 2003, soon catching the attention of music writers and a number of record labels – this gal was a gifted entertainer, an impressive musician, with songs unlike anything people were hearing around town. Her first album was produced by Geoff Emerick, the man who had engineered The Beatles' albums from Revolver through Abbey Road. McKay signed on as co-producer.
She and Emerick recorded eighteen songs (including such live McKay favorites as "David," "The Dog Song" and "I Wanna Get Married," and that double-CD Get Away From Me was let loose upon the world. The project was greeted with critical raves and placement on many Top 10 lists.
The Washington Post wrote, "McKay's music evokes the lost elegance of pre-Elvis pop music because she recognizes that such stylishness and wit are worth pursuing. But those goals inevitably collide with the realities of money, sex and politics, and she documents those collisions in her tongue-in-cheek lyrics, emphatic beats and bubbly melodies."
Following the splash of Get Away From Me, Nellie recorded Pretty Little Head, of which the Los Angeles Times said, "McKay comes on as a Harlem Holly Golightly, a social activist with a disarming mastery of pop vernacular." Spin noted, "that she succeeds on a record as sophisticated as the self-produced Pretty Little Head is not only a testament to McKay's talent, it's also a tribute to her artistic sense."
In 2007, she recorded Obligatory Villagers, described by Spin as "a brisk nine-song set that plays like the breathless first act of a stage musical decrying American fascism." Recently, the Chase Brock Experience premiered a ballet, Whoa, Nellie!, based on the entire album.
Meanwhile, Broadway and Hollywood beckoned. McKay appeared on Broadway (winning a Theatre World Award for her Polly in a revival of The Threepenny Opera) and on film (acting and singing in P.S. I Love You). She also wrote and performed the song score for the Rob Reiner film Rumor Has It. In addition, her writing has appeared in The Onion, Interview magazine, and The New York Times Book Review, where she delivered an incisive and knowledgeable review of a Doris Day biography.
"What she possessed," McKay wrote, "beyond her beauty, physical grace, and natural acting ability, was a resplendent voice that conveyed enormous warmth and feeling."
It seemed inevitable that Nellie should record an album of songs associated with Ms. Day, and she was given the opportunity to do so when approached by Verve Records. The result features 12 songs handpicked from over 600 recordings by Ms. Day, with an original by McKay. Hailed as "among the killer overhauls of American standards" (The New York Times), Normal As Blueberry Pie covers the scope of Day's music from the big bands through the McCarthy era. The album wound up on a variety of Top 10 lists of 2009's best albums, including The New York Times and The Village Voice.
Recently, McKay completed filming her first starring role, opposite violin prodigy Philippe Quint, in the independent film Downtown Express; recorded (along with Vince Giordano & The Nighthawks) for the soundtrack of the upcoming Martin Scorsese HBO series Boardwalk Empire; and contributed two songs to the award-winning documentary Gasland. She is currently participating in Dear New Orleans, a benefit album to aid the ravaged city, along with such artists as Jill Sobule, My Morning Jacket, and OK GO.
Home Sweet Mobile Home arrives three years after her last self-composed album, and as ever her songs are a study in contrasts: some of the moods are dark ("we're marching through the madness / with not a soul about to see / we're moving through the fortress / chasin' the ghost of anarchy" and "there's no equality here / there's no equality anywhere / & every fear you can face / is quickly replaced by one you can't lose"), but there is also joy and gentleness. Sometimes all at once. Her gift is in mingling the pure pleasure of all kinds and all eras of pop music, twisting the dials, writing upbeat melodies with subversive undercurrents.

This album contains no booklet.