---
Album info
Album including Album cover Booklet (PDF)
I`m sorry!
Dear HIGHRESAUDIO Visitor,
due to territorial constraints and also different releases dates in each country you currently can`t purchase this album. We are updating our release dates twice a week. So, please feel free to check from time-to-time, if the album is available for your country.
We suggest, that you bookmark the album and use our Short List function.
Thank you for your understanding and patience.
Yours sincerely, HIGHRESAUDIO
1

Eye Meddle

23:55

2

Spartan, Before It Hit

22:10

3

Soften The Blow

22:50

Total Runtime

01:08:55
Info for Sun Of Goldfinger

Guitarist-composer David Torn, a longstanding ECM artist, has enjoyed a particularly fruitful 21st-century with the label, releasing two albums under his own name – the solo only sky and quartet disc prezens – in addition to producing records by Tim Berne and Michael Formanek.
With Sun of Goldfinger, Torn returns in a trio alongside the alto saxophonist Berne and percussionist Ches Smith (a member of Berne's Snakeoil band who made his ECM leader debut in 2016 with The Bell). The Torn/Berne/Smith trio, also dubbed Sun of Goldfinger, features alone on two of this album's three intense tracks of 20-plus minutes; the vast sonic tapestries of "Eye Muddle" and "Soften the Blow" – each spontaneous group compositions – belie the fact that only a trio is weaving them, with live electronics by Torn and Smith expanding the aural envelope.
The third track, the Torn composition "Spartan, Before It Hit," showcases an extended ensemble with two extra guitars, keyboards and a string quartet; it's an otherworldly creation, ranging from hovering atmospherics to dark-hued lyricism to storming, sky-rending grandeur. The words of LondonJazz, reviewing Sun of Goldfinger live, also suit the band's debut on record: "This is dangerous music – at times angry, at others blissed-out and illuminating – with its thunderous rumblings… delivering not so much a wash of sound, more a tidal wave."
David Torn, electric guitar, live looping, electronics
Tim Berne, alto saxophone
Ches Smith, drums, electronics, tanbou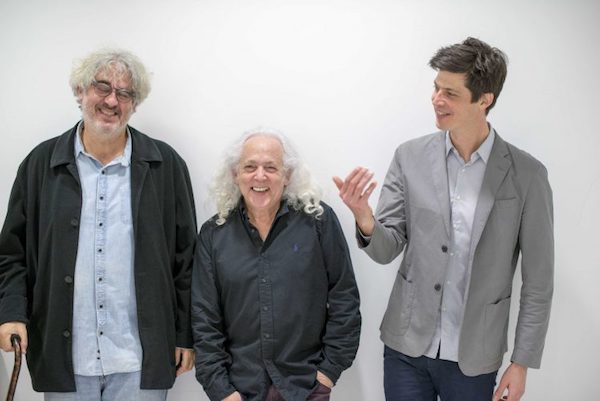 David Torn
Improviser, film composer and soundscape artist – approached the far sonic edges of what one man and a guitar can create with only sky, a solo recording of almost orchestral atmosphere. This album followed Torn's 2007's acclaimed prezens, a full-band project for ECM (featuring Tim Berne, Craig Taborn & Tom Rainey) that Jazzwise described as "a vibrating collage full of shimmering sonic shapes, a dark, urban electronic soundscape – a potent mix of jazz, free-form rock and technology that is both demanding and rewarding." Many of those same descriptors apply to only sky, with its hovering ambient shadows and vaulting flashes of light, its channelling of deep country/blues memories and Burroughsian dreams of North Africa. Nearly 30 years before the release of only sky came Torn's ECM album Cloud About Mercury, with trumpeter Mark Isham and the latter-day King Crimson rhythm section of Tony Levin and Bill Bruford.
Torn's initial tenure with ECM also included Best Laid Plans, his 1984 release with drummer Geoffrey Gordon; and the guitarist featured on Jan Garbarek's album It's OK to Listen to the Gray Voice. More recently, Torn produced and mixed saxophonist Tim Berne's ECM albums Shadow Man (2013) and You've Been Watching Me (2015). Torn, a native of New York state, has worked across jazz (with the Bad Plus and others), film music (Ryuichi Sakamoto, Carter Burwell) and pop (David Bowie, Jeff Beck, David Sylvian and more).
Tim Berne
has been declared "a saxophonist and composer of granite conviction" by The New York Times. Acclaim for the first, eponymous ECM album from Berne's quartet Snakeoil came from far and wide, with The Guardian calling it "an object lesson in balancing composition, improvisation and the tonal resources of an acoustic band." With the release of his second ECM album, Shadow Man, All About Jazz affirmed Snakeoil as "Berne's most impressively cohesive group yet."). You've Been Watching Me, saw Berne leading a quintet version of Snakeoil, adding guitarist Ryan Ferreira to the core group with Matt Mitchell, Oscar Noriega and Ches Smith.
Since learning at the elbow of St. Louis master Julius Hemphill in the '70s, the Syracuse, New York-born Berne has built an expansive discography as a leader. In his pace-setting ensembles over the past few decades, he has worked with a who's who of improvisers, including Joey Baron, Django Bates, Jim Black, Nels Cline. Mark Dresser, Marc Ducret, Michael Formanek, Drew Gress, Ethan Iverson, Dave King, Herb Robertson, Chris Speed, Steve Swell, Bobby Previte, Hank Roberts, Tom Rainey and Craig Taborn. As a sideman, Berne has made ECM appearances on recent albums by Formanek (The Rub and Spare Change; Small Places) and David Torn (prezens). The New York Times summed him up by saying: "Few musicians working in or around jazz over the last 30 years have developed an idiomatic signature more distinctive than Tim Berne."
Ches Smith
Born in San Diego, CA and raised in Sacramento, Ches Smith came up in a scene of punks and metal musicians who were listening to and experimenting with jazz and free improvisation. He studied philosophy at the University of Oregon before relocating to the San Francisco Bay area in 1995. After a few years of playing with obscure bands and intensive study with drummer / educator Peter Magadini, he enrolled in the graduate program at Mills College in Oakland at the suggestion of percussionist William Winant. There he studied percussion, improvisation, and composition with Winant, Fred Frith, Pauline Oliveros and Alvin Curran. One of Winant's first "assignments" for Ches was to sub in his touring gig at the time, Mr. Bungle (here he met bassist / composer Trevor Dunn who would later hire him for the second incarnation of his Trio-Convulsant). During his time at Mills, Ches co-founded two bands: Theory of Ruin (with Fudgetunnel / Nailbomb frontman Alex Newport), and Good for Cows (w/ Nels Cline Singers' Devin Hoff). He currently performs and records with Xiu Xiu, and Secret Chiefs 3. He has also performed with Ben Goldberg, Annie Gosfield, Wadada Leo Smith, John Tchicai, Fred Frith, and Trevor Dunn. In addition to Ceramic Dog, he also leads his two of his own projects, Congs for Brums and These Arches. He currently spends his time between Los Angeles, San Francisco and Brooklyn.

Booklet for Sun Of Goldfinger