---
Album info
Album including Album cover Booklet (PDF)
I`m sorry!
Dear HIGHRESAUDIO Visitor,
due to territorial constraints and also different releases dates in each country you currently can`t purchase this album. We are updating our release dates twice a week. So, please feel free to check from time-to-time, if the album is available for your country.
We suggest, that you bookmark the album and use our Short List function.
Thank you for your understanding and patience.
Yours sincerely, HIGHRESAUDIO
1

Tango A Mi Padre

04:21

2

Minguito

07:04

3

Esquina

08:45

4

Duetto

06:09

5

Ojos Negros

05:56

6

El Titere

10:24

7

Carretas

06:33

8

Serenata

08:46

Total Runtime

57:58
Info for Ojos Negros

The long-awaited album by the Argentinean bandoneon giant Saluzzi and German cellist Lechner, known both for her work with the Rosamunde Quartet and her explorations outside it. It was, for instance, Lechner's interest in Tango Nuevo that made the ongoing Saluzzi / Rosamunde "Kultrum" collaboration possible in the mid-90s; Anja and Dino have toured widely as a duo, too. Jazz Review editor Richard Cook described one of their concerts as being "as close to perfection as any music-making I can recently recall". Essentially chamber music with inspirational roots in Argentinean traditions "Ojos Negros" puts the emphasis on Saluzzi's finely-crafted compositions but also has a strong improvised component.
There's no better way to describe the wondrousness of Ojos Negros than to quote dance historian Sally Sommer: "Tango is self-transformation." This groundbreaking debut of a duo nearly a decade in the making smacks of Sommer's insight, works its fingers raw with the labor of its fluid intuition. Tango would be nothing without memory. That bandoneonista Dino Saluzzi and cellist Anja Lechner bring such a level of awareness to every note and space between alike is graspable enough. Less so are the whispers behind their collaboration, the linking impulse through which they sing as one. This can be neither taught nor so adroitly articulated, but can only be imbibed through the music of life itself. The album's title is therefore no coincidence—black eyes hold in their pools the truth behind all that moves us.
Anyone familiar with Saluzzi's work will know his skill for shaping a melody so heartwarming it hurts, and know also that his creative wellspring is itself a dark iris floating in red-veined expanse. Except for the title track, an alluring tango by Vicente Greco, all of the material on Ojos Negros is Saluzzi's. That being said, once Lechner weaves her spirit into the quivering bandoneón of "Tango a mi padre," it's clear that it is just as much hers. The rare partnership established at the outset is, like Ryuichi Sakamoto's pairing with Morelenbaum2in Casa, an unusual idea with organic results, so that one can hardly imagine the sonic landscape without their tangent. Thus caught in the lilting kinesis they so delicately render, we move with them, taking on the elasticity of gently disturbed water.
Saluzzi and Lechner tread foregrounds and backgrounds, stage left and stage right, interiors and exteriors with equal resonance, ever aware of the destinations at the heart of their storytelling regardless of whoever takes the lead. This constant give and take is the light in their prism, which shines brightest in the masterful "Duetto." Its ashen beginnings ignite slumber before drifting back into peace, as if lazing beneath the swaying tendrils of the willow (each a necklace of time) evoked in the album's title track. Elsewhere, the duo turns the lens a few clicks into softer focus. "Minguito," for one, offers a stone rounded by decades of water's passage as it relays pizzicato arpeggios to Saluzzi's sustained builds. "El títere," for another, invokes these contrasts afresh. A handful of especially contemplative pieces whittles the session into completion. Among them, the closing "Serenata" stands out for the depth of its emotion, pliant and mountainous.
The music of Ojos Negros is spoken for by the night. True to ECM standards, it is superbly recorded to boot, giving the bandoneón extraordinary breadth to enfold the cello at its center. As one of the label's finest recordings and a highlight of Saluzzi's ongoing travels, it simply deserves to be heard. It was also my first encounter with either musician, and if you have yet to open your ears to their command, I hope it may also be yours.
Dino Saluzzi, bandoneón
Anja Lechner, violoncello
Recorded April 2006, Kulturbuehne AmBach, Goetzis
Engineered by Markus Heiland
Produced by Manfred Eicher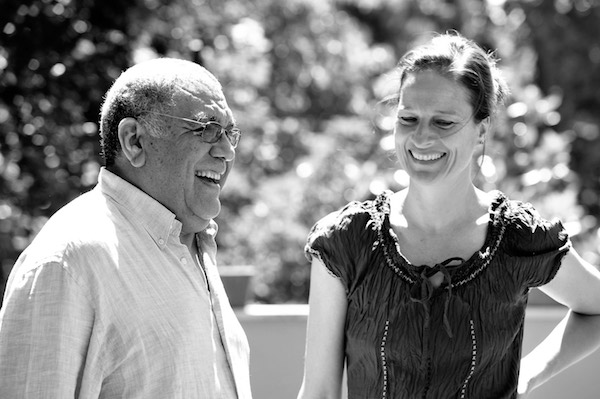 Anja Lechner
born in Kassel, Germany, studied with Heinrich Schiff and Janos Starker. She has performed as soloist with orchestras including the Amsterdam Sinfonietta, the Armenian Philharmonic Orchestra, the Slowakische Philharmonie, and the Tallinn Chamber Orchestra, and plays chamber music with partners including pianists Alexei Lubimov, Silke Avenhaus and Kirill Gerstein, cellist Agnès Vesterman, violinist Patricia Kopatchinskaja, and clarinetist Reto Bieri. Lechner has premiered compositions by Tigran Mansurian, Valentin Silvestrov, Tõnu Kõrvits and Annette Focks amongst others. For 18 years she was the cellist of the Rosamunde Quartet, whose acclaimed ECM New Series albums embraced a scope of music from Joseph Haydn to Thomas Larcher. Her most recent recordings include Mansurian's Quasi Parlando and Double Concerto with the Amsterdam Sinfonietta. In preparation is an album of solos and duos with Agnès Vesterman, playing compositions of Silvestrov.
Dino Saluzzi
At home in all aspects of classical music, she is also fluent in diverse improvisational traditions, and has a long-running collaboration with bandoneonist Dino Saluzzi – documented in the film El Encuentro and on albums including Ojos Negros and Navidad de Los Andes.
He was born on 20th May 1935 in Camposanto, Salta. Composer and bandoneon player. At the age of seven, he was initiated into music by his father, the folklorist Cayetano Saluzzi.
He has developed a language of his own which is stylistically anchored in the northwest of Argentina. It softens the frontiers between popular music and the so-called 'cult' music, between composition and improvisation, and between folk, jazz and tango.
His work includes music as a soloist, chamber music, and orchestra. When he arrived in Buenos Aires in the mid-50s, he joined the Regular Orchestra of Radio El Mundo. He has worked with Alfredo Gobbi, Roberto Caló, Enrique Francini and 'Gato' Barbieri, among others. His first recordings were made at RCA.
His international success as composer and performer came by the hand of Manfred Eicher, founder of the renowned German recording company ECM, whose artists (Arvo Pärt, Valentyn Sylvestrov, Tigran Mansurian and others) marked the artistic avant-garde of the 20th century music. He has been recording with Eicher since 1982. He has recorded with Charlie Haden, Marc Johnson, Tomasz Stanko, Anja Lechner, Jon Christensen, Palle Mikkelborn and others.
In 1991 he started recording with his family band (Celso, Félix, Matías and José María Saluzzi), whose last published work is El Valle de la Infancia (2014). He has been taking part in international festival circuits and his performance has been acclaimed in the most famous theatres in the world. Films by Jean-Luc Godard, Pedro Almodóvar and others have included his music. Documentaries about him have been made in North America and Europe. His latest work is Imágenes (2015) for piano.

Booklet for Ojos Negros