---
Album info
Album including Album cover Booklet (PDF)
I`m sorry!
Dear HIGHRESAUDIO Visitor,
due to territorial constraints and also different releases dates in each country you currently can`t purchase this album. We are updating our release dates twice a week. So, please feel free to check from time-to-time, if the album is available for your country.
We suggest, that you bookmark the album and use our Short List function.
Thank you for your understanding and patience.
Yours sincerely, HIGHRESAUDIO
1

Three Pieces in Old Style (Pt. 1)

05:40

2

Blue Skies For Andy

09:21

3

Smoggy People

06:55

4

Little requiem for a Polish Girl "Tranquillo"

09:17

5

Vang Church

06:26

6

Three Crowns

07:13

7

Glow

07:34

8

Mr.S

09:57

Total Runtime

01:02:23
Info for Three Crowns

The half-Polish, half-Norwegian quartet led by fiery alto saxophonist Maciej Obara is gaining ground as one of the most exciting groups on the contemporary jazz scene. Both the band and its ECM debut Unloved were awarded the Fryderyk Prize in Poland in 2018, and early in 2019 the Obara Quartet also took first place at the BMW Jazz Awards in Munich. Now comes the quartet's second ECM album Three Crowns (named for the Trzy Korony mountains in Southern Poland). Its programme is comprised of six new pieces by Maciej and two free arrangements of compositions by Henryk Górecki (1933-2010). The Obara Quartet launches the album with a major concert at the NOSPR Concert Hall in Górecki's hometown Katowice, and follows up with a tour with dates in Poland, France, Austria and Germany.
Named for the Trzy Korony summit of the Pieniny mountain range in the south of Poland, Three Crowns could be described as a peak performance from the Maciej Obara Quartet, and one that builds upon the achievements of their ECM debut, Unloved. Recorded at Studios La Buissonne in March 2019, the album features six new pieces by bandleader Obara and, in an intriguing development, two versions of works by Polish composer Henryk Mikołaj Górecki (1933-2010). This is the first occasion on which the Górecki family – whom Maciej came to know while living in Katowice, the composer's hometown - has encouraged interpretations of the music by improvisers.
To Górecki's Three Pieces In Old Style (Part One) and Little Requiem for a Polish Girl, composed respectively in 1963 and 1993, Maciej Obara and bandmates Dominik Wania, Ole Morten Vågan and Gard Nilssen bring the intensity and focus that distinguishes their work in the vanguard of contemporary jazz. Theirs is a special quartet with a layered and detailed sound, an alliance of highly individual players dedicated to the group work and able to find space for self-expression inside it.
Maciej Obara, whose concentrated alto sax sound balances lyricism and eruptive emotion, is ideally partnered by Dominik Wania, pianist of formidable technique and classical background: "both are improvisers of mercurial energies", as The Guardian has noted. Wania who found his own path to jazz after emerging from the Krakow Academy with an honours degree in classical performance, first met Obara inside a Tomasz Stanko ensemble. It was at once clear that the impulsive, outgoing saxophonist and the introverted, analytical pianist shared a profound musical understanding. Their debt to Stanko is expressed in the elegiac "Mr. S" which closes Three Crowns, a free-floating piece atmospherically close to the spirit of Balladyna.
Norwegian musicians Ole Morten Vågan and Gard Nilssen, who joined the two Poles in 2012, have since played together in many other contexts, but it was in the Obara group that they first honed their synergetic rapport. In this ensemble, old notions of front line and rhythm section responsibilities are frequently overturned. Gard Nilssen's unrestrained approach to drums and cymbals takes further the waves-of-sound, waves-of-energy approach of Jon Christensen and Audun Kleive, as his dramatic playing on the title track here makes plain. And Ole Morten Vågan roves freely inside the group sound, as likely to add ideas of his own as to adhere strictly to harmonic and rhythmic roles.
Obara has described the strongly melodic themes he gives to his group as outlines, "from which our sound is set free," each of the players giving shape, colour and impetus to the music. Ole Morten Vågan's is the first instrumental voice heard on "Blue Skies for Andy". Maciej Obara's heartfelt tribute to his late father, who spent much of his life playing within the Roma community, is a key piece in the new repertoire and an absorbing journey in itself, covering a lot of ground in its nine-and-a-half minutes' duration, as the band members rally behind the leader's dynamic alto solo and then expand upon its implications.
Dominik Wania has plenty of powerful moments on Three Crowns, with "Glow", emerging from the latticework of the pianist's unaccompanied introduction, especially compelling as it zigzags exhilaratingly through successive plateaus of intensity. The Obara/Wania sound combination is deployed very dramatically here, at times conveying the impression that the musicians are completing each other's thoughts in the pressurized, speeding world of improvisation.
The Obara Quartet's star has been steadily on the rise in recent seasons. In May the group took First Prize in the BMW Jazz-Welt Competition in Munich. The Award Jury's citation spoke of the "enormous amplitude of emotion, the dynamics and the possibility of expression with which Obara and his quartet were able to fascinate the audience…His lyrical saxophone playing, the strength of his compositions and the unchained power of this outstanding ensemble's improvisations turned the quartet into this year's winner."
Individually, too, the players have been making headway, with Gard Nilssen featured as artist-in-residence at this year's Molde Festival, Ole Morten Vågan continuing to direct the Trondheim Jazz Orchestra (most recently in a collaboration with Cory Smythe), and Dominik Wania preparing material for a forthcoming ECM solo album.
The Maciej Obara Quartet presents the music from Three Crowns on tour this season with concerts including the ECM50 festival at Oslo's Nasjonal Jazz Scene (September 25), Münsterland Festival, Wadersloh, Germany (October 11), Leipzig Jazz Festival (October 12), Enjoy Jazz Festival Mannheim (November 9), NOSPR, Katowice, Poland (November 26), Koneser, Warsaw (November 27), ZAMEK Culture Centre in Poznań (November 30) and Tel Aviv Jazz Festival (December 20). Further dates, in France, Germany, Poland, Norway a
Maciej Obara, alto saxophone
Dominik Wania, piano
Ole Morten Vågan, double bass
Gard Nilssen, drums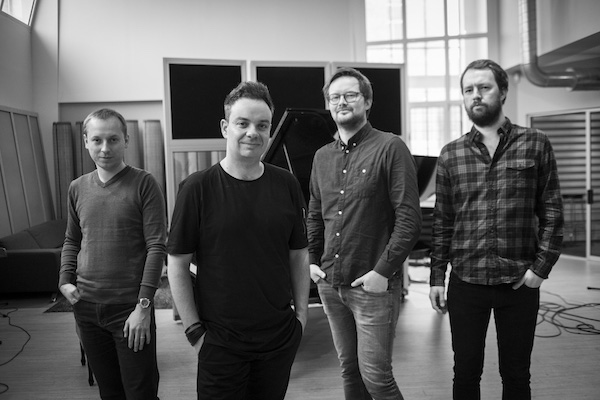 Maciej Obara
is a Polish saxophone player and improviser, characterised by his discernible phrasing and powerful sound.
Obara is a musician who has consequently developed his own musical language from the very beginning of his career, and, despite collaborations with artists from Japan, USA and Europe, his main focus remains his original quartet with Dominik Wania on piano, Ole Morten Vaagan on double bass and Gard Nilssen on drums. The members of the band represent a narrow group of European jazz musicians who consciously and uncompromisingly avoid musical literality, and create their own clearly distinguishable sound.
The most recent album, "Unloved", is Obara's ninth original recording, and will be released in Autumn 2017 on the prestigious Munich record label ECM. Released recordings and live concerts at the most important jazz festivals in the world have built well-deserved and unmistakeable brand of the saxophonist.
Whilst still at the Music Academy, Obara established his first trio with Maciej Garbowski on bass and Krzysztof Gradziuk on drums, going on to win the competition for the young bands and recording two albums ("Message from Ohayo" and "I can do it"). This powerful debut attracted the first positive reviews from the Polish jazz community.
In 2008 Obara received an invitation from the legendary and world-renown trumpet player Tomasz Stańko. Together they performed with the project "New Balladyna Quartet" and recorded the music to the "Terminal 7" spectacle. It was in Stanko's band that Obara met his musical soulmate, the distinguished pianist Dominik Wania. This friendship has significantly influenced their further musical development.
Initially, Obara's artistic interests leaned towards the contemporary jazz from the East Coast of the USA. He invited Antoine Roney for a tour in Poland, and travelled to New York in order to record the new material with musicians centred around the artistic and pedagogical community of SIM – School for Improvised Music. As a result, two more recordings were released with the support of cultural institution Ars Cameralis Silesiae Superioris - "Three" with John Lindberg on bass and Harvey Sorgen on drums, and "Four" with Ralph Alessi on trumpet, Mark Helias on bass and Nasheet Waits on drums.
Obara's next step was the enlargement of the original line-up of the band, inviting Dominik Wania and creating the quartet which recorded his fifth album, "Equilibrium", opening a new stage of Obara's musical career, based on a distinctly more tonal concept and complex compositions. The album received positive reviews and Obara become a recognisable musician on Polish jazz scene.
In 2012 Obara was selected to join the group of ten most talented musicians from Europe that took part in the project The Five: Europe, the professional development scheme produced by Serious in the UK, who also produce the London Jazz Festival. Take Five: Europe brought together some of the most talented emerging jazz musicians from France, Holland, Norway, Poland and the UK.
Participation in this project was a turning point in Obara's career for many reasons, leading not only to performances at some of Europe's most significant jazz festival (London Jazz Festival, North Sea Jazz Festival, Molde International Jazz Festival, Jazztopad and many others), but mostly to the artist's cooperation with the Norwegian artists – bass player Ole Morten Vaagan and drummer Gard Nilssen. After Take Five: Europe he established his first permanent international quartet, which includes the above mentioned musicians as well as the pianist Dominik Wania.
This very quartet turned out to be Obara's longstanding priority - this new sound and resulting possibilities becoming the main inspiration of the saxophonist.
During the following years the quartet performs concerts in the most prestigious venues such us Jazz at Lincoln Center NY, Jazz Standard NY, Porgy & Bess in Vienna, Cotton Club Tokyo as well as at festivals like London Jazz Festival, Tokyo Jazz Festival, Jarasum Intl Jazz Festival, Vancouver Jazz, Ottawa Jazz Festival, Molde Jazz Festival, Festiwal Jazztopad, Izmir Jazz Festival, or New Haven Jazz Festival.
During this time the band recorded three albums for the Polish record label ForTune ("Live at Manggha", "Komeda" and "Live in Minsk Mazowiecki").
At the beginning of 2017 Maciej Obara received an invitation from Manfred Eicher to record an album for the most prestigious record label in the world – ECM. As a result, a new recording titled "Unloved" is being released in September 2017, which includes compositions by Maciej Obara with an exception of one piece by Krzysztof Komeda.

Booklet for Three Crowns