---
Album info
Album including Album cover Booklet (PDF)
I`m sorry!
Dear HIGHRESAUDIO Visitor,
due to territorial constraints and also different releases dates in each country you currently can`t purchase this album. We are updating our release dates twice a week. So, please feel free to check from time-to-time, if the album is available for your country.
We suggest, that you bookmark the album and use our Short List function.
Thank you for your understanding and patience.
Yours sincerely, HIGHRESAUDIO
1

What You Didn't Say

05:45

2

Urban Waltz

02:57

3

Water

05:27

4

Baden

03:32

5

En Passant

03:51

6

Angel

02:58

7

Chaos Theory

03:57

8

Fields of Gold

02:13

9

Tisane

03:23

10

Valium

04:27

11

Le Pont

02:28

Total Runtime

40:58
Info for Silent Light

Miller's ECM debut has an international feel: the Latin influence of his heritage strong in such pieces as "Baden", an early 20th-century Parisian air on "Le Pont" and the evocation of Celtic tunes on "Valium". Miller has long been known as Sting's right-hand man on guitar and a hushed instrumental take on "Fields of Gold" appears here. Miller has also worked with the likes of The Chieftains, Plácido Domingo and Paul Simon who points out Miller's "beautiful touch" in the album's liner note.
Born in Argentina to an American father and Irish mother, guitarist Dominic Miller was raised in the U.S. from age 10 and then educated there and in England. Now he lives in France, though he has toured the globe for the past three decades. Aptly, Silent Light – Miller's ECM debut, featuring him solo and with percussion accompaniment – has a very international feel, with the Latin influence strong in such pieces as "Baden" (dedicated to Brazilian guitarist-composer Baden Powell). "Le Pont" has an early 20th-century Parisian air, while "Valium" evokes Celtic tunes in the vein of Bert Jansch and "Fields of Gold" is a hushed instrumental take on one of Sting's best-known ballads. Miller has long been known as Sting's right-hand man on guitar – and co-writer of the worldwide hit "Shape of My Heart," among others. Miller has also worked with the likes of Paul Simon, The Chieftains and Plácido Domingo. The guitarist's playing has prompted praise from Simon, who points out, in a liner note to the album, that Miller "has a beautiful touch, with a fragrance of jazz and English folk."
In his own booklet note, Miller recalls time spent talking music with Manfred Eicher, ECM's founder and producer of Silent Light, about two of his key ECM influences: Egberto Gismonti and Pat Metheny, pointing to the appeal of the former's "raw" approach blended with "classical overtones" and the more "groove-oriented" vibe of the latter with his music's "Americana feel." The tracks "Angel" and "Tisane" on Silent Light hint at Metheny's big-sky acoustic manner, while the guitar-plus-percussion numbers reflect the inspiration of the Duas Vozes LP Gismonti made with Brazilian percussionist Nana Vasconcelos, who passed away just as Miller was rehearsing for Silent Light with his percussionist and lifelong friend, Miles Bould. For such pieces as the syncopated "Baden," pensive opener "What You Didn't Say," atmospheric "Water" and "En Passant," named after a chess move, Bould complements Miller's guitar with subtle textural and rhythmic touches.
Working alongside Eicher, Miller and Bould recorded at Rainbow Studio in Oslo, with the recordings done mostly live, with no overdubs. "Chaos Theory," the one Silent Light track featuring overdubs (a second guitar and electric bass, both by Miller), sees Bould behind the drum kit. They "have fun with the beat in much the same way as the Brazilian band Azymuth might do," Miller explains. Elsewhere, the solo guitar music is mostly hushed and intimate, as with "Urban Waltz" (which has an Antonio Lauro-like Venezuelan lilt) and Anglo-folk-accented "Valium," as well as "Angel," "Tisane," "Le Pont" and Sting's "Fields of Gold." Having worked with Sting since the singer's 1991 Soul Cages album, Miller has been inspired by his song writing. "I'm strongly influenced by his lateral sense of harmony and how he forms songs," the guitarist says. "I try to do the same by creating a narrative with instrumental music, which I treat and arrange as songs, with verses, choruses, bridges."
When not playing guitar in the studio and on tour with Sting and a vast spectrum of other pop artists, Miller has made a series of free-minded instrumental albums, collaborating with jazz players and folk musicians from such far-flung traditions as those of Wales, Morocco and Cuba. In talking about other influences on his instrumental music, Miller ranges from J.S. Bach ("the only music I practice") to Debussy, Satie, Poulenc and Villa- Lobos, as well as pointing to English folk guitarists such as Jansch and Dick Gaughan and the folkloric music he heard during his youth in Latin America. He also refers to American R&B and English progressive rock as early motivators, not to mention the tradition of French chanson "that has gotten under my skin" over the past decade living in Provence. But the title of Silent Light came from a film of the same name by Mexican director Carlos Reygadas, whose work was also a catalyst for the album's aura of simplicity, clarity and purity. "It's his use of silence, light and space that really struck me," the guitarist explains. "Minutes would go by with no movement or dialogue, which I found courageous and inspiring."
Reflecting on the title Silent Light and about Miller, his musical colleague for nearly three decades, Sting says: "Whenever Dominic plays the guitar, he creates color, a complete spectrum of emotions, sonic architecture built of silence as well as resonance. He lifts the spirit into higher realms."
Dominic Miller, guitar, electric bass (7)
Miles Bould, percussion (1, 3, 4, 5), drums (7)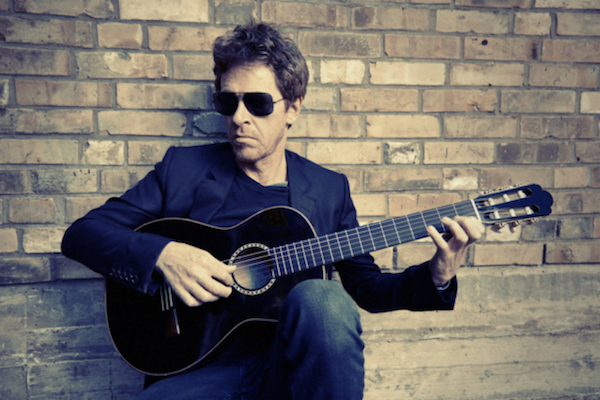 Dominic Miller
is a guitarist best known for his work with Sting. Born 21st March 1960 in Buenos Aires he now lives with his family in his adopted country of France.
Alongside his work with Sting he regularly plays with other well known musicians such as Mike Lindup, Nigel Kennedy, Sarah Jane Morris and Rhani Krija. Little wonder that over the years he's been responsible for many musical ear-worms such as: Stings "Shape of my Heart" and Ronan Keatings "You say it best" from the Film "Notting Hill").
Currently he's working on a new solo electric guitar album which is a departure from previous albums featuring acoustic guitar.

Booklet for Silent Light