---
Album info
Album including Album cover
Astor Piazzolla (1921 - 1992) & Frank Angelis:

1

Chiquilín de Bachín

06:17

Gerardo Matos Rodríguez (1897 - 1948):

2

La Cumparsita

04:54

Astor Piazzolla:

3

Adios Nonino

07:57

4

Sentido Unico

04:08

5

Contrabajeando

02:53

Eduardo Arolas (1892 - 1924):

6

La Cachila

03:34

Vyacheslav Semenov:

7

Devotion

04:13

Astor Piazzolla:

8

Flora's Game

07:55

Raymond Luedeke (b. 1944):

9

Tango Dreams

23:00

Total Runtime

01:04:51
Info for Tango Dreams

Tango is the product of people drawn together on the margins of Buenos Aires in the late nineteenth century. From the slum districts on the outskirts of the capital to the ports, the music of the people merged – Andalusian Flamenco, southern Italian melodies, Cuban habanera, African candomblé percussion and milonga. Alexander Sevastian, the four-time first prize winner of international accordion competitions, offers here a virtuosic version of some of the great tangos by Piazzolla and other famous composers. Emotion and first class virtuosity!
Tango is the product of people drawn together on the margins of Buenos Aires in the late nineteenth century. From the pimps and prostitutes of the bars and slum districts on the outskirts of the capital to the ports of Montevideo and Rio de la Plata, the music of the people merged – Andalusian Flamenco, southern Italian melodies, Cuban habanera, African candomblé percussion and milonga (the Argentine gaucho song). Machismo and violence were part of the tango culture, with male dancers often having a predatory and threatening quality. The spirit of tango music is expressed in a famous tango lyric: "I will make my heart drunk, so I can toast to the frustration of love".
Astor Piazzolla (1921-1992) was a pioneer of "tango nuevo" or "new tango". He was the first tango composer whose music made the giant leap from dance clubs and cabarets to world-class stages. Franck Angelis, who is very well known in accordion circles, has made a wonderful composition based on Piazzolla's tango Chiquilín de Bachín (A Little Boy from Bachin). This piece has numerous dramatic cadenzas, virtuosic variations and a gorgeous melody.
Alexander Sevastian, accordion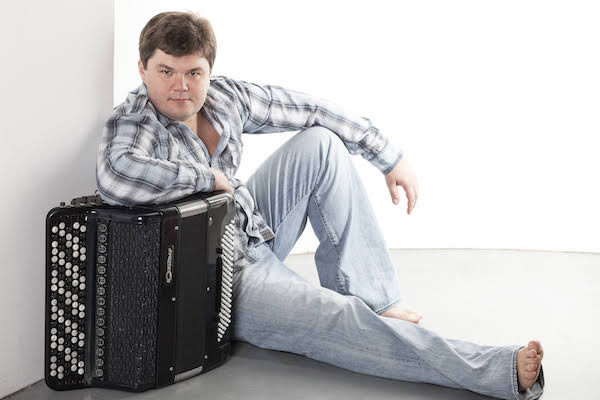 Alexander Sevastian
A native of Belarus (b.1976), Accordionist Alexander Sevastian is the four-time first prize winner of international accordion competitions including the prestigious Coupe Mondiale in 2007 in Washington, DC. Prior to that success, Mr. Sevastian was known as an active recitalist and chamber musician. After finishing music schools in Belarus and France, he graduated from the Gnessin Academy in Moscow, Russia (the studio of the famous accordion professor Friedrich Lips) and became a soloist of the Russian Folk Instrument Orchestra. There, his professional career began and he mastered the depth and beauty of Russian music.
Immediately after moving to Canada in 2001, Sevastian completed an advanced certificate in performance (studio of professor Joseph Macerollo) and joined Quartetto Gelato. His extensive tou ring at that point took him to all the ma jor cities in Canada and the USA, as well as to concert halls in China, Korea, Italy, Japan, the Bahamas, Guatemala, Sweden and Estonia.
Since 2007, he has been passionately developing his solo career. Recent engagements have included appearances in Mexico, Serbia, Portugal, Italy, Russia, Ukraine, Belarus, the USA and several major tours in Canada. Sevastian has appeared as a soloist with the Toronto Symphony, Calgary Philharmonic Orchestra as well as orchestras in Victoria, Quebec City, Ke lowna, Kamloops, Windsor, Edmonton, Charleston, Mississauga, Hamilton, Sioux City and Nanaimo. He has performed in world-famous halls such as the Roy Thompson Hall, Jack Singer Hall, Winspear Centre (Canada), Suntory Hall (Japan), the Great Hall of the Moscow Conservatory and the Tchaikovsky Concert Hall (Russia).

This album contains no booklet.