---
Album info
Album including Album cover Booklet (PDF)
I`m sorry!
Dear HIGHRESAUDIO Visitor,
due to territorial constraints and also different releases dates in each country you currently can`t purchase this album. We are updating our release dates twice a week. So, please feel free to check from time-to-time, if the album is available for your country.
We suggest, that you bookmark the album and use our Short List function.
Thank you for your understanding and patience.
Yours sincerely, HIGHRESAUDIO
1

The May Queen

04:13

2

New World...

03:29

3

Season's Song

04:19

4

Dance With You Tonight

04:48

5

Carving Up the World Again...a wall and not a fence

03:55

6

A Way With Words

05:18

7

Carry Fire

05:25

8

Bones of Saints

03:46

9

Keep It Hid

04:07

10

Bluebirds Over the Mountain

04:58

11

Heaven Sent

04:39

Total Runtime

48:57
Info for Carry Fire

Robert Plant's eleventh studio album, Carry Fire, produced by Plant in the west of England and Wales, melds unusual rhythms with naturalism. As with his 2014 album, lullaby and… The Ceaseless Roar, it features his band The Sensational Space Shifters. They are also joined here by special guests, including Chrissie Hynde. The album is "transfixing," exclaims NPR. "Plant and his collaborators create music that overflows with irrepressible life force ... Carry Fire is rivetingly intimate."
"There are few undisputed rock stars this accomplished still taking musical risks," exclaims the Associated Press reviewer Mark Kennedy. "Plant's songwriting remains a class above, even as he nears 70. 'Out here the fire's still burning / So long into my night,' he sings. Long may it burn."
Plant discussed the roots of the album with the New York Times' Jonathan Ringen, who calls it "a swirling mix of deep blues, mountain music, North African rhythms and Zeppelin-heavy weight ... The result is a heady, autumnal record, blending Mr. Plant's early influences ... blues-fueled riffs, Berber sounds and Bristol trip-hop sonics."
American Songwriter, in a four-and-a-half-star review, says: "Plant continues down his remarkably innovative path on the combustible Carry Fire, further expanding an already eclectic, forward-thinking solo career ..."
"Plant's creative run over the last several decades has been frankly incredible," says the Uproxx reviewer Corbin Reiff. "[H]e's pieced together a catalog of music nearly unmatched by anyone from his peer group ... What's more he uses his modern day instrument to stunning effect, lending each and every track on the record a certain sense of grace and gravitas." He goes on to say: "Lyrically, Carry Fire stacks up alongside some of the best albums of Plant's long career." "Plant's own production injects the material with a kind of sinister menace, with layers of instruments oozing over and under each other while the boss' vocals dramatically cut through the arrangements like a hot knife through butter," says a four-star Record Collector New Album of the Month review. "Singer and band are in perfect synch throughout, the benefits of a lengthy and approaching telepathic relationship obvious for all to hear."
Carry Fire, Robert Plant's eleventh solo album and first full-length release since 2014's acclaimed lullaby and... The Ceaseless Roar, was produced by Plant in the west of England and Wales, at Top Cat studio in Box, Wiltshire with additional recordings at Real World and Rockfield studios. As with lullaby, Plant is accompanied by The Sensational Space Shifters: Justin Adams on guitar, acoustic guitar, oud, E-bow quartet, percussion, snare drum, tambourine; John Baggott on keyboards, moog, loops, percussion, drums, brass arrangement, t'bal, snare drum, slide guitar, piano, electric piano, bendir; Billy Fuller on bass, keyboards, and drum programming; Dave Smith on bendir, tambourine, djembe, drum kit; and Liam "Skin" Tyson on dobro, guitar, acoustic guitar, pedal steel, and twelve-string.
Plant and the Space Shifters are also joined on Carry Fire by a number of special guests. Chrissie Hynde joins Plant on the duet "Bluebirds Over the Mountain" (written by rockabilly legend Ersel Hickey and later recorded by both Richie Valens and The Beach Boys). Albanian cellist Redi Hasa performs on three tracks, as does the celebrated Seth Lakeman on viola and fiddle.
Plant and the band spent two years on the road together supporting lullaby and... The Ceaseless Roar, their unique sound and vision ultimately evolving into something even more creative and powerful.
Plant, who lived in Texas for a time before returning to his native England three years ago, together with his friends, present the songs Carry Fire, melding unusual rhythms with naturalism and smoldering power.
"It's about intention, I respect and relish my past works but each time I feel the lure and incentive to create new work. I must mix old with new. Consequently the whole impetus of the band has moved on its axis somewhat, the new sound and different space giving way to exciting and dramatic landscapes of mood, melody and instrumentation."
lullaby and... The Ceaseless Roar made top 10 debuts around the globe upon its release, from the US's SoundScan/Billboard 200 to album charts in Belgium, Canada, Finland, Hungary, Italy, New Zealand, Norway, Poland, Sweden, Switzerland, and the United Kingdom.
Along with its international commercial appeal, lullaby and... The Ceaseless Roar drew rave reviews from such high profile media outlets as NPR Music, which named it to their 50 Favorite Albums of 2014, noting, that Plant "is still a majestic rock presence, at peace with the legacy of his hard-rock-defining band Led Zeppelin, while remaining relentlessly creative in his solo work … [The album] lovingly layers elements in ways that mirror memory, creating new constructs from floating shards of the musical past." "Robert Plant knows where rock's past begins and he's pulling it into the future," wrote the Wall Street Journal while the New York Times praised the singer's "otherworldly voice: sustained, androgynous, balanced between serenity and ache."
Britain's Guardian declared lullaby and... The Ceaseless Roar to be "fantastic: gritty, dark, and satisfying" while also making special mention of Plant's "hugely impressive backing band, the Sensational Space Shifters… There's something almost alchemical about their ability to draw together incongruent musical influences into something coherent and exciting." Pitchfork called lullaby "the most bravely confessional writing of his career."
Robert Plant, vocals
The Sensational Space Shifters, backing vocals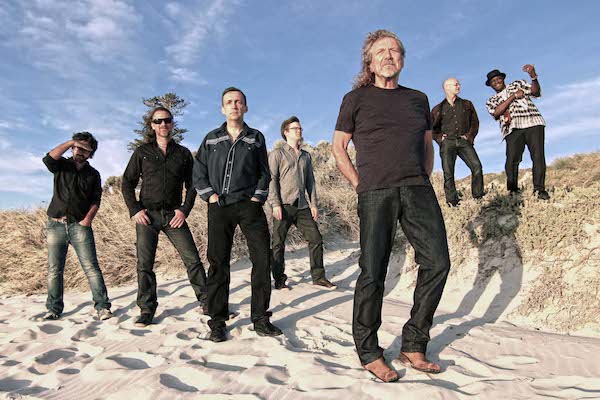 Robert Plant
In 1966 Robert Plant left home, left college, left work and turned professional. In 1967 he cut 6 sides for CBS, formed the Band of Joy with John Bonham and created two working partnerships, first with Terry Reid; the two became friends playing on the progressive music circuit of the mid-60's; and secondly as harmonica player and co-vocalist on various Alexis Korner ventures, which featured pianist Steve Miller and an opening act of a band known as Free.
In early 68, Plant's psychedelic dream ran out of steam. Bonham left the Band Of Joy to tour with Tim Rose, Plant working still with Korner. Terry Reid recommended Plant to Jimmy Page for a revised Yardbirds line-up, declining the gig himself to pursue a promising solo career. Plant recommended Bonham and with John Paul Jones, Page's fellow session doyen, the four created and created.
Since Bonham's untimely death in 1980, Plant has recorded many solo projects and collaborated with a host of colourful accomplices. He and Jimmy Page renewed their long-time partnership in '95 for four years to create the No Quarter project – a melange of North African, Egyptian and New Wave folk roots sounds. Plant's attraction and affection to the music of Morocco, the Atlas region and beyond and his lifelong leaning towards the psychedelic indo-rock of West Coast USA, led to a new collision of styles and colours aka Strange Sensation.
Their first album together 'Dreamland', received great critical acclaim and two Grammy nominations in January 2003. In recent times, Plant has recorded with Afro Celt Sound System and along with Skin and Justin Adams, travelled to South Sahara, North of Timbuktu in Mali to participate in the 2nd Festival of the Desert, a gathering of African Saharan and assorted soul musicians including Oumou Sangare, Ali Farka Toure, Tinariwen and Tidawt. This project ultimately became a CD compilation to be found on the Harmonia Mundi label. 2003 saw the prestigious release of the definitive Plant retrospective, 'Sixty Six to Timbuktu', which included a selection of Plant's solo work from his first recording date to his appearance in Mali. As of Oct 2004, Plant has reassembled his Es Paranza label which saw its first release for many years. Robert Plant and Strange Sensation's album, titled 'Mighty Rearranger' is a collection of 12 all new, all original songs released May 2005. A major year long tour has just been completed.
At the close of 2005, the critically acclaimed Mighty Rearranger received 2 Grammy nominations. 2006 will see Robert and the band embark on a new adventure with a string of dates across Europe and beyond.
In May 2006, Robert received the prestigious Polar Music Prize along with other members of Led Zeppelin. The prize awarded to 'Led Zeppelin' was presented by His Majesty King Carl XVI Gustaf of Sweden in the presence of other such dignitaries.
Raising Sand, a new project and partnership with 26-time Grammy® Award winning artist Alison Krauss was released on October 23, 2007 on Rounder Records. In its first week, Raising Sand was the second best selling album in the US. A staple of critics' 2007 year-end top ten surveys, Raising Sand topped lists in USA Today, the San Francisco Chronicle, and the Sunday Times (UK), and placed high in many more outlets.
Raising Sand won five Grammys® at the 51st annual Grammy® Awards including top honors for Album of the Year and Record of the Year ("Please Read The Letter") as well as Best Contemporary Americana/Folk Album, Best Pop Collaboration With Vocals ("Rich Woman"), and Best Country Collaboration With Vocals ("Killing The Blues"). These Grammy® wins come on the heels of a CMA award for Musical Event of the Year, as well as Album of the Year and Duo/Group of the Year honors at the Americana Music Awards and a nomination for the Mercury Prize's Short List.

Booklet for Carry Fire