---
Album info
Album including Album cover
Alexander Scriabin (1871 - 1915): 3 Pieces, Op. 2:

1

3 Pieces, Op. 2: II. Prelude in B Major

01:22

Alexander Scriabin:

2

Fantasie in B Minor, Op. 28 (Moderato - Più vivo - Presto - Tempo primo accelerando poco a poco - Tempo primo - Presto - Più vivo)

09:29

Piano Sonata No. 4 in F-Sharp Major, Op. 30:

3

Piano Sonata No. 4 in F-Sharp Major, Op. 30: I. Andante

03:53

4

Piano Sonata No. 4 in F-Sharp Major, Op. 30: II. Prestissimo volando

05:06

Alexander Scriabin:

5

Valse in A-Flat Major, Op. 38 (Allegro agevole - Piacevole, carezzando)

06:13

3 Pieces, Op. 45:

6

3 Pieces, Op. 45: I. Feuillet d'album in E-Flat Major (Andante piacevole)

02:07

Alexander Scriabin:

7

Feuillet d'album in F-Sharp Major (Allegretto)

00:44

8

Feuillet d'album, Op. 58 (Con delicatezza)

01:35

9

Poème-Nocturne, Op. 61

09:34

10

Piano Sonata No. 6, Op. 62 (Modéré - Vivace - Lento - Poco più vivo - Più vivo)

15:39

5 Preludes, Op. 74:

11

5 Preludes, Op. 74: I. Douloureux déchirant

00:53

12

5 Preludes, Op. 74: II. Très lent, contemplatif

02:18

13

5 Preludes, Op. 74: III. Allegro drammatico

00:41

14

5 Preludes, Op. 74: IV. Lent, vague, indécis

01:38

15

5 Preludes, Op. 74: V. Fier, belliqueux

01:23

Total Runtime

01:02:35
Info for Scriabin: Piano Works

After a first album for Artalinna dedicated to Rachmaninov, released in 2014, Vestard Shimkus now invites us on a journey to the heart of the work of Scriabin, one of his favourite composers, alternating "miniatures" (Feuillets d'album, Préludes) and large forms (Poème-Nocturne, Sonatas).
Shimkus's interpretations, devoid of violence, emphasize the formal clarity and harmonic modernity of the Russian composer, at times revealing unprecedented colours (Sonata no.4). An album that showcases a singular and expressive universe.
Described as "a phenomenon" (conductor Paavo Järvi), "superb" (American Record Guide) and "inspired" (BBC), pianist Vestard Shimkus (born 1984, Latvia) has also been called "one of the greatest pianists of the young generation" (PianoNews).
Being a first-prize-winner of Maria Canals International Piano Competition (2009), he began to gain an international recognition after performances with BBC Philharmonic, City of Birmingham Symphony Orchestra and Orchestre National de France as well as after performing at Schleswig-Holstein, Rheingau, Kissinger Sommer, Bergen and Lockenhaus festivals.
Vestards Šimkus, piano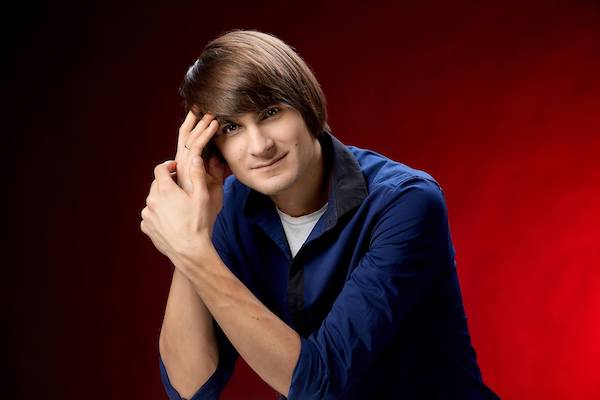 Vestards Šimkus
Described as "a phenomenon" (conductor Paavo Jarvi), "superb" (American Record Guide) and "inspired" (BBC), pianist, composer and improviser Vestard Shimkus (born 1984, Latvia) has also been called "one of the greatest pianists of the young generation" ("Piano News", Germany).
Being the 1st-prize-winner of several competitions, including the Maria Canals International Piano Competition (Spain, 2009), he began to gain an international recognition after his performances with BBC Philharmonic, City of Birmingham Symphony Orchestra and Orchestre National de France as well as after performing at Lucerne, Schleswig-Holstein, Rheingau, Kissinger Sommer, Bergen and Lockenhaus festivals.
As a pianist, Vestard Shimkus is particularly interested in the music written within the last 150 years. In addition, he occasionally performs entirely improvised solo concerts inspired by jazz, contemporary classical music, film music, early music and folk music.
Likewise, he is also an accomplished composer - he has written two piano concertos and a number of solo piano and chamber music works some of which have been published by "SCHOTT", as well as music for cinema and theatre. In 2016, his original orchestral score for the movie "Ausma" ("Dawn", 2015, directed by Laila Pakalniņa) received the highest prize awarded in the Latvian cinema - "Lielais Kristaps" Latvian Film Festival Award. He received another "Lielais Kristaps" award for his second film score written for the movie "Breathing Into Marble" (aka "Breaking Into Marbles"/ "Kvėpavimas į marmurą"/ "Elpa marmorā", 2018, directed by Giedrė Beinoriūtė) in 2018. He has also been awarded with "Lotto-Förderpreis des Rheingau Musik Festivals" (Germany, 2014) as well as nominated for the "International Classical Music Award" (2013) and awarded with TOYP (Ten Outstanding Young Persons) award of Latvian Junior Chamber International (2016).
Vestard Shimkus began his piano studies at age of five in Riga and subsequently studied in Los Angeles, Madrid and Munich with Dmitri Bashkirov, Claudio Martinez Mehner, Daniel Pollack and Vadim Suchanov. He has also studied composition with Pēteris Vasks.
Shimkus has released ten albums.

This album contains no booklet.