---
Album info
Album including Album cover
I`m sorry!
Dear HIGHRESAUDIO Visitor,
due to territorial constraints and also different releases dates in each country you currently can`t purchase this album. We are updating our release dates twice a week. So, please feel free to check from time-to-time, if the album is available for your country.
We suggest, that you bookmark the album and use our Short List function.
Thank you for your understanding and patience.
Yours sincerely, HIGHRESAUDIO
Traditional, arranged by Billy Bragg and Joe Henry:

1

Rock Island Line

02:55

Jean Ritchie:

2

The L&N Don't Stop Here Anymore

04:29

Huddie Ledbetter:

3

The Midnight Special

03:34

Traditional, arranged by Billy Bragg and Joe Henry:

4

Railroad Bill

02:49

Hank Williams, Jimmie Davies:

5

Lonesome Whistle

02:53

Tewee Blackman:

6

KC Moan

02:40

Jimmie Rodgers:

7

Waiting for a Train

02:46

Traditional, arranged by Billy Bragg and Joe Henry:

8

In the Pines

03:31

John Hartford:

9

Gentle on My Mind

03:39

Goebel Reeves:

10

Hobo's Lullaby

03:57

Sara Carter:

11

Railroading on the Great Divide

03:08

Traditional, arranged by Billy Bragg and Joe Henry:

12

John Henry

02:42

Gordon Lightfoot:

13

Early Morning Rain

04:13

Total Runtime

43:16
Info for Shine a Light: Field Recordings from the Great American Railroad

The first transcontinental railroad, the Union Pacific Railroad, constructed between 1863 and 1869, would forever change the way Americans traveled by linking the East and the West. People abandoned the idea of riding on rickety wagons or spending months on the sea for an opportunity to hop on a train and travel on an iron horse as far as California. The train became the most popular mode of transportation in the late 1800s for its time management, safety features, and cheap ticket prices. But within a century, the culture of train travel would be nearly lost to the automobile and the highway.
Enter musicians Billy Bragg and Joe Henry, who boarded a train at Union Station in Chicago in March 2016 headed for Los Angeles with their guitars and a desire to experience the American railroad and immerse themselves in the creative culture — especially the music — it has inspired. For four days and 2,728 miles, they traveled by train, jumping on The Texas Eagle and the Sunset Limited, singing and recording in compartments, on platforms, and in stations. Stopping everywhere from St. Louis and San Antonio to El Paso, Texas, and Tucson, Arizona, they made their field recordings with vocals and guitars only as the train picked up passengers. The trip yielded the recently released album Shine a Light: Field Recordings From the Great American Railroad, a concert tour, and an almost immediate No. 1 spot on the U.K. Americana charts.
Songs from the journey dip back into a beloved music catalog of old railroad-inspired songs that together chronicle the country's railway age. Bragg, who is English, and Henry, who is American, team up on some great old favorites from artists including Woody Guthrie and Glen Campbell. Among the album's 13 songs are "Rock Island Line," "The Midnight Special," "Lonesome Whistle," "Gentle on My Mind" (written by John Hartford), "Hobo's Lullaby," "John Henry," and the Jimmie Rodgers classic "Waiting for a Train."
Billy Bragg, acoustic guitar, electric guitar, vocals
Joe Henry, acoustic guitar, electric guitar, harmonica, vocals
Produced by Billy Bragg, Joe Henry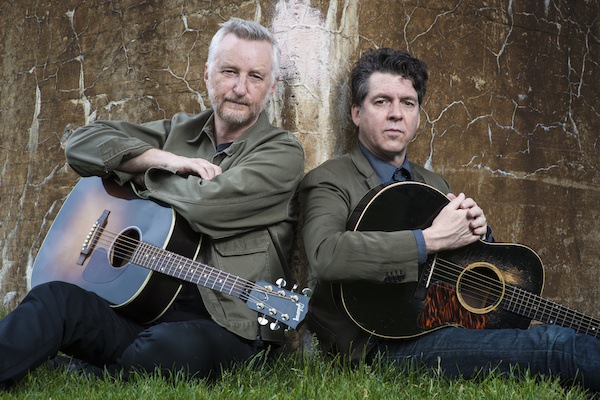 Billy Bragg
It was thirty-three years ago today when the Saturday boy from Essex who would become the UK's foremost political singer-songwriter released his first record, Life's a Riot with Spy Vs Spy. It contained seven songs, honed live, bashed out on a punk rock electric guitar, and wrapped in a utilitarian, single-colour sleeve. It charted at number 30 in the national charts. Billy Bragg had arrived. His first record company bio stated that he had 'risen from obscurity to semi-obscurity.'
Politicised by a Tory government operating without love or justice (hard to imagine now), this previously adrift young man from Barking, with few career opportunities, bought himself out of the British Army in 1981 ('the best £175 I ever spent'), determined to make a living out of song. After Life's A Riot, he blazed a modest trail with similarly direct follow-up Brewing Up with … and 'difficult third album' Talking with the Taxman About Poetry, on which Billy succumbed to the possibility of accompaniment, with additional guitar, piano and flugelhorn.
Despite his above-parapet leftist activism – best summed up by 1985's classic Between the Wars EP – his next album, Workers Playtime, positively jangled, with the highest ratio of love songs to protest songs yet. He played the full pop card with Don't Try This at Home, even making a jaunty video for the Aids-related 'Sexuality', but went back to basics for William Bloke, reflecting a changing geopolitical world after the Berlin Wall. In 1998, Nora Guthrie, daughter of the late folk legend Woody, invited Billy to set a treasure trove of his unsung lyrics to music, which he did in collaboration with US alt-rock stars Wilco. the resulting Mermaid Avenue albums, Grammy-nominated, repositioned Billy in the United States, and opened up a new frontier for his rootsy, heartfelt music. His next solo album, recorded with his regular band the Blokes, brought it all back home: England, Half-English.
His stripped-back tenth solo album, Tooth and Nail, recorded in five days in acclaimed songwriter/producer Joe Henry's basement studio in Pasadena, allowed Billy Bragg to confidently state: 'I did it my way.' It was his highest charting LP in the UK since Don't Try This at Home in 1991.
In March 2016, for Shine a Light, his eleventh long-player (and third in explicit collaboration with another artist), Billy reunited with Joe Henry for a trip across America, and through Americana, guided by the lights of the mythic American railway. They boarded at Chicago's Union Station and set out for LA, 'looking to reconnect with the culture of American railroad travel and the music it inspired'; 2,728 miles later, the result was a series of field recordings that hymned the very act of getting from A to B. the Observer called it 'a muscular chronicle', and it reached No. 1 in the UK Americana album chart. the US tour, which began in Nashville in September, would cover even more ground, and steam across the UK and on into Australia in 2017.
The intervening three-and-a-bit decades have been marked by numerous milestones and waystations for Billy, political and personal, including going topping the singles chart, having a street named after him, being mentioned in Bob Dylan's memoir and meeting the Queen.
Named Trailblazer of the Year at the Americana Music Association UK Awards in February 2016, Billy was subsequently awarded the Spirit of Americana/Free Speech in Music at the Americana Music Awards in September, co-presented by the First Amendment Center. In his middle years, he really did start to straddle continents.
After 13 studio albums, eight compilations, two box sets, and countless tours across countless international borders, the elder statesman of today, bearded and 'ruggedly handsome' (according to one Facebook fan), refuses to slip into the dotage of self-parody. In his fifties, neither the fight nor the fight songs have left Billy Bragg.
For every protest song ('Between the Wars', 'There Is Power in A Union', 'Never Buy the Sun'), there is a declaration of love ('Must I Paint You a Picture', 'Brickbat' or, from Tooth and Nail, 'Chasing Rainbows'). 'Mixing pop and politics' is a tall order, but where there's a starting block, there's a great leap forward.
Governments rise and fall, fashions come and go, pop stars are built up and knocked down by a fickle media, and Billy Bragg adapts to survive. His enemies remain essentially the same: craven politicians, inhumane corporations, plus assorted racists, fascists, bullies, reactionaries and people with floppy fringes.
Orator, entertainer, rabble-rouser, negotiator, pamphleteer, the fabled 'big-nosed bard from Barking', Billy Bragg is many things. A regular contributor to the national debate as TV pundit and newspaper columnist, he continues to sharpen his pen as a writer, and his first book, the considered, wide-ranging treatise on English identity the Progressive Patriot, opened up a whole new vista of possibility for a man who never stops engaging with all the trouble in the world. Whether it's unionized workers, constitutional reform, bankers' bonuses, illegal wars or the undemocratic commandeering of a portable toilet backstage at a festival, Billy Bragg will help fight your corner.
To quote his enduring live favourite 'Levi Stubbs' Tears': The world falls apart, but some things stay in place. That optimism lives on in 'Tomorrow's Going to Be a Better Day' from Tooth and Nail, since enshrined in a book of his selected lyrics, A Lover Sings, published by Faber in 2015.
"Take it from someone who knows the glass is half-full, tomorrow's going to be a better day, no matter what the siren voices say … we're going to make it that way."
Joe Henry
In a career spanning more than 25 years, Joe Henry has left an indelible and unique imprint on American popular music. As a songwriter and artist, Henry is celebrated for his exploration of the human experience. A hyper-literate storyteller, by turns dark, devastating, and hopeful, he draws an author's eye for the overlooked detail across a broad swath of American musical styles — rock, jazz and blues — rendering genre modifiers useless.
Henry has collaborated with many notable American artists on his own body of work, from T Bone Burnett, Daniel Lanois, and Van Dyke Parks on one side of the spectrum, to Don Cherry, Ornette Coleman, Brad Mehldau, and Bill Frisell on the other. A three-time-Grammy-winning producer, Henry has made records for Bonnie Raitt, Hugh Laurie, Lisa Hannigan, Elvis Costello, and Solomon Burke among many others.
Additionally, Henry has taken his musical talents to film and television. He has scored music for the films Jesus' Son, Knocked Up, and Motherhood, as well as produced tracks for the film I'm Not There. His song "Stars" was featured in the closing credits in the fourth season of HBO's Six Feet Under.
In 2013, Algonquin Press published, "Furious Cool: Richard Pryor and the World that Made Him," a book co-written by Joe and his brother Dave Henry.
In 2016, Henry teamed up with Billy Bragg on the collaborative album Shine A Light: Field Recordings From The Great American Railroad. The pair were subsequently nominated as "Duo/Group of the Year" by the Americana Music Association.
On October 27, Henry will release his 14th solo album Thrum.
As a solo artist and a producer alike, Henry's records are marked with a consistent sonic depth, attention to narrative, and emphasis on the beauty of spontaneity.

This album contains no booklet.