---
Album info
Album including Album cover
I`m sorry!
Dear HIGHRESAUDIO Visitor,
due to territorial constraints and also different releases dates in each country you currently can`t purchase this album. We are updating our release dates twice a week. So, please feel free to check from time-to-time, if the album is available for your country.
We suggest, that you bookmark the album and use our Short List function.
Thank you for your understanding and patience.
Yours sincerely, HIGHRESAUDIO
1

St. Louis Blues

05:26

2

King Porter Stomp

03:17

3

Willow Tree

04:40

4

Struttin' With Some Barbecue

04:30

5

Lester Leaps In

04:16

6

Round Midnight

04:07

7

Manteca

05:16

8

Bird Feathers

06:54

Total Runtime

38:26
Info for New Bottle Old Wine (Remastered)

The album, recorded in 1958 and originally released via World Pacific, by Gil Evans – one of the most innovative arrangers in jazz. Evans' orchestra on this session is packed with a superb set of players, including Cannonball Adderley, Art Blakey, Paul Chambers and Johnny Coles. Sourced from a previously unknown analog stereo master, the incredible session comes in the highest fidelity on this HighResAudio ReMaster.
"Gil Evans' second album as a leader (a World Pacific set that has been reissued by Blue Note) features his reworking of eight jazz classics including "St. Louis Blues," "Lester Leaps In" and "Struttin' with Some Barbecue." Evans' charts utilize three trumpets, three trombones, a french horn, a prominent tuba, one reed player, altoist Cannonball Adderley and a four-piece rhythm section. Most memorable is a classic rendition of "King Porter Stomp" featuring the exuberant altoist Cannonball Adderley, who is the main soloist on most of the selections. Other key voices include Evans' piano, guitarist Chuck Wayne and trumpeter Johnny Coles. This is near-classic music that showed that Gil Evans did not need Miles Davis as a soloist to inspire him to greatness." (Scott Yanow, AMG)
Gil Evans, piano, conductor
Cannonball Adderley, alto saxophone
Johnny Coles, trumpet (tracks 1-3, 5 & 6)
Louis Mucci, trumpet (tracks 1-3, 5 & 6)
Ernie Royal, trumpet (tracks 1-3, 5 & 6)
Clyde Reasinger, trumpet (tracks 4, 7 & 8)
Joe Bennet, trombone
Frank Rehak, trombone
Tom Mitchell, trombone
Julius Watkins, french horn
Harvey Phillips, tuba (tracks 1, 2, 5 & 6)
Bill Barber, tuba (tracks 3, 4, 7 & 8)
Jerry Sanfino, reeds (tracks 1, 2, 5 & 6)
Phil Bodner, reeds (tracks 3, 4, 7 & 8)
Chuck Wayne, guitar
Paul Chambers, bass
Philly Joe Jones, drums (track 3)
Art Blakey, drums (tracks 1, 2 & 4-8)
Produced by George Avakian, Gil Evans
Digitally remastered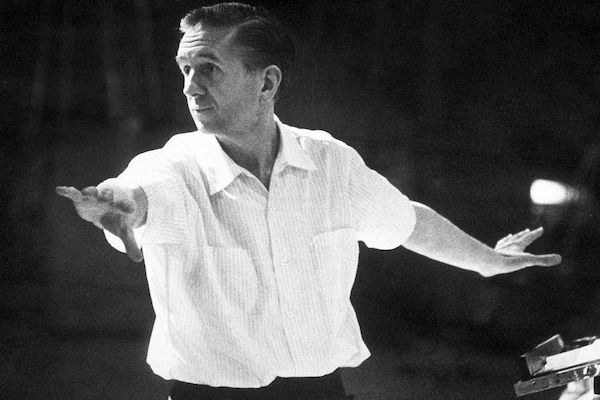 Gil Evans
It was a revelation for Gil Evans, who decided to devote his life to this music. That same year, he bought his first record, "No One Else But You," by Louis Armstrong and Earl Hines. At the same time, he started transcribing, from the recordings, the music of such great jazz arrangers as Red Nichols, Duke Ellington, and Don Redman. In 1933, he put together his first group in Stockton, which had six musicians at first, but grew to nine in 1934. The group played arrangements by Don Redman, Fletcher Henderson, and Duke Ellington, all transcribed from the recordings. In 1935, the orchestra was on the same bill at the Palomar Ballroom as the triumphant Benny Goodman, then was hired to play at the Rendez-Vous Ballroom in Balboa Beach, in southern California, where it remained until 1938. Gil Evans was in charge of writing and conducting, and, from time to time, Stan Kenton held the piano chair.
In 1938, Alex Holden, who worked for MCA at that time, offered Gil Evans' orchestra a chance to accompany singer Skinnay Ennis. Gil accepted, keeping his position as arranger. Ennis found work for the group in comedian Bob Hope's well-known radio show for NBC in Hollywood. The manager then called up another arranger to work with the group, Claude Thornhill, who scored a big hit in 1937 with his arrangement of "Loch Lomond" for singer Maxine Sullivan. He and Gil Evans became colleagues and friends, but the two arrangers decided to quit this particular job in 1941. Thornhill had already put together his own orchestra in New York in 1939. This group had begun touring, and found itself, in the summer of 1940, at the Rendez-Vous ballroom in Balboa Beach. In 1941, Thornhill decided to move back to New York, and on March 20, the orchestra began a three-month residency at the Glen Island Casino. Gil Evans joined him as arranger alongside Bill Borden, and on November 17, for the first time in his career, one of his arrangements was recorded. Unfortunately, the U.S. had also gone to war during this time, and the barrage of draft orders compelled Thornhill to disband his orchestra.
Gil Evans also went into the army; he remained stateside, and became a U.S. citizen. He was assigned to various army bands in which he often played the bass drum, notably in Augusta, Georgia, where he met Lester Young. It was during his army duty that Gil Evans discovered the nascent bebop music, to which he was immediately attracted. He was discharged, and moved to New York in 1946, settling in a small furnished room on 55th street that was destined to later become a mythical landmark. He then renewed his collaboration with Claude Thornhill when the latter reformed his orchestra. Evans remained as one of the arrangers for the Thornhill orchestra until 1948, and in this context experimented with many aspects of his budding creativity.
By now, his room on 55th street had become a near-permanent meeting place, where many musicians were busy creating a new musical universe, musicians such as Gerry Mulligan, Dave Lambert, John Carisi, George Russell, Miles Davis, and Charlie Parker. A project was conceived at that time by Gil Evans and Gerry Mulligan, that of a medium-sized orchestra that would combine the sound texture of the Thornhill orchestra with the new discoveries of bebop. At first, Charlie Parker was proposed as leader of this ensemble, but in the end, Miles Davis was chosen. In 1948, a nonet was formed, and was booked at the Royal Roost on 47th street. The band was dissolved right after this engagement, however, but still managed to record twelve sides in 1949 and 1950 (including two arranged by Gil Evans) that would later be compiled in 1953 under the title The Birth Of The Cool, an album that is now considered a turning point in the history of jazz writing.
Around 1949, Gil married Lilian Grace (they were later divorced), and until 1956, he went through a period of limited musical output. He spent the time studying music extensively, and occasionally wrote for singers, radio, and television, but worked only sporadically in the field of jazz, with such artists as Pearl Bailey and Billy Butterfield in 1950, and Charlie Parker in 1953. Then, in 1956, his career really started to take off. First, Gil collaborated with Helen Merrill (on the album Dream Of You), then with Miles Davis, who had just signed with Columbia and chose Gil Evans for his first recording with a large ensemble. The album in question, Miles Ahead, was released in 1957, and several other collaborations followed, including Porgy And Bess in 1958, Sketches Of Spain in 1960, and Quiet Nights in 1962, all of which went on to become orchestral jazz classics. During this same period, Gil Evans also recorded several albums under his own name, with somewhat smaller ensembles for the most part. These include Gil Evans And Ten (1957), New Bottle, Old Wine (1958) which features Cannonball Adderley, Great Jazz Standards (1959), and Out Of The Cool (1960). In 1960, the orchestra was given a six-week residency at the Jazz Gallery, a New York club. Gil recorded again from 1962 to 1965, notably the albums The Individualism Of Gil Evans, Guitar Forms with Kenny Burrell, and Look To The Rainbow with Astrud Gilberto.
In 1962, he met Anita Cooper. They were married in 1963 and had two sons, Noah (born in 1964), and Miles (born in 1965). For four years, Gil hardly produced any music at all, and concentrated instead on raising his family. He began to record again in 1969, using medium-sized ensembles (usually twelve to fifteen musicians) in which electric instruments now began to play a very important role. The instrumentation also changed, with the number of wind instruments reduced in favor of the rhythm section, which was now augmented by guitars, percussion, and miscellaneous other instruments. A projected collaboration with Jimi Hendrix was cut short by the guitarist's premature death, but an album of jazz arrangements of Hendrix compositions performed by the Gil Evans Orchestra was nonetheless released in 1974. The orchestra began to tour outside the U.S., especially in Europe. In 1975, Gil Evans recorded There Comes A Time, which would turn out to be his last studio album for quite some time. All subsequent recordings by the orchestra were live albums, most notably those made in New York, albums such as Priestess (1977) and Live At The Public Theater (1980), as well as those recorded in London, including Live At The Royal Festival Hall (1978).
In 1980, Gil Evans recorded a series of duets with alto saxophonist Lee Konitz (Heroes and Anti-Heroes), and, beginning in 1984, the orchestra was hired to play every Monday night at Sweet Basil, a New York club. The Monday Night Orchestra, as it became known, played there up until Gil's death, and recorded several albums, including Live At Sweet Basil (1984), and Bud And Bird (1986). In 1985 and 1986, Gil Evans wrote music for several movie soundtracks, most notably Julian Temple's Absolute Beginners and Martin Scorsese's The Color Of Money. The year 1987 was particularly prolific, marked by numerous recordings as well as several European tours, including a concert with pop star Sting. In December of that year, he recorded another duet album, Paris Blues, this time in collaboration with his old accomplice, soprano saxophonist Steve Lacy.
Gil Evans died of pneumonia on March 20, 1988 in Cuernavaca, Mexico, where Charles Mingus before him had also come to die in 1979.

This album contains no booklet.