---
Album info
Album including Album cover
I`m sorry!
Dear HIGHRESAUDIO Visitor,
due to territorial constraints and also different releases dates in each country you currently can`t purchase this album. We are updating our release dates twice a week. So, please feel free to check from time-to-time, if the album is available for your country.
We suggest, that you bookmark the album and use our Short List function.
Thank you for your understanding and patience.
Yours sincerely, HIGHRESAUDIO
1

If Only for Tonight

04:56

2

Parachute

03:31

3

To Be Misunderstood

03:24

4

Can't Run Forever

03:48

5

Apt. 4

03:14

6

You

02:47

7

Thoughts in Progress

03:57

8

Mannequin

04:17

9

Miss Virginia

03:44

10

Feel Something

04:14

11

What Could Be

03:46

12

Ending Credits

03:06

Total Runtime

44:44
Info for Vacation Manor

Virginia-based indie pop/rock duo Vacation Manor —Nathan Towles and Cole Young—share new single "Parachute" from their upcoming self-titled debut album, out June 11th. On Vacation Manor, the duo stitch together shared and personal experiences in a patchwork of vibrant and vivid alternative anthems wrapped in shimmering guitars, glistening keys, upbeat sunny grooves, and iridescent melodies.
Latest single "Parachute" drifts above a steady beat, nostalgic piano, and clean guitar as the vocals flutter from vulnerable verses into a high register hum. Nathan says, "Lyrically, it's about wanting to trust all the way in a relationship, but you've been disappointed so many times that you can't. You always keep an eye on the exit like, 'I don't know when I'm going to have to unexpectedly get out of here.' It's not a celebration of the feeling. Instead, I'm asking myself, 'Why is this something I go through?' The song is essentially the narrator's struggle."
Speaking about the album, the band says, "To us, the album feels like looking at photos on your phone from the last few years. The music is very experiential. We believe songs are like lifeboats. You use them to get back to shore again. Once you're there, the song is for whoever needs it next."
Vacation Manor continue to sail those lifeboats back and forth. In 2016, they introduced themselves via the debut Girl, Say EP followed by Everything I Can't Say Out Loud two years later. Racking up over 35 million streams, they continued to entrance and engage listeners. Over the past two years, they carefully architected this new body of work, retreating to Joshua Tree to record with producer Charlie Stavish before making intermittent trips back and forth to Nashville where they worked with Kyle Cummings.
"If you listen to the whole record, I hope it's like watching a movie you relate to," Cole leaves off. "It encompasses our personal tastes and experiences."
"It's a culmination of the last seven years, because we started as a garage band and ended up making a record we're really proud of," Nathan agrees. "I'm excited to relive all of the things that led us to make this. It's Vacation Manor."
Vacation Manor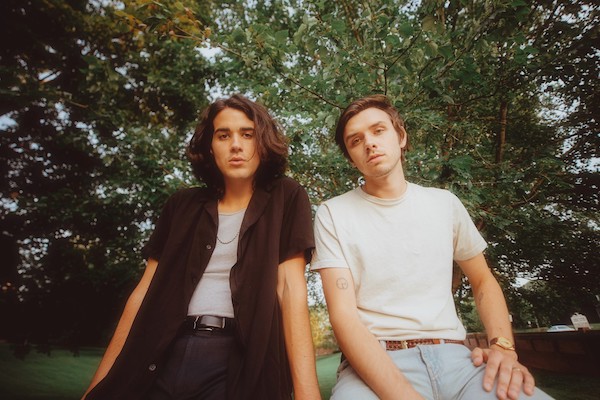 Vacation Manor
Street lights cast a glow on an empty highway in the middle of the night. The blue hour sets in as cerulean hues overtake the sky. These images and many more swirl into focus within the music of Vacation Manor. Painting in broad strokes of lush guitars, bright melodies, cinematic and intimate lyrics, and shimmering rhythms, the Virginia duo—Nathan Towles [vocals, guitar] and Cole Young [drums]—often pose and ponder a key question during the creative process…
"What's the location?," asks Nathan. "Songs always bring me to a very specific place. So, we try to put listeners in a physical space. Their ears inform where their imaginations go. Maybe you're cruising on the freeway or walking around during the blue hour. There's introspection, but it's communal."
Since 2016, Vacation Manor have carefully built this gateway. Their 2016 debut EP, Girl, Say, yielded fan favorites such as "A Toast and a Spirit" [9.9 million Spotify streams] and "Careless" [6.2 million Spotify streams]. On its heels, 2018's Everything I Can't Say Out Loud elevated their total streams past 25 million powered by "Say We'll Make It" [1.5 million Spotify streams] and more. During 2019, they commenced their next chapter. Reteaming with Girl, Say producer Kyle Cummings, the musicians wrote and recorded their new EP, Thoughts In Progress, Pt. 1 [Nettwerk].
"It was really collaborative and different," says Cole. "Kyle brings out a lot of our individual perfectionism and our strongest qualities. This time around, we had demos and thoughts in place. So, we've got a wider picture of what a song is supposed to look like before we even start working on it. We all brought more to the table."
The guys paved the way for Pt. 1 with opener "If Only For Tonight." Originating from a jam with guitarist Jason Wozniak, a steady beat anchors a story of dreams bigger than the bounds of a small town as it tips a hat to The Boss's "Born to Run." Luminous guitars shimmer between airy keys as the frontman sings, "For all my life, I felt like my hands were tied. I'm dying to feel alive, if only for tonight."
"When we wrote the song, I had just finished reading Bruce Springsteen's autobiography," recalls Nathan. "He spends the first three chapters of the book describing his hometown of Freehold, NJ. It was gray and stagnant. Everything stood still. It feels like the towns so many of us grew up in. I read my own experiences into it. I was thinking about driving around my hometown in Maryland through Washington, D.C. and into Virginia. When I hear 'If Only For Tonight,' it feels like I can taste the gas station coffee going down the interstate."
"We both connected to it lyrically," adds Cole. "We each grew up in small towns. It's fun, but you do have this innate urge to get out from a pretty young age."
Meanwhile, the title track and single "Thoughts in Progress" pairs a hummable riff with pensive lyrics.
"It's the solar system for this project," Nathan goes on. "The title could mean so many different things. The song itself is about vulnerability, relationships, and communication before you have a finished thought. We felt like it defined what we wanted to say in this moment. The music represents our thoughts in progress right now."
Breezy acoustic strumming and delicate drums give way to fluttering melodies on "Apt. 4." As it musically nods to nineties pop, it examines the push-and-pull of a relationship.
"I had just gotten married last year," Nathan elaborates. "The song is about wanting to be home. I don't want to be okay with being gone all the time. Simultaneously, I don't want to be so caught up in that feeling that I'm not enjoying where I'm at when I am away. It's got a lot of tension."
In the end, Vacation Manor relocate listeners somewhere wonderful via Thoughts in Progress.
Cole leaves off, "When you're listening to this, maybe you'll hear some of your own story in the songs and even understand it a bit better."

This album contains no booklet.