---
Album info
Album including Album cover Booklet (PDF)
I`m sorry!
Dear HIGHRESAUDIO Visitor,
due to territorial constraints and also different releases dates in each country you currently can`t purchase this album. We are updating our release dates twice a week. So, please feel free to check from time-to-time, if the album is available for your country.
We suggest, that you bookmark the album and use our Short List function.
Thank you for your understanding and patience.
Yours sincerely, HIGHRESAUDIO
Georg Philipp Telemann (1681 - 1767): Seliges Erwägen - Passions-Oratorium, TWV 5:2:

1

1. Sinfonia

03:07

First meditation:

2

2. Choral "Schmücke dich, o liebe Seele"

01:08

3

3. Aria "Gute Nacht, ihr meine Lieben!" (Jesus)

03:44

4

4. Recitativo ed Arioso "Doch, dass ihr möget mein gedenken" (Jesus)

00:47

5

5. Aria "Sollt ich deiner wohl vergessen?" (Die Andacht )

03:20

6

6. Recitativo ed Arioso "Ich will euch noch darneben" (Jesus)

00:52

7

7. Choral "Dein Blut, der edle Saft"

00:43

8

8. Recitativo "Gott Lob! Es ist das Alte nun vergangen" (Die Andacht )

01:20

9

9. Aria "Sollt ich deiner nicht gedenken?" (Die Andacht )

03:25

Second meditation:

10

10. Recitativo "Nun werd ich bald erfahren in der Tat" (Jesus, Petrus)

00:58

11

11. Aria "Foltern, Pech-vermischte Flammen" (Petrus)

04:34

12

12. Recitativo "Es wird der Hahn in dieser Nacht krähen" (Jesus)

00:20

13

13. Aria "Foltern, Pech-vermischte Flammen" (Petrus)

01:30

14

14. Recitativo "Ach, Petre! Miss dir nicht zu viel" (Die Andacht )

00:38

15

15. Aria "Denke nach, du arme Erde" (Die Andacht )

05:12

16

16. Choral "Gott, groß über alle Götter"

01:12

Third meditation:

17

17. Arioso ed Recitativo: Vater! Vater!" (Jesus)

02:36

18

18. Accompagnato "O Anblick, welcher mir das Herze nimmt!" (Die Andacht )

01:19

19

19. Aria "Ihr blut'gen Schweiß-Rubinen" (Die Andacht )

04:28

20

20. Choral "Tritt her, und schau mit Fleiße"

00:57

Fourth meditation:

21

21. Aria "Recht und Gerechtigkeit zu hegen" (Caiphas)

04:00

22

22. Recitativo "Gefangener, was hören wir?" (Caiphas)

01:28

23

23. Aria "Wenn die Gerichts-Posaune schallt" (Jesus)

04:03

24

24. (Die Andacht, Caiphas)

00:48

25

25. Aria "Menschen-Hände, Menschen-Lippen" (Die Andacht )

04:48

26

26. Recitativo "Doch, denke nach, o Seele" (Die Andacht )

00:28

27

27. Choral "Du edles Angesichte"

01:16

Fifth meditation:

28

28. Accompagnato "Ach, ach! Was hab' ich doch getan?" (Petrus)

00:56

29

29. Aria "Mir ist die ganze Welt zu enge" (Petrus)

03:59

30

30. Accompagnato ed Arioso "Ach, könnt' ich doch in Tränen-Salz zerfließen" (Petrus)

01:16

31

31. Aria "Tränen, die der Glaube zeuget" (Der Glaube )

04:43

32

32. Choral "Straf' mich nicht in deinem Zorn"

00:57

Sixth meditation:

33

33. Recitativo ed Arioso "So rufet ihr vermaledeite Sünder" (Die Andacht )

00:29

34

34. Aria "Droht der Satan meiner Seelen" (Die Andacht )

02:55

35

35. Recitativo ed Arioso "Wen seh ich dort an jenem Stock gebunden" (Die Andacht )

00:36

36

36. Aria "Ich treff' auf deinem blut'gen Rücken" (Die Andacht )

04:41

37

37. Choral "Haupt voll Blut und Wunden"

01:08

Seventh meditation:

38

38. Recitativo "Nun schließ' ich bald den münden Lebens-Lauf" (Jesus)

00:29

39

39. Aria "Ich will kämpfen" (Jesus)

05:04

40

40. Recitativo: "So wirst du, Lebens-Baum" (Die Andacht)

00:29

41

41. Aria "Jesus wird ans Holz geschlagen" (Die Andacht )

03:45

Eighth meditation:

42

42. Choral "Jesu, unter deinem Kreutz"

01:09

43

43. Arioso "Es ist vollbracht!" (Jesus)

02:56

44

44. Choral "O große Not"

00:44

45

45. Recitativo "Ihr Gottes-Mörder" (Zion)

00:43

46

46. Aria "Erstaunet, ihr Kreise" (Zion)

05:12

47

47. Choral "Nun gibt mein Jesus gute Nacht"

01:19

Ninth meditation:

48

48. Aria "Jesus spannt die Gnaden-Flügel" (Die Andacht )

06:06

49

49. Recitativo ed Arioso "Nun endlich hat mein Jesus überwunden" (Die Andacht )

01:24

50

50. Choral "Erscheine mir zum Schilde" (Die Andacht )

02:01

Total Runtime

01:52:02
Info for Telemann: Seliges Erwägen, Passion-Oratorium

The Freiburger Barockorchester, directed from Gottfried von der Goltz's violin, released a brand new recording of Telemann's rare Passion, entitled Seliges Erwägen (Contemplative Meditations). More than just setting to music the story of the passion of Christ, such as Bach did, we hear in this score a succession of meditations.
If we know little about its genesis, it is acknowledged that the success of this work was considerable, even more than that of his Passion after Brockes or his oratorio The Death of Jesus.
The clear diction and the transparency of the voices in the chorals perfectly convey the dramatic expression, typical of these sacred works. Telemann entrusts the orchestra to emphasize the effects of the text thanks to a subtle instrumentation. The sound of the chalumeaux, clarinet's ancestors, enriches the wood section and contributes to the diversity of characters that reflects the composer's imagination.
The superb baroque ensemble on period instruments from Freiburg enhances Telemann's consoling and luminous humanity.
Freiburger Barockorchester
Gottfried von der Goltz, direction
Anna Lucia Richter, soprano (Glaube, Zion)
Hanna Zumsande, soprano (Choräle)
Julienne Mbodjé, alto (Choräle)
Colin Balzer, tenor (Andacht)
Michael Feyfar, tenor (Petrus)
Peter Harvey, baritone (Jesus)
Konstantin Wolff, baritone (Caiphas)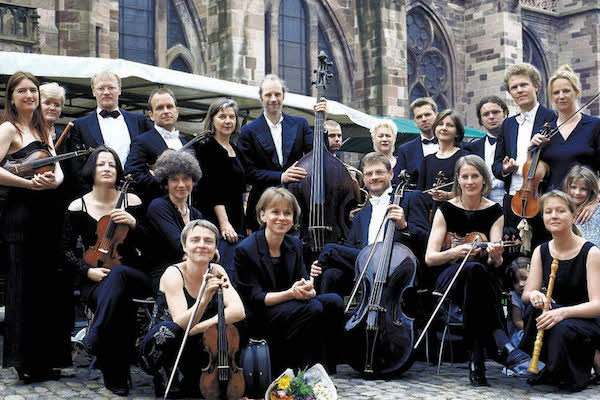 Das Freiburger Barockorchester
According to legend, it all began on New Year's Eve in 1985, when several students at the College of Music in Freiburg – excited about the upcoming new year and in full flush thanks to a few glasses of sparkling wine – decided to form an ensemble and play Baroque music on historical instruments.
After two years of rehearsals, with intensive research into sources and animated discussions on how on earth to play this or that phrase in Baroque style, they were ready: the musicians appeared for the first time under the name 'Freiburg Baroque Orchestra' in the Burgheim Church in Lahr on 8 November 1987. The program consisted of Baroque music from England (Purcell), France (Lully), Italy (Corelli), Austria (Muffat) and the Netherlands (Wassenaer).
Even after more than twenty years, the musicians of the Freiburg Baroque Orchestra still approach every single work or concert programme from this perspective. Though in the meantime its repertoire has enlarged impressively, ranging from the Baroque 17th century, through the Classic and Romantic periods, to current works. Yes, the 'Freiburgers' (as they are often referred to in the music scene) have also inspired experimental musical interest amongst contemporary composers to create works for their Baroque instruments. Indeed, very often with an explicit Baroque reference, for example during the Bach Week in Ansbach where the musicians baptised an 'Ansbachian Concert' by Manfred Trojahn in August 2009, whose instrumentation and operatic concert form referred to Johann Sebastian Bach's Fourth Brandenburg Concerto.
Another property inseparably connected with the FBO is that they mostly play without a conductor. As was usual in the 18th century, the Freiburg Baroque Orchestra is also led from the concertmaster's platform. Less historically, actually in an extremely modern manner, the Freiburgers fill this position with two Artistic Managers of equal status (a form of dual command), who alternately manage individual projects: Gottfried von der Goltz and Petra Müllejans. Conductors are, of course, invited for works involving a larger number of players. The most prominent guest, and particularly popular amongst the musicians, is René Jacobs, under whose leadership the FBO won the German Record Critics' Award in 2009 for their recording of Mozart's opera Idomeneo. Often, and this too is a special quality of the FBO, the ensemble's own musicians appear as soloists in concerts and on CD. And this brings us to the trade mark of the Freiburg Baroque Orchestra: major aspirations, enormous playing pleasure and a lively musical inquisitiveness. Whereby rediscovering unknown music is just as important as getting familiar music to speak in a new dialect. The Freiburg Baroque Orchestra has conquered the most famous concert halls on the international music scene with this artistic credo, where they can be heard with about 100 appearances per year. Often with some of the most famous interpreters of our time, such as Christian Gerhaher, Isabelle Faust, Philippe Jaroussky and René Jacobs. The orchestra's discography has meanwhile grown to over 60 CDs, of which many recordings have won prizes. That the Freiburg Baroque Orchestra has also played itself to the top of the traditional classical scene is demonstrated by the fact that it was the very first Baroque orchestra to be invited to open the Salzburg Festival, in 2009.
In addition to its own series of concerts in the Freiburg Concert Hall, the FBO has also found a musical home in Stuttgart's Liederhalle and Berlin's Philharmonie for over 15 years with a series of concerts that it organises itself.

Booklet for Telemann: Seliges Erwägen, Passion-Oratorium