---
Album info
Album including Album cover Booklet (PDF)
I`m sorry!
Dear HIGHRESAUDIO Visitor,
due to territorial constraints and also different releases dates in each country you currently can`t purchase this album. We are updating our release dates twice a week. So, please feel free to check from time-to-time, if the album is available for your country.
We suggest, that you bookmark the album and use our Short List function.
Thank you for your understanding and patience.
Yours sincerely, HIGHRESAUDIO
Hector Belioz (1803 - 1869): La Damnation de Faust, Op.24 / Part 1

1

Scène 1. "Le vieil hiver a fait place au printemps"

05:56

2

Ronde des Paysans. "Les bergers quittent" - Scène 2. "Mais d'un éclat guerrier"

04:06

3

Marche hongroise

04:24

La Damnation de Faust, Op.24 / Part 2:

4

Scène 3. "Sans regrets j'ai quitté les riantes campagnes"

04:19

5

Chant de la fête de Pâques. "Christ vient de ressusciter!"

03:45

6

Scène 4. "O pure émotion!"

02:04

7

Scène 5. Choeur de buveurs. "A boire encor!"

02:36

8

Chanson de Brander. "Certain rat, dans une cuisine"

01:56

9

Fugue sur le thème de la chanson. "Amen"

02:36

10

Chanson de Méphistophélès. "Une puce gentille"

04:00

11

Scène 6. Air de Méphistophélès. "Voici des roses"

02:27

12

Songe de Faust. "Dors! heureux Faust"

06:21

13

Ballet des Sylphes

03:25

14

Choeurs de Soldats et Chanson d'Etudiants. "Villes entourées" - "Jam nox stellata velamina pandit"

04:15

La Damnation de Faust, Op.24 / Part 3:

15

(Prélude: La retraite)

00:53

16

"Merci, doux crépuscule!" - "Je l'entends!" (Faust / Méphistophélès, Faust)

04:56

17

Scène 10. "Que l'air est étouffant"

03:14

18

Le roi de Thulé (Chanson gothique). "Autrefois un roi de Thulé"

04:59

19

Scène 11. Evocation. "Esprits des flammes inconstantes"

01:45

20

Menuet des Follets - Scène 12. "Maintenant chantons à cette belle"

03:57

21

Sérénade de Méphistophélès. "Devant la maison"

02:00

22

Scène 13. "Grands dieux!"

04:59

23

Scène 14. "Allons, il est trop tard!" - "Je connais donc enfin"

04:26

La Damnation de Faust, Op.24 / Part 4:

24

Scène 15. Romance. "D'amour l'ardente flamme"

07:55

25

"Au son des trompettes"

01:55

26

Scène 16. Invocation à la Nature. "Nature immense"

04:11

27

Scène 17. Récitatif et Chasse. "A la voûte azurée"

02:26

28

Scène 18. La course à l'abîme. "Dans mon choeur retentit sa voix"

03:19

29

Scène 19. Pandaemonium. "Has! Irimiru Karabrao!" - "Tradioun marexil"

05:02

30

Scène 21. Le Ciel. "Laus! Laus!" - Apothéose de Marguerite. "Remonte au ciel, âme naïve"

04:45

Total Runtime

01:52:52
Info for Berlioz: La Damnation de Faust (Remastered)

Markevitch's recordings of Berlioz's "Damnation of Faust" and "Harold in Italy."
"The names of the soloists may not be familiar to everyone nowadays (Richard Verreau, Michel Roux and Consuelo Rubio) but with the Lamoureux Orchestra and Elisabeth Brasseur Choir under Igor Markevitch, this is an unusually satisfying and exciting version of Berlioz's "dramatic legend"." (Gramophone Magazine)
Richard Verreau, tenor (Faust)
Consuelo Rubio, soprano (Marguérite)
Michel Roux, bass (Mephistophéles)
Pierre Mollet, baritone (Brander)
Heinz Kirchner, viola
Orchestre des Concerts Lamoureux
Choeur Enfants RTF
Choeurs Elisabeth Brasseur
Igor Markevitch, conductor
Digitally remastered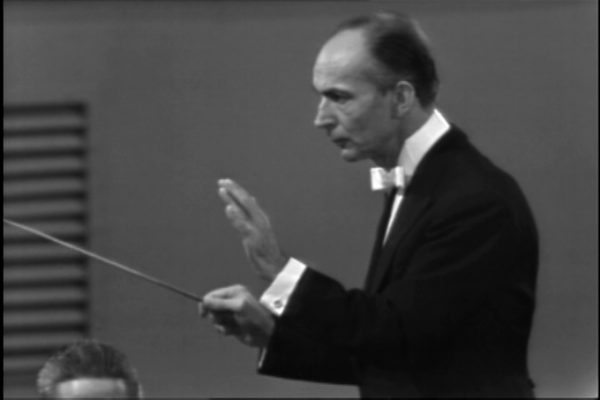 Igor Markevitch
The music of Igor Markevitch made a sensational impact in the late 1920s, when he was only in his mid-teens; by the mid-1940s Markevitch put composition aside and was happy to allow his prominence as a conductor obscure his earlier eminence. It was to be half-a-century before a series of CD recordings on the Marco Polo label reminded the world of what a powerful and original composer Markevitch really was.
Igor Markevitch was born in Kiev, on 27 July 1912, the son of the pianist Boris Markevitch, who had been a pupil of Raoul Pugno and Eugen d'Albert. In 1914 the family moved to Paris, settling two years later in La Tour-de-Peilz (Vevey), Switzerland, which was to be Igor's home for the next decade. He studied first with his father, after whose death, in 1923, he took lessons from Paul Loyonnet.
Markevitch's first breakthrough came in 1925, when Alfred Cortot heard him play his piano suite Noces, and the next year Markevitch entered the École Normale de Musique, in Paris, to study piano with Cortot and harmony, counterpoint and composition with Nadia Boulanger.
The next major advance in his career came in 1929 when, only 16 years of age, he was introduced to Sergei Diaghilev, who was deeply impressed by Markevitch's Sinfonietta, completed earlier that year, and commissioned him to write a piano concerto; it was premiered in London, with Markevitch at the piano and Roger Desormière conducting, welve days before the composer's seventeeth birthday. Desormière was also responsible for the first performance of Markevitch's Cantate on 4 June 1930, a work which attracted boundless acclaim; B. Schott und Söhne enthusiastically agreed to act as Markevitch's publisher, a position which lasted only until 1938 and the Anschluss.
At the age of 20, Markevitch found himself a composer with a reputation as one of the brightest lights in the musical firmament and, for a while, the music flowed from him: Rébus (1932), L'Envol d'Icare (1932), Hymnes (1932–33), Petite Suite d'après Schumann (1933), all for orchestra; Psaume for soprano and orchestra (1933); Le Paradis perdu, an oratorio for soprano, mezzo-soprano and tenor soloists, chorus and orchestra (1934–35) – at 50 minutes, his biggest work). Between 1928 and 1941 he produced at least one, sometimes two, original works every year, almost every one of them eliciting the astonished admiration of his fellow composers and the critics ("A very great work", wrote André Coeuroy of Le Paradis perdu; and Milhaud reported that L'Envol d'Icare "will probably mark a date in the history of music"). But the Variations, Fugue and Envoi on a Theme of Handel, for solo piano, written in 1941, was to prove his last original composition. Markevitch had settled in Italy in in 1940 and, despite serious illness in the winter of 1942, he played an active part in the Italian resistance after the German invasion of Italy in 1943.
Markevitch had made his debut as a conductor in 1933, in the Dutch premiere of Rébus, with occasional subsequent conducting lessons from Hermann Scherchen over the following three years. When, in 1944, the British forces asked Markevitch to reorganise the orchestra in Florence and the Maggio Fiorentino, it marked the beginning of a second career, as a conductor, almost entirely distinct from the first. Over the next thirty years, he held positions in Stockholm, Paris, Montreal, Madrid, Monte Carlo and Rome, and he held conducting seminars or courses in Salzburg, Mexico, Moscow, Madrid, Monte Carlo and Weimar.
In January 1978, five years before his death, Markevitch at last returned to his own music, conducting a concert in Brussels which included Icare (the revised version, from 1943, of L'Envol d'Icare) and La Paradis perdu. He now began to conduct his own music with growing frequency, but his early death, on 7 March 1983, in Antibes, prevented him enjoying the full fruits of the "Markevitch revival" that is now underway.

Booklet for Berlioz: La Damnation de Faust (Remastered)