---
Album info
Album including Album cover
I`m sorry!
Dear HIGHRESAUDIO Visitor,
due to territorial constraints and also different releases dates in each country you currently can`t purchase this album. We are updating our release dates twice a week. So, please feel free to check from time-to-time, if the album is available for your country.
We suggest, that you bookmark the album and use our Short List function.
Thank you for your understanding and patience.
Yours sincerely, HIGHRESAUDIO
1

The River Always Wins (Acoustic)

04:47

2

Lost in Translation (Acoustic)

04:04

3

A Little Kindness (Acoustic)

03:30

4

Rose-Colored Rearview (Acoustic)

04:06

5

Blindsided (Acoustic)

03:20

Total Runtime

19:47
Info for Blindsided Acoustic Selections

A song is never one thing.
Songs constantly evolve, often changing considerably as they progress from my imagination, to my writing notebook, and then the recording studio. Even after they are documented on an album, the songs continue to change when I take them on the road. Across repeated performances the tempos shift, lyrics are tweaked, and the dynamic range is widened. And, of course, the most crucial part of this process is you. The audience often reveals new facets of the material to me, and my songs never feel truly 'finished' until I get a chance to play them on tour.
I miss that conversation between song and audience, each changing the other. Unfortunately, I can't hit the road with the songs from Blindsided right now, so I tried to imagine how they might sound with several thousand miles under their wheels. The result is a new EP "Blindsided (Acoustic Selections)." I recorded it in my basement all by myself, and I'm joined by Amy Helm on one song that she recorded under a tree in her backyard.
The conversation will continue, and I can't wait to see how the songs will evolve when we can all be together again. Until then, here's a little something to tide us both over.
"(Blindsided) soars on the wings of jangly guitars, heartfelt vocals and soulful harmony lines...Yep, that's the sweet spot right there. And there's enough of it to make this album matter." - The Associated Press
"Erelli's not going to blindside you. He's going to give it to you straight." -The Boston Globe
"(Blindsided) finds him trimming back the guest list and nodding to another icon, heartland hero Tom Petty, whose influence looms large over the song's 12-string guitar jangle and straightforward vocal hooks." - Rolling Stone
"Comes out swinging" - The Boot
Mark Erelli, vocals, harmonica, acoustic guitar
Sadler Vaden,acoustic guitar, 12-String acoustic guitar, electric guitar
Mina Kim, cello
Jamie Dick, drums, percussion
Kai Welch, piano, organ, electric piano
Zack Hickman, producer, electric bass
Kate Goldstein, violin
Sasha Callahan, violin
Celia Woodsmith, vocals
Deni Hlavinka, vocals
Lauren Balthrop, vocals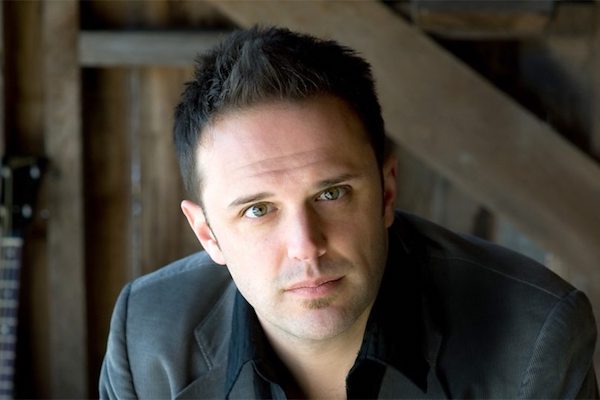 Mark Erelli
"All the things that brought me comfort, they just seem tired and worn, what always used to work ain't working anymore," sings award-winning, Massachusetts-based singer/songwriter Mark Erelli, a few songs in to his forthcoming release Blindsided. It's a realization that has washed over many of us, like headlights sweeping across the bedroom ceiling on a sleepless night. But for a songwriter, such an appraisal is a call to action.
Erelli rose to the occasion with a writing streak, generating well over 30 new songs to choose from for his newest record. He ultimately gravitated toward those that wrestled with the questions we encounter in the "middle," the certain point in life when you reflect on your hopes and dreams and what you thought were certainties. "One glance at the headlines and anyone can see that we are questioning the stories we've told ourselves and, in many cases, they aren't proving as durable as they once seemed," he explains. "Do the things I took for granted as truth when I was younger still hold up? What can I still lean on? Am I strong enough for the ones I love to lean on me? The answers, if there even are answers, can be both unsettling and reaffirming."
The aptly-titled Blindsided was forged in this process of reckoning, of taking stock of the soul, and being pleasantly surprised. Mining the same gritty yet soulful territory as John Hiatt's Bring The Family or Bonnie Raitt's Nick Of Time, Erelli contemplates the delicate tension between love and commitment, faith and family, disillusionment and hope. But this isn't a confession from the therapist's couch; it's rock 'n roll, and Erelli is clearly taking his cues from heroes like Petty and Prine. Over the course of Blindsided's 11 tracks, the message of each song is distilled to its purest form, as fearlessly honest in perspective as it is straightforward in its delivery.
To create the soundtrack that reflected this reinvigorated approach to songwriting, Erelli consulted his mental list of fellow musicians with whom he had forged connections in recent years, and realized they all lived in Nashville. So he made the trek to Music City, with best friend and multi-instrumentalist/producer Zachariah Hickman in tow, curious to see what effect a change in geography, personnel, and context would produce. With the help of drummer Jamie Dick (Rhiannon Giddens, Our Native Daughters), guitarist Sadler Vaden (Jason Isbell, Josh Ritter), Kai Welch (Molly Tuttle, Kacey Musgraves) on keys, producer Hickman on bass, and Dan Knobler (Lake Street Dive, Caroline Spence) recording and mixing, the result couldn't have been more unanticipated. Against the backdrop of Blindsided's hungrier, hook-laden sound, with the inspired addition of a string quartet on half of the album, Erelli has never sounded more passionate or vital.
Erelli has forged a colorful career by making the art of "being everywhere all the time" seem effortless. It's hard to think of another artist who seems equally at home serving as a sideman for GRAMMY-winning artists like Paula Cole, Marc Cohn, and Josh Ritter, or producing albums for Lori McKenna, as he does writing and producing his own material, like last year's "By Degrees," on which he was joined by a host of voices including Rosanne Cash and Sheryl Crow. That song was nominated for "Song Of The Year" at the 2019 Americana Music Awards, and served to reintroduce Erelli to a wider audience. And just in time, because Blindsided combines the exuberance of Erelli's signature sound with the wisdom that comes with over 20 years of songwriting, capturing an artist at a point in his career where he is clearly digging deep and swinging for the fences.
"In one of my favorite Tom Petty songs, he sings 'it took a world of trouble, took a world of tears, it took a long time to get back here,'" Erelli says. "I think I know exactly how he felt."

This album contains no booklet.