---
Album info
Album including Album cover Booklet (PDF)
Francois Killian (b. 1962):

1

Bogalusa

04:06

Jim Fieldhouse (b. 1978):

2

Vault

05:08

Fabian Künzli (b. 1984):

3

Blazing

06:38

Daniel Schnyder (b. 1961): Euphonium Concerto (Atlas) [Version for Euphonium, Piano & Percussion]:

4

Euphonium Concerto (Atlas) [Version for Euphonium, Piano & Percussion]: I. Tempo Equals 120

08:06

5

Euphonium Concerto (Atlas) [Version for Euphonium, Piano & Percussion]: II. Tempo Equals 104

04:44

6

Euphonium Concerto (Atlas) [Version for Euphonium, Piano & Percussion]: III. Tempo Equals 120

05:51

Roland Szentpáli (b. 1977):

7

Ncore

05:15

Jukka Linkola (b. 1955): Euphonia:

8

Euphonia: I. Danza triste

10:12

9

Euphonia: II. Funky Polka

03:53

Daniel Hall (b. 1996):

10

Wheeap!

04:44

Andy Scott (b. 1966):

11

From This Earth

05:30

Daniel Schnyder: Nay Concerto:

12

Nay Concerto: IV. Karachi (Version for Euphonium, Piano & Percussion)

01:46

Total Runtime

01:05:53
Info for Spot On!: The Next Generation of Euphonium Music

Euphonium player Fabian Blochs GENUIN release begins with a 'wham!' and holds the listener in its grip for a full hour. Jazz, classical music, pop, funk, and folk music are all poured into this electrifying musical mixture as the up-and-coming star opens up completely new repertoire for his instrument. It alternately grooves, gets intense, or is simply beautifully played. Offering brass with class, Bloch has commissioned seven works for himself and his two comrades Michael Meinen (percussion) and François Killian (piano). Among the composers are illustrious names like Daniel Schnyder and Jukka Linkola.
Fabian Bloch, euphonium
François Killian, piano
Michael Meinen, percussion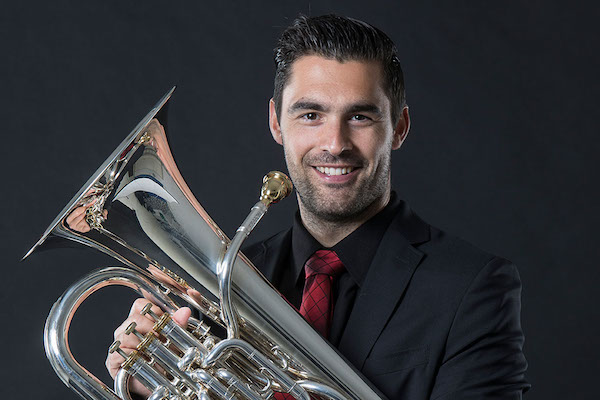 Fabian Bloch
Raised in Olten, Switzerland, Fabian Bloch has been passionately playing the euphonium since his childhood. He studied with Thomas Rüedi at the Bern University of the Arts, where he graduated with honors. Bloch continued his studies with Steven Mead at the Royal Northern College of Music in Manchester, earning his Master of Performance with honors.
During his time in Manchester, he regularly performed concerts with the world-renowned The Fairey Band and also accompanied it on tour. Bloch plays in the European Brass Ensemble and the Liberty Brass Band and appears as a soloist in Germany and abroad—always on the lookout for new challenges.
His debut CD Drive was released in September 2015 and earned high praise from the international press. His affinity for new music is evident in many of his projects. His work as an extra, including with the Sinfonieorchester Basel, Philharmonia Zurich, Lucerne Symphony Orchestra and Bern Symphony Orchestra, rounds out his varied career.
François Killian
Born in Paris in 1962, pianist François Killian was accepted to the Paris Conservatory as a pupil of Jean and Geneviève Doyen at the age of eleven. In 1977 he began lessons with Ventsislav Yankov, and as a nineteen-year-old he won the 1981 ARD competition in Munich. This success paved the way for recordings with major broadcasters. He continued his studies with Karl-Heinz Kämmerling at the University of Music and Drama Hanover, where he graduated in 1986 with the concert exam.
Killian has received numerous international awards, including at the Chopin competitions in Warsaw and Palma de Mallorca in 1985, in Dublin in 1988 and at the Arthur Rubinstein Competition in Tel Aviv in 1989. He has performed in renowned concert halls such as the Berliner Philharmonie, the Tonhalle Düsseldorf and Wigmore Hall and has appeared at festivals including the piano festival in La Roque-d'Anthéron, the Festival Radio France Occitanie Montpellier and La Folle Journée in Nantes.
Michael Meinen
completed his classical percussion studies with Harald Glamsch, Hans-Jürg Wahlich and Christian Hartmann at the Bern University of the Arts and earned his Master of Arts in Music in 2015 with distinction. After completing his Bachelor's degree, he worked at the Zurich Opera and performed as an extra in several orchestras, including the Zurich Chamber Orchestra and Lucerne Festival Strings.
Meinen has been a percussionist in the Bern Symphony Orchestra since 2014 and teaches at the Bern Music School and Conservatory.

Booklet for Spot On!: The Next Generation of Euphonium Music