---
Album info
Album including Album cover Booklet (PDF)
I`m sorry!
Dear HIGHRESAUDIO Visitor,
due to territorial constraints and also different releases dates in each country you currently can`t purchase this album. We are updating our release dates twice a week. So, please feel free to check from time-to-time, if the album is available for your country.
We suggest, that you bookmark the album and use our Short List function.
Thank you for your understanding and patience.
Yours sincerely, HIGHRESAUDIO
1

September Song (Live)

12:29

2

Morning Breeze (Live)

09:32

3

Undercover (Live)

04:16

4

Avanti (Live)

09:17

5

Lösung (Live)

11:53

6

Alireza (Live)

12:20

7

Alameyn (Live)

11:34

Total Runtime

01:11:21
Info for Eternal Voyage - Live

The Cologne trumpeter and composer, Markus Stockhausen is well known for his versatility, and this is further demonstrated in "Eternal Voyage", the debut album of his new, world-music ensemble. Here is an album which overcomes genre borders, and above all emphasizes artistic beauty.
In short: Eternal Voyage contains many exhilarating moments and memorable musical themes. The music has great depth and lightness at the same time, it is also refreshingly imaginative and free. The musicians appear agreeably unpretentious and attentive, playful without losing the musical thread, dynamic and variegated. Eternal Voyage has been produced by a group of people whose roots are very different, but who have come together on the basis of friendship, respect and a common love of playing.
"Its your turn now" was the motto for a sing-along concert at the Cologne Philharmonic Hall which Stockhausen produced in December 2008. For this concert, he put together a group of experimentally minded guest musicians with whom to play: his wife and duo-partner Tara Bouman on clarinet and bass clarinet; the pianist Florian Weber with whom Stockhausen now also performs in a duo; the young Lebanese singer Rabih Lahoud, whose voice Stockhausen discovered at a course in the summer of 2008; the Indian flautist Dinesh Mishra and the Greek percussionist Dimitrios Dorian Kokiousis.
The audience reacted very positively to this concert, and as a result Markus Stockhausen founded the group Eternal Voyage with these musicians. The present CD was recorded during the summer of 2009 at the "Fattoria Musica", an excellent studio near Osnabrück. The final mix was done by Markus Stockhausen and his long-time associate Walter Quintus – a master of this art.
The first track Sabad begins like a call from another world, with the Indian flute followed by synthesizer, percussion and piano. Whispered, spoken arabic words, mysterious and low, join in. The musicians improvise sensitively with each other until the piece gains speed. Music and text find a common expression. The second track is instrumental. This composition by Stockhausen sounds as light and fresh as its title: Morning Breeze. It is a good example of harmonious ensemble playing by these virtuosic instrumentalists.
White Sail is related to the Greek myth about the death of Aigeus. Instruments and voice are woven together here both sensitively and thrillingly. A first climax is reached in the piece with a long held vocal phrase by Rabih Lahoud. He sounds powerful and he sounds small. One feels the desparate searching of a lost spirit. A still moment follows, and out of that comes the clear sound of the trumpet, like a white, sunlit sail emerging from the mist. The magical sound of the soft clarinet and the sweet bansuri-flute return to the addictive theme which makes this track the highlight of the CD. The oriental singer sings here in his own Lebanese dialect, as he does in the following track: Indian Tale, which was inspired by a theme by the Indian composer and flautist Dinesh Mishra. This music is a declaration of love for his homeland and musical roots.
Entrada is a magical, short piece. There is no text to be heard, but fine vocal lines enriched by the warm voice of the Chilean jazz singer Paz Miranda Francis. In the following Salida, both singers join in increasingly hot, two-part scat singing. The sparks really fly in this music, which is reminiscent of the funky sound of the 1970s. Markus Stockhausen quotes phrases from popular music on his trumpet, and simultaneously harmonizes with his left hand using an e-piano sound.
The track before last, Mutter (Mother), is a setting of a poem written by Lahoud for his mother when he was 14 years old. The moving Arabic text is performed with a very restrained piano accompaniment. The pianist Florian Weber understands perfectly, from the position of a highly educated German jazz musician, how to provide a sensitive accompaniment for his Arab partner.
The Blind is the album's final track, and lasts a little more than 15 minutes. In a way, it is as if each of the players presents himself again and takes a bow. A special moment is dedicated to each of the voices in the sextet: powerful drums; virtuosic trumpet, whose notes dont want to end; tender bass clarinet; playful Indian flute; piano, sounding sometimes pearly, sometimes energetic; muted "sprechgesang" and the peaceful surface which can be produced by a synthesizer.
Eternal Voyage is the the expression of a friendly, intercultural cooperation which we hope is going to continue. It is recommended to all those who love music. Here we get to the core of music, to what music can mean for anyone: a cross-cultural medium like a chalice which can be filled with feelings and passion, with form, beauty and power, which – with the help of each musician's special abilities – can be transported directly into the heart of a sympathetic listener.
Markus Stockhausen, trumpet, flugelhorn, synthesizer
Tara Bouman, clarinet, bass clarinet
Rabih Lahoud, vocals
Dinesh Mishra, bansuri
Florian Weber, piano
Dimitrios Dorian Kokiousis, percussion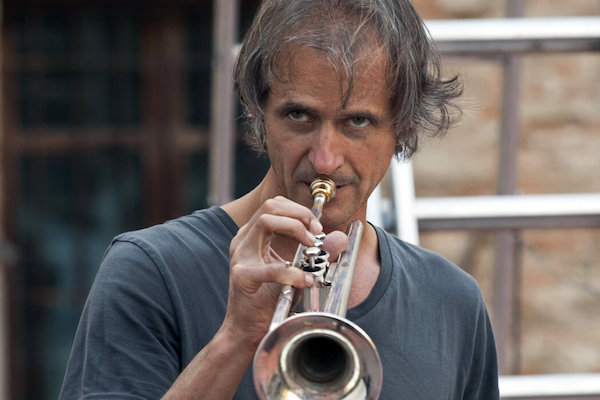 Markus Stockhausen
was born in 1957 and began playing the piano at the age of six. In 1975 he began to study piano and trumpet at the music school in Cologne. One year before his final exams he was the 1981 winner of the Deutscher Musikwettbewerb prize. Since then he has regularly performed as a soloist, including many premieres such as the trumpet concerto "Jet Stream" composed for him by Peter Eötvös in 2002 and performed for the first time with the BBC Symphony Orchestra in London. He is also a regular guest at renowned international music festivals.
Markus Stockhausen is one of the most versatile musicians of our time. He is as much at home in jazz as in contemporary and classical music. For about 25 years he collaborated closely with his father, the composer Karlheinz Stockhausen, who composed many beautiful works for him. With his brother Simon he realised several internationally acclaimed musical projects.
As soloist, improviser and composer Markus Stockhausen is in international demand. He leads or collaborates in various ensembles with musicians like Arild Andersen, Patrice Héral, Mark Nauseef, Jörg Brinkmann, Angelo Comisso, Christian Thomé, Ferenc Snétberger, Florian Weber, and plays intuitive music in the duo Moving Sounds with his wife the clarinettist Tara Bouman. His group Eternal Voyage features musicians from India, the Netherlands and Lebanon. From the year 2000 until 2010 he directed a concert series called Klangvisionen with intuitive music in the church of St. Maternus in Cologne. Rolf Zavelberg was responsible for the artistic light design.
As a composer he has received commissions from, among others, the RIAS Chamber Choir, The London Sinfonietta, the Orchestra d'Archi Italiana, the Winterthur Chamber Orchestra, the Cheltenham Music Festival and the 12 Cellists from the Berlin Philharmonic. In 2007 he wrote "Tanzendes Licht" for trumpet, big band and string orchestra for the Swiss Jazz Orchestra and the Camerata Bern, as well as "Symbiosis", a double concerto for clarinet and trumpet with string orchestra, comissioned by the Franz Liszt Chamber Orchestra. In 2009 he composed "Oliver's Adventures" for children's orchestra and choir, in 2011 "Yin" and "Yang" for the Metropole Orchestra, premiered at the Muziekgebouw Amsterdam for the Holland Festival. Also in 2011 he wrote "GeZEITen" for about 600 musicians, comissioned by the Niedersächsische Musiktage in Cuxhaven. In 2012: "Ein Glasperlenspiel" for solo trumpet and accordeon orchestra, 2013: "Das Erwachende Herz" for solo trumpet, clarinet and voice and symphony orchestra, commissioned and performed by the Hamburger Symphoniker.
Markus Stockhausen also teaches in various situations, including "Intuitive Music and More" and "Singing and Silence". To date he has released or participated in more than 70 CDs. In 2005 he was the winner of the WDR jazz prize.

Booklet for Eternal Voyage - Live