---
Album info
Album including Album cover
I`m sorry!
Dear HIGHRESAUDIO Visitor,
due to territorial constraints and also different releases dates in each country you currently can`t purchase this album. We are updating our release dates twice a week. So, please feel free to check from time-to-time, if the album is available for your country.
We suggest, that you bookmark the album and use our Short List function.
Thank you for your understanding and patience.
Yours sincerely, HIGHRESAUDIO
1

Walk Among the Dead Things

07:48

2

Judas Cradle

06:41

3

The Ancient Deceit

02:57

4

The Past Will Wither and Die

07:19

5

A Treaty With Reality

03:08

6

Voyeurs of Nature's Tragedies

02:56

7

Birth Womb

03:40

8

Premonition

05:01

9

Beyond the Stream of Consciousness

03:34

10

Johnny Blade

06:22

Total Runtime

49:26
Info for Celestial Mechanics

TRONOS is a true collision between two unstoppably creative heroes of the metal underground: Shane Embury (Napalm Death, Brujeria) on guitar/vocals and producer Russ Russell (At The Gates, Dimmu Borgir, Napalm Death) on guitar, synths and vocals team up with drummer Dirk Verbeuren for a load of dark fractured colossal doom ambience metal. "Celestial Mechanics" also features a string of illustrious guests: Denis 'Snake' Belanger (Voivod / vocals), Erica Nockalls (The Wonder Stuff / vocals & violin) as well as no fewer than three legendary bass players, Billy Gould (Faith No More), Troy Sanders and Dan Lilker (Nuclear Assault, S.O.D.). Also featuring the Black Sabbath cover version "Johnny Blade", this rocketing debut album was mixed by Jaime Gomez Arellano (Ghost, Solstafir, Paradise Lost, Ulver) as well as Russ Russell. Get ready for lift-off!
Shane Embury, vocals, guitar
Russ Russell, vocals, guitar, synthesizer
Dirk Verbeuren, drums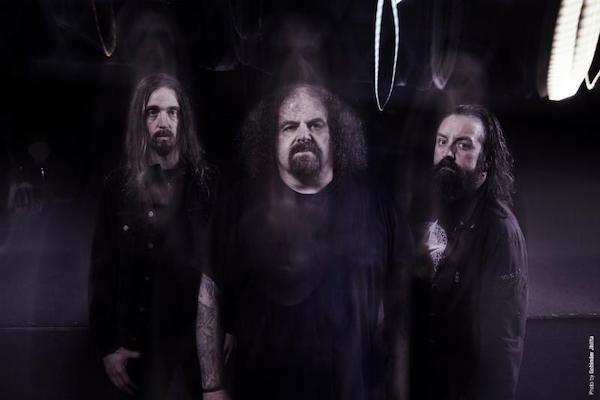 Tronos
"For years, whenever we were together on the road or in the studio, we often had late night conversations about making music that was dark and apocalyptic but also contrastingly fragile and ambient, encompassing the different moods of music that we both love..." The greatest, most enduring music often emerges from a meeting of mercurial minds. When it comes to Shane Embury and Russ Russell and their new project TRONOS, the two have worked closely for decades and have long since established an instinctive creative rapport. Best known as bassist with Napalm Death but also a prolific collaborator across the heavy music world, Shane is renowned for his eclectic musical tastes, while Russ is widely acknowledged as one of the most original and idiosyncratic producers in music today. After deciding upon the core ideals of their new venture, the task creating the music for what is now TRONOS' debut album "Celestial Mechanics" sent these two maverick extremists into mind-altering cosmic realms. "The concept was born way before we even hit the first note," recalls Russ. "We talked of the end of the human race, the quest to explore outer and inner space, the extension of life and consciousness through space travel, energy transference through meditation and ultimately through death... how would the human race live on? In some far-reaching space craft or just by leaving our bodies behind? After many conversations we decided we should really give it a try, so we got together for a weekend and two songs were born. It came really easily and was exactly what we had in our heads so we decided to go for the whole album." Not just an inspirational combining of Russ and Shane's talents, but a multifarious experiment in collaboration, TRONOS has been pieced together slowly over the last couple of years, evolving from that original shared idea into something truly ground-breaking and thrillingly unfamiliar. From the churning riffs and ethereal atmospheres of epic opener "Walk Among The Dead Things" onwards, this is plainly a record that owes very little to anyone else. Instead, with a supporting cast including metal drumming legend Dirk Verbeuren, Voivod frontman Denis 'Snake' Belanger, vocalist Erica Nockalls (The Wonder Stuff) and no fewer than three legendary bass players – Faith No More's Billy Gould, Troy Sanders and death/thrash icon Dan Lilker – the likes of succinct throat-ripper "The Ancient Deceit" and menacing slow-burner "A Treaty With Reality" represent the organic creation of a multi-faceted musical world: one that deigns to unearth the cosmic truths behind our very existence while conjuring euphoria from the most warped and wild of sonic ingredients. "This is a look at the universe from a few different angles," states Russ. "While I think some of our influences are there quite transparently, I can't think of an album that's put them together quite like this before. It's a trip. It really is, in every sense. There are sequences mapped out to the rhythms of the brain and body, oscillations that enhance the journey of the music by stimulating multiple facets of the mind. It's dark and brutal and ventures deep into nightmares but it's also hugely uplifting at times. I'm convinced it's the sound I will hear when I depart this Earth." A bold endeavour designed to broaden minds and embolden hearts, TRONOS is also a ferocious extreme metal record, albeit one shrouded in bewildering ambience and lysergic fog. Proudly left-field but with firm roots in avant-garde extremity and psychedelic sludge, it's a record with spectral grit and ornate disquiet hidden in its dizzying, deftly-assembled layers. Such is the strength of the material on this wildly eccentric slab of heaviness, that despite being conceived as a studio-based project, both Russ and Shane are sufficiently enthused by the whole experience to already be making tentative plans to unleash TRONOS on stage. "We hope at some point to be able to play a show here and there," avows Shane. "It has to be a visual experience with projections, so we won't be playing whole tours. It has to be a special thing that comes together every so often. As we continue to write more music, we hope it will continue to expand beyond just live performances into experimentation and collaborations through other mediums, too." A collision between two unstoppably creative heroes of the metal underground, TRONOS is much more than a simple side-project. This is the sound of the human psyche being fired deep into the heart of the sun. This is the sound of intergalactic madness. This is the sound of what lies beyond: irresistible, terrifying and beautifully, brutally alien. This is TRONOS. Get ready for lift-off.
"It's birth, life, death, rebirth," Russ concludes. "The universal cycle, the extension of mankind, the end of days, trapped in unending nightmares, tears of joy, fear, hatred and sorrow. Essentially, although we as a race on this planet are truly fucked, there is hope in Utopia... an unheard whisper in space... 'Everything is gonna be OK..."

This album contains no booklet.