---
Album info
Album including Album cover
I`m sorry!
Dear HIGHRESAUDIO Visitor,
due to territorial constraints and also different releases dates in each country you currently can`t purchase this album. We are updating our release dates twice a week. So, please feel free to check from time-to-time, if the album is available for your country.
We suggest, that you bookmark the album and use our Short List function.
Thank you for your understanding and patience.
Yours sincerely, HIGHRESAUDIO
1

Roots Bloody Roots

03:32

2

Attitude

04:15

3

Cut-Throat

02:44

4

Ratamahatta

04:29

5

Breed Apart

04:01

6

Straighthate

05:21

7

Spit

02:45

8

Lookaway

05:26

9

Dusted

04:03

10

Born Stubborn

04:07

11

Jasco

01:57

12

Itsári

04:48

13

Ambush

04:39

14

Endangered Species

05:18

15

Dictatorshit

01:26

16

Canyon Jam

13:17

Total Runtime

01:12:08
Info for Roots (Remastered)

Sepultura broadened its musical horizons with 'Chaos A.D.' and 'Roots,' a pair of acclaimed albums that took the Brazilian band's hard-rocking sound in bold and exciting new directions. This fall, Rhino will revisit those back-to-back classics with remastered versions that are expanded with rare and unreleased studio and live recordings.
Sepultura was founded in 1983 by the brothers Max and Iggor Cavalera with Wagner Lamounier and Jairo Guedes. Paulo Xisto Pinto Jr. joined just a few short months later and in 1987, with the departure of Jairo and addition of guitarist Andreas Kisser, the solid line up of Sepultura was final. The band quickly became an influential force in heavy metal music thanks to its dynamic studio recordings and intense live performances.
The band was in the midst of a creative and commercial peak in 1993 when it released 'Chaos A.D.' with Max Cavalera on vocals & guitar, Andreas Kisser on guitar, Paulo Xisto Pinto Jr on bass and Iggor Cavalera on drums. The record ushered in a more groove-based sound on songs like the singles "Refuse/Resist," "Territory" and "Slave New World."
"Listeners intrigued by the rhythmic innovations and Brazilian influences of Chaos A.D. will be quite pleased by Sepultura's sprawling, frequently brilliant follow-up. True to its title, Roots wholeheartedly embraces Sepultura's native Brazilian rhythms, augmenting their music with field recordings of the Xavantes Indians, vocalist/percussionist Carlinhos Brown, and expanded percussion sections. The guitarists create an array of noisy, textural effects, so their technique and riff writing are not as impressive for fans of old-school thrash, but that's more due to the growing influence of alternative metal on the band, with Korn being a particular touchstone (vocalist Jonathan Davis even guests on one track). The songs sacrifice the tight structure of Chaos A.D. for extended percussion jams, plus some acoustic instrumental work. At 72 minutes, Roots inevitably loses focus in spots, but when the music connects (and it does so often), it carries tremendous visceral impact. Roots consolidates Sepultura's position as perhaps the most distinctive, original heavy metal band of the 1990s." (Steve Huey, AMG)
Max Cavalera, vocals, guitars
Andreas Kisser, guitars
Paulo Jr., bass
Igor Cavalera, drums
Additional musicians:
Mike Patton, vocals (on "Lookaway")
David Silveria, drums (on "Ratamahatta")
Carlinhos Brown, vocals, percussion, lataria, xequere, surdos (on "Ratamahatta")
Jonathan Davis, vocals (on "Lookaway")
DJ Lethal, scratching (on "Lookaway")
Xavante Tribe, percussions, chanting (on "Itsári")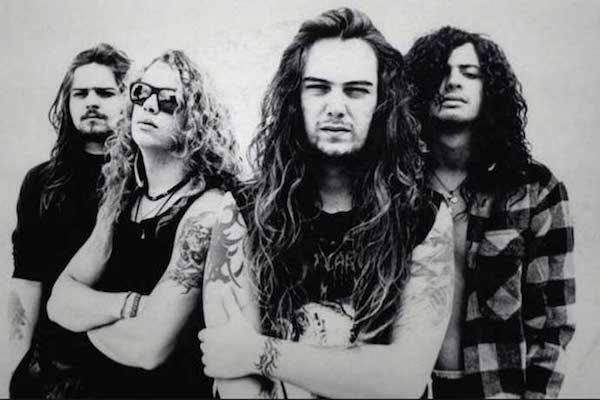 Sepultura
is a Brazilian heavy metal band from Belo Horizonte. Formed in 1984 by brothers Max and Igor Cavalera, the band was a major force in the thrash metal and groove metal genres during the late 1980s and early 1990s, with their later experiments drawing influence from alternative metal, world music, nu metal, hardcore punk and industrial metal.
Sepultura has had several changes in its lineup since its formation, with Max and Igor Cavalera departing in 1996 and 2006, respectively. Sepultura's current lineup consists of vocalist Derrick Green, guitarist Andreas Kisser, bassist Paulo Jr. and drummer Eloy Casagrande. Since Igor Cavalera's departure in 2006, there have been no original members left in the band. Paulo Jr., who has been a member of Sepultura since 1985, is the only member to appear on every release. Kisser, who replaced Jairo Guedz in 1987, has played on all of the band's studio albums, except for their debut Morbid Visions (1986) and the split Bestial Devastation (1985).
Sepultura has released fourteen studio albums to date, the latest being Machine Messiah (2017). Their most successful records are Arise (1991), Chaos A.D. (1993) and Roots (1996). Sepultura has sold over three million units in the United States and almost 20 million worldwide, gaining multiple gold and records around the globe.
Sepultura's early influences were heavy metal groups such as Iron Maiden, Metallica, Celtic Frost and Slayer, and death metal bands like Possessed and Death. Andreas Kisser affirmed that "without Slayer, Sepultura would never be possible".
Sepultura's music comes in a wide range of heavy metal musical styles. The band has been described mostly as thrash metal and death metal. Another genre the band has been commonly categorized under is groove metal. The band's early music has sometimes been described as black metal. The band later on started experimenting elements of other musical genres such as hardcore punk, industrial metal, alternative metal, world music and nu metal.
MTV has called Sepultura the most successful Brazilian heavy metal band in history and "perhaps the most important heavy metal band of the '90s". In 1993, Robert Baird of Phoenix New Times wrote that the band played "machine-gun-tempo mayhem" and that the members "love to attack organized religion and repressive government".

This album contains no booklet.