---
Album info
Album including Album cover
I`m sorry!
Dear HIGHRESAUDIO Visitor,
due to territorial constraints and also different releases dates in each country you currently can`t purchase this album. We are updating our release dates twice a week. So, please feel free to check from time-to-time, if the album is available for your country.
We suggest, that you bookmark the album and use our Short List function.
Thank you for your understanding and patience.
Yours sincerely, HIGHRESAUDIO
1

Why

04:20

2

No More War / It Ain't Necessarily So

06:52

3

Screaming

04:18

4

Love & Money

04:46

5

Smalltown Boy

05:24

6

Heatwave

02:48

7

Junk

04:31

8

Need a Man Blues

04:14

9

Close to the Edge

04:27

10

Hard Rain

05:40

11

Run from Love

04:43

12

A Flower for Dandara

05:29

13

Stars (Radio Edit)

03:24

14

Stars (Extended Mix)

05:10

15

Stars (Sordid Soundz Remix)

06:30

16

Stars (Qubic Cosmic Energy Mix)

08:45

17

Stars (S.S Darkstar Mix)

04:23

18

I'll Be Gone

04:05

19

I'll Be Gone (Dub and Dusted)

07:46

20

I'll Be Gone (Stompin' Stiletto Mix)

08:15

21

I'll Be Gone (S.S Down & Out Mix)

04:38

22

A Flower for Dandara (Radio Edit)

03:35

23

A Flower for Dandara (Sordid Soundz Edit)

03:48

24

A Flower for Dandara (Extended Mix)

05:29

25

A Flower for Dandara (Sordid Soundz Extended)

06:05

Total Runtime

02:09:25
Info for The Age of Reason (Deluxe)

Steve Bronski has teamed up with singer Stephen Granville and programmer Ian Donaldson to create an updated line-up of this classic, much-loved sythn-pop band. The Age Of Reason is their first in 22 years! With The Age Of Reason, the trio pay homage to the origins of Bronski Beat through an inventive and inspired reworking of their landmark debut album The Age Of Consent. But, crucially, they also present a template for the future direction of this latest Bronski Beat line-up with three all new songs and a generous offering of celebratory dance mixes thereof! The first of these new tracks is an inventive cover of the queercore disco classic, Sylvester's 'Stars' (written by the scene legend Patrick Cowley), which has been given a refreshing electro-soul makeover. There's an all new song 'I'll Be Gone' that celebrates, with Bronski Beat's trademark searing vocals, the euphoric self-realization gained in ditching a less than perfect love affair. There's also palpable evidence that Bronski Beat have lost none of their social campaigning and gay activist zeal by virtue of the inclusion of their heartbreaking tribute in song to the recently murdered Brazilian transexual Dandara dos Santos. 'Flower For Dandara' is a sensitive, sung eulogy to the victim of a callous lynching by a gang of transphobic thugs; an act that was so horrific that it made global headlines.
Bronski Beat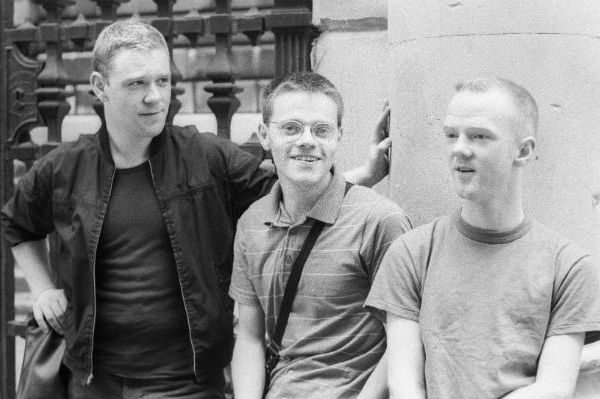 Bronski Beat
London's Bronski Beat will be remembered for a number of things. Anyone who has seen the video for "Smalltown Boy" -- which remains gripping and sobering decades later -- can likely recall at least one of its scenes in vivid detail. It was only Bronski Beat's first single, but it became the group's best-known, reaching the top of Billboard's U.S. dance chart while peaking at number three on the U.K. pop chart. More importantly, the song was typical for the group in that it centered on singer Jimmy Somerville's experiences as a young gay man. It also exemplified the group's moody electronic-pop sound and introduced a number of people to a voice that continues to sound like no other -- one that can soar into a unique falsetto while drawing from a deep pool of emotions that ranges from intense internal strife to bliss.
Somerville, fellow Glaswegian Steve Bronski (keyboards), and Londoner Larry Steinbachek (also keyboards) formed Bronski Beat in 1983. They performed at venues in and around London, and scored a major coup by landing an opening gig for Tina Turner. The London label soon swept up the group, and the bandmembers almost immediately became pop stars in the U.K. "Smalltown Boy" proved to be a huge breakthrough. The Age of Consent, supported by that single, "Why," and a cover of Donna Summer's "I Feel Love," went over extremely well. Not only did the album gain attention for its combination of compelling songwriting and club-friendly pop; the inner sleeve listed the legal age of consent for homosexual acts in several countries across Europe.
Somerville boldly left the group a year later, before it was able to record a follow-up; he started the more overtly political Communards with Richard Coles. Bronski and Steinbachek continued with vocalist John Jon, who had previously been in Bust. The new version of Bronski Beat was quite successful as well, notching club hits in the U.K. and abroad; Truthdare Doubledare, the 1986 sophomore album, went Top 20 in the group's home country, and "Hit That Perfect Beat" rivaled "Smalltown Boy" in high chart placements. Before the year's end, John Jon left the group, which eventually disbanded. Steve Bronski brought a new lineup together in the mid-'90s -- including vocalist Jonathan Hellyer -- and recorded Rainbow Nation for the German ZYX label.
Somerville enjoyed modest success in the Communards and has recorded sporadically as a solo artist since the late '80s, releasing such albums as Read My Lips (1989), Dare to Love (1995), Manage the Damage (2000), and Home Again (2004). In 2009, he released the acoustic covers album Suddenly Last Summer. Somerville then returned the following year with the first of a three-part EP trilogy, Bright Thing, followed by Momentum (2011) and Solent (2012). In 2014, Somerville celebrated the 30th anniversary of Bronski Beat's classic "Smalltown Boy" single with the release of a re-recorded version of the song. A year later, he released his sixth full-length album, the vintage disco-inspired Homage. (Andy Kellman, AMG)

This album contains no booklet.