---
Album info
Album including Album cover Booklet (PDF)
Johann Sebastian Bach (1685 - 1750): Violin Partita No. 3 in E Major, BWV 1006:

1

Violin Partita No. 3 in E Major, BWV 1006: I. Preludio (Arr. For Hurdy-Gurdy)

03:58

2

Violin Partita No. 3 in E Major, BWV 1006: II. Loure (Arr. For Hurdy-Gurdy)

04:31

3

Violin Partita No. 3 in E Major, BWV 1006: III. Gavotte en Rondeau (Arr. For Hurdy-Gurdy)

03:15

4

Violin Partita No. 3 in E Major, BWV 1006: IV. Menuets I+II (Arr. For Hurdy-Gurdy)

02:50

5

Violin Partita No. 3 in E Major, BWV 1006: V. Bouree (Arr. For Hurdy-Gurdy)

01:31

6

Violin Partita No. 3 in E Major, BWV 1006: VI. Gigue (Arr. For Hurdy-Gurdy)

02:08

Cello Suite No. 1 in G Major, BWV 1007:

7

Cello Suite No. 1 in G Major, BWV 1007: I. Prelude (Arr. For Hurdy-Gurdy)

02:58

8

Cello Suite No. 1 in G Major, BWV 1007: II. Allemande (Arr. For Hurdy-Gurdy)

04:31

9

Cello Suite No. 1 in G Major, BWV 1007: III. Courante (Arr. For Hurdy-Gurdy)

03:04

10

Cello Suite No. 1 in G Major, BWV 1007: IV. Sarabande (Arr. For Hurdy-Gurdy)

02:41

11

Cello Suite No. 1 in G Major, BWV 1007: V. Menuets I+II (Arr. For Hurdy-Gurdy)

03:24

12

Cello Suite No. 1 in G Major, BWV 1007: VI. Gigue (Arr. For Hurdy-Gurdy)

01:28

Cello Suite No. 2 in D Minor, BWV 1008:

13

Cello Suite No. 2 in D Minor, BWV 1008: I. Prelude (Arr. For Hurdy-Gurdy)

03:45

14

Cello Suite No. 2 in D Minor, BWV 1008: II. Allemande (Arr. For Hurdy-Gurdy)

03:17

15

Cello Suite No. 2 in D Minor, BWV 1008: III. Courante (Arr. For Hurdy-Gurdy)

03:01

16

Cello Suite No. 2 in D Minor, BWV 1008: IV. Sarabande (Arr. For Hurdy-Gurdy)

04:01

17

Cello Suite No. 2 in D Minor, BWV 1008: V. Menuets I+II (Arr. For Hurdy-Gurdy)

03:29

18

Cello Suite No. 2 in D Minor, BWV 1008: VI. Gigue (Arr. For Hurdy-Gurdy)

02:27

Total Runtime

56:19
Info for BACH: Solo

The Canadian hurdy gurdy player, recorderist and singer, Tobie Miller, grew up in a family of classical musicians. After studies in Early Music Performance (B.Mus) at McGill University (Montreal, Canada), she moved to Basel (Switzerland) to pursue postgraduate studies at the prestigious Schola Cantorum Basiliensis (Aufbaustudium Diplom with High Distinction, 2008, and M.A. Musical Pedagogy, 2012). Her work in Basel was supported by two grants from the Canada Council for the Arts, and by the J.B.C. Watkins Award. She was the recipient of a further grant from the Canada Council in 2011-2012 for her work on the baroque hurdy gurdy and transcriptions of J.S. Bach's solo cello and violin repertoire for the same instrument. Currently based in Basel, Tobie continues to perform and record both as a soloist and with numerous ensembles including the Ensemble Baroque de Limoges, Les Musiciens de Saint Julien, Per Sonat, and her own ensembles, La Rota and Ensemble Danguy. On this release she presents transcriptions of Bach Partitas and Suites.
Tobie Miller, Hurdy Gurdy, Vielle a roue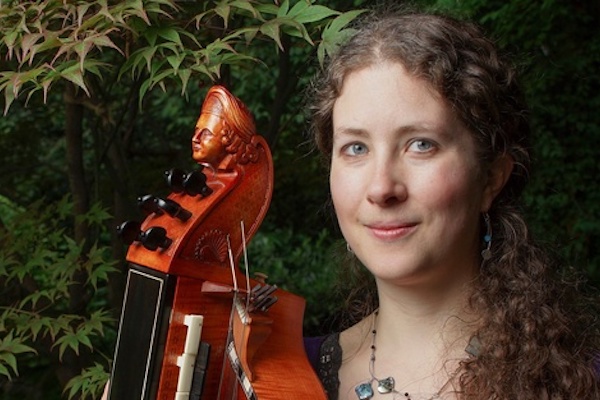 Tobie Miller
The Canadian hurdy gurdy player, recorderist and singer, Tobie Miller, grew up in a family of classical musicians. After studies in Early Music Performance (B.Mus) at McGill University (Montreal, Canada), she moved to Basel (Switzerland) to pursue postgraduate studies at the prestigious Schola Cantorum Basiliensis (Aufbaustudium Diplom with High Distinction, 2008, and M.A. Musical Pedagogy, 2012). Her work in Basel was supported by two grants from the Canada Council for the Arts, and by the J.B.C. Watkins Award. She was the recipient of a further grant from the Canada Council in 2011-2012 for her work on the baroque hurdy gurdy and transcriptions of J.S. Bach's solo cello and violin repertoire for the same instrument.
Currently based in Basel, Tobie continues to perform and record both as a soloist and with numerous ensembles including the Ensemble Baroque de Limoges (recording of Haydn and Mozart concerti, on the Laborie label), Les Musiciens de Saint Julien (recording on Alpha label), Per Sonat (recordings on the Christophorus label), Le Miroir de Musique (recordings on the Ricercar label), Leones (recordings on the Christophorus and Naxos labels) and her own ensembles, La Rota and Ensemble Danguy. She has recently recorded her transcriptions of J.S. Bach's solo works for cello and violin on the Raumklang label, as well as a cd of 18th century French hurdy gurdy sonatas on the Ricercar label (both forthcoming).
One of the only hurdy gurdy players to come to the instrument through early music, she is recognized as a virtuoso of the baroque hurdy gurdy, and performs in various formations, including in duo with the Austrian hurdy gurdy player, Matthias Loibner, as well as with well- known conductors such as Jordi Savall, Christophe Coin, and Wieland Kuijken. While maintaining a busy performing career, she also teaches regularly at workshops and festivals including the Over the Water Hurdy Gurdy Festival (2005-2010), Les Journées de La Flûte à Bec (2006), Asociaciòn Ibérica de la Zanfona (2010, 2015), Sherborne Early Music Society (2015), and at the Schola Cantorum Basiliensis (2008, 2012). In 2015 she was the invited soloist for the 11th International Zona de la Zanfona festival in Galicia.

Booklet for BACH: Solo