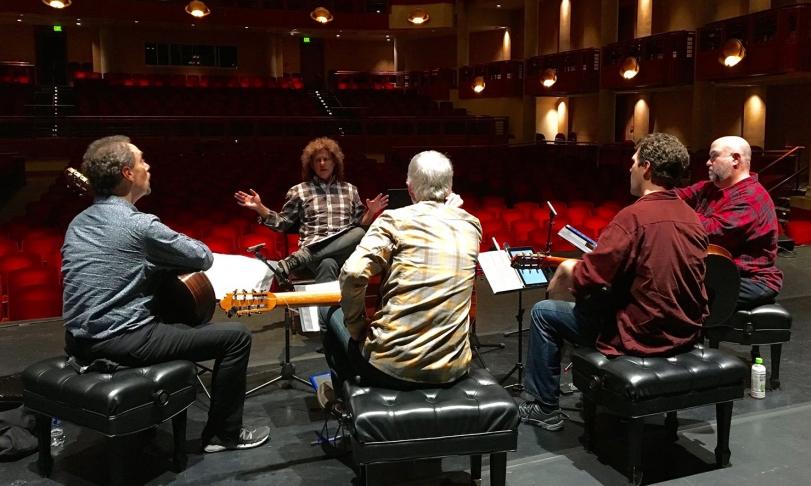 At first glance Road to the Sun might give the impression of a new solo album by US jazz guitarist Pat Methany, who has won 20 Grammys among other awards. However, it is not a solo album. Rather, this album is dedicated to the composer Pat Methany, who can only be heard as a solo guitarist in a shorter piece arranged for guitar, "Für Alina" by Avo Pärt, at the end of the album. Incidentally, Road to the Sun is performed by the Los Angeles Guitar Quartet, whose agenda ranges from Bach to bluegrass to rock, and by classical guitarist Jason Vieaux. The Los Angeles Guitar Quartet, which bears the name of its founding place, was created in 1980 under the "supervision" of Pepe Romero, member of the famous "Los Romeros" guitar quartet. Often referred to by the acronym LAGQ, the ensemble currently consists of four guitarists, John Dearman, William Kanengiser, Scott Tennant and Matthew Greif. The four artists play "classical" guitars, that is, guitars with nylon strings. Jason Vieaux, solo guitarist on Road to the Sun, gained international attention in 1992 when he won the prestigious Guitar Foundation of America's International Guitar Competition at the age of just nineteen. His solo album Play won a Grammy for Best Classical Instrumental Solo in 2014. These days, his recordings range from classical guitar repertoire to Astor Piazzolla to contemporary classical composers like Aaron Jay Kernis.
Pat Methany has compiled the major works on Road to the Sun into two suites, of which the first suite, "Four Paths of Light," is composed for solo guitar and the second suite, "Road to the Sun," is composed for a guitar quartet. The first is "Four Paths of Light," a four-part suite for solo guitar. In "Four Paths of Light", strongly arpeggiated passages of the first piece, played at a strict tempo, are strongly reminiscent of classical etudes, while the fourth piece in 3/4 time, evokes flamenco mood. Throughout the suite, Pat Metheny's distinctive lyricism and personality shine through. Jason Vieaux's particular style of playing, one of meticulous clarity but accessible to romantic mood at all times, is exactly in keeping with the style of the suite, which seems tailor-made for this master guitarist.
Road to the Sun" is also characterized by great compositional complexity, which includes a great variety of moods, which are brought to light by the four guitarists with almost unbelievable virtuosity. Shimmering glissandi are juxtaposed with percussive strikes on the guitar bodies and rapidly plucked passages. The second and fifth pieces of the suite sound like one is used to from the Pat Metheny Group probably because of the short participation of Pat Methany himself.
Finally, pure Pat Methany can be admired on the piano composition "Für Alina" by Avo Pärt, arranged for guitar, here played on the 42-string Pikasso guitar with its three, oddly arranged necks and two sound holes. That it is actually a guitar, and not a monstrous zither with room-filling sound and enormous bass power, one would not actually like to believe. Avo Pärt would certainly have enjoyed it.
Road to the Sun is piece for piece music notated down to the last detail, but it comes along in such a virtuosic way and with such a strong content that you don't miss the fascinating freedom of jazz to improvise music for the duration of this album at any point. The whole album is performed by top-class guitarists who leave no doubt that Pat Methany has landed a major coup with Road of the Sun.
Pat Metheny, classical guitar
Members of the Los Angeles Guitar Quartet
Jason Vieaux, classical guitar