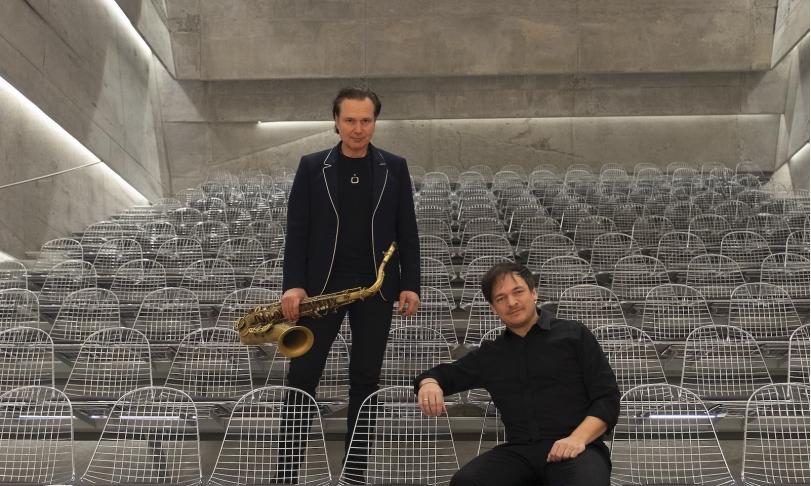 A few kilometers apart, the future saxophonist Mulo Francel and the future pianist Chris Gall saw the light of day separately in the southernmost part of Bavaria in the immediate vicinity of the Alpine ridge. This proximity in terms of landscape and countryside could not prevent the two from meeting only much later as finished artists, one of whom had learned his wind instrument as an autodidact while the other successfully completed a pianist's training at Berklee College. Their joint work in and with the quartet Quadro Nuevo, which is dedicated to jazz and world music, was the occasion for the start of a joint musical activity. Milo Francel is still an active founding member of the quartet, while Chris Gall complements the quartet to form the quintet, as heard on the album Tango. On Mythos, the two Bavarians can be heard as a duo without a rhythm section.
The idea for Mythos was born at the end of a strenuous climbing trip on Samos, near the Icarus Sea. To the heroes of this legendary area of Greece the album also owes the titles "Icarus' Dream", "Dido's Lament", "Sketches of Styx", which together with three other titles are original songs. These and the other songs from other pens experience a presentation that seems highly peculiar in the best sense and is most likely to be assigned to jazz with borrowings from soft rock. For all its relaxed pace, Mythos proves to be an exciting album that surprises with new ideas from track to track and benefits enormously from the excellent execution by the two musicians.
The first track, "Yorke's Guitar," proves to be an early highlight of the album, building on a circular meditation with a carpet of sound calmly spread by the piano in the manner of a Philip Glass, on which the saxophone spins its melody. This recalls more hypnotic moments of a Thom Yorke, the bandleader of the rock band Radiohead. Quite minimalist, though edgier in approach and execution, it also goes on "Palinura".
The original titles "The 7 Wise Men", in which Mulo Francel takes recourse to the bass clarinet. as well as "Icarus' Dream" easily conjure up an atmospheric mood, composition and performance reminiscent of Keith Jarrett. "East of the Sun" leads with breathed saxophone sound and cool playing piano by springy step via "Reality Check" to Bach's "Jesu bleibet meine Freude" in the convincingly presented jazzy version of the duo. The other classical composition on Mythos, "Dido's Lament", is given a fresh cell treatment by the duo that even die-hard classical music fans can't resist.
Mythos ends with "Old Folks", which the duo stages as a late-night track that gets to the heart of the mood in a jazz cellar and is optimally chosen as the finale of an extremely successful album that brings us a little joy into the home office-dominated home in the current Corona times.
Mulo Francel, saxophone, clarinet
Chris Gall, piano