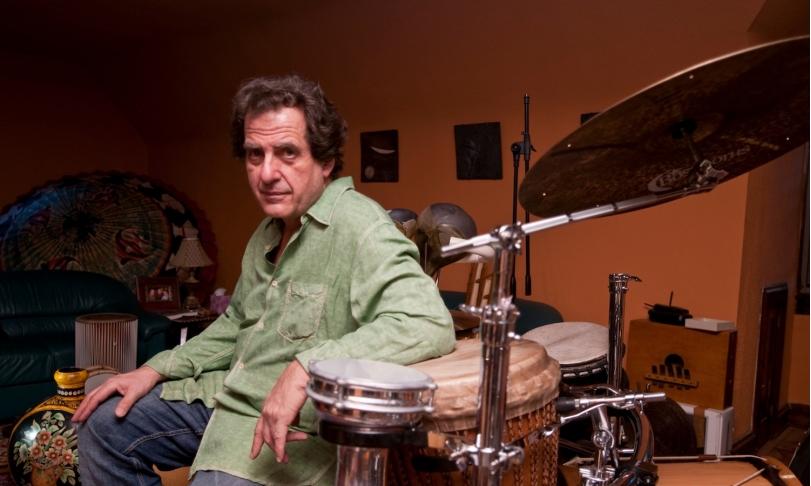 The band of Jamey Haddad is always more cuddly and cuter than, for example, the Vijai Iyer Sextet, which is a pioneer in modern jazz. The eight jazz and folk musicists who have come together from all corners of the world to blend their different styles of music into an unusual mix under a very southern sun, like, it can only come about, no, not in sunny California, but in the industrial estate of Cleveland.
The head of the band, who is responsible for Under the Sun, is the master drummer Jamey Haddad, who is at home on the ground of jazz as well as on all detours and wrong way of the music of this world since over four decades. Jamey Haddad cooperates regularly with Paul Simon, the composer Elliot Goldenthal, and the saxophonist Billy Drewes. It is said that Jamey Haddad masters and plays over a thousand drums of all kinds. This sounds quite exaggerated. Are there so many different drums at all? Anyway, let's leave it that way and let us take not of the more credible claim that he has been playing and making music with groups from all over the world, they come from Palestine, Afghanistan, or Canada, like the many musicians on this album: Ali Amr (Qanun), Salar Nader (tabla), Michael Ward-Bergeman (accordion), Billy Drewes (saxophone), Leo Blanco (piano), Luisito Quintero (drums) and Roberto Occhipinti (contrabass). Pick n' mixed as these musicians are, the music pieces on this album are also:
Home on the Hill: How we will learn during the album's titles: there is almost nothing without Conga. Apart from this, Home on the Hill proves to be the title strongest related to the Western culture of the whole album.
Tinker: India meets Africa. A relaxed get-together of musicians from diverse cultures creates exotic multicultural jazz. It is no wonder that Paul Simon keen to do world music likes to meet again and again with Jamey Haddad.
Oh Mattey): India meets the chromatic Accordéon à la Français on the Champs Elysée in Paris, elated and colorfully illuminated of the glimmering sun.
Walk Talk, Walked Talked: Reminiscence of Cannonball Adderley. Or rather John Coltrane? Or Coleman Hawkins? Whoever is to be reminded here, if at all, he has hardly left the Sax, he is already walking in Samba step, walking instead of talking.
Portrait Of: Whose portrait is meant here? Most probably the portrayal of a fantasy figure, which is so closely presented to us with beautiful solos of bass, piano and wordless vocals that we should be able to recognize who is portrayed here.
Excursions Through a Field Of Yellow Daffodils: The fact that yellow daffodils flourish under the chaotic colorful hustle and bustle of all the instruments and voices gathered on Under One Sun must be told clearly. They however do it quite obviously. Perhaps also because of the hectic rhythm, which is known to be growth stimulating for yellow daffodils, and which drives the colorful hustle and bustle without purpose.
For Those We've Known: Die ruhig entspannte Gangart dieses Titels tut nach der aufregenden Exkursion durch das Narzissenfeld richtgehen d gut. Eigentlich ist dieser Titel auch als Abgesang für das Album geeignet. Allerdings haben wir noch einen, freundicherweise ebenfalls ruhig dahinströmenden Titel vor uns, nämlich das sich um sich selbst kreisende High Above, bevor wir zum Abgesang des Albums, zu Ode to Brigadoon - A Path to All kommen, in dem wir uns in der Welt einer abgeklärten, hymnisch daherkommenden Chorals eines der Klassik verbundenen Komponisten wieder, der uns friedvoll in die schnöde, weil musikfreie Welt der einen Sonne entlässt.
For Those We've Known: After the exciting excursion through the daffodil field, the calmly relaxed gait of this title does well. This title is also suitable as farewell for the album. However, we still have a title before us which is also kindly streaming, namely, the self-circling High Above, before we come to the end of the album, to Ode to Brigadoon - A Path to All, in which we are in the world of an enlightened, hymnically evoking chorale of a classical composer, releasing us peacefully into the disdainful, music-free world of the one sun.
Billy Drewes, saxophone
Michael Ward-Bergeman, accordion
Roberto Occhipinti, double bass
Jamey Haddad, percussion, drums
Patrick Graney, percussion