---
Biography Jontavious Willis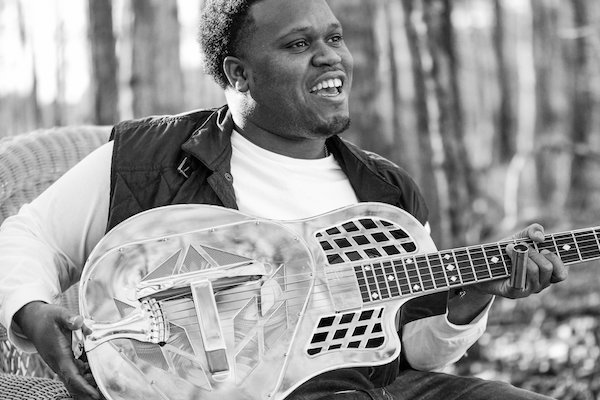 Jontavious Willis
Sitting on a deep cushioned couch in the family living room while resting his hands on his first acoustic guitar, twenty-one-year-old Jontavious Willis pauses a moment, thoughtfully considering how to describe his sound. His friends and family call him "Quon." Two time Grammy Award winner and blues legend, Taj Mahal, deems him as "My Wonderboy, the Wunderkind," while others regard him as a testament to this generation of blues being alive and well.
A Sunday evening spent resting at his family's home in Greenville, Georgia, in-between college classes and touring, Willis, humbled to share his musical journey, eases back to readjust his hands along the guitar, smiling as he begins strumming and singing along.
Where they say roots run deep in the South, Willis, who was born in LaGrange, Georgia and raised in Greenville, finds his musical roots running through the depths of Georgia to the front of the church where he began singing alongside his grandfather.
It was there in church, singing gospel music with his "Granddad" at the age of three where his passion for music began.
Though his passion for music began at an early age, it was not until later in his childhood that he learned to play an instrument. Beginning with the piano then moving to the trombone, Willis found his true love on December 24, 2010, when his dad granted his Christmas wish for an electric guitar.
A self-started musician whose raw musical talent expands an impressive repertoire of piano, trombone, harmonica, banjo and guitar, Willis was awestruck with the electric guitar, practicing for two months until February when sensing he was " playin' pretty good -not awesome, but it was good enough " to purchase what he now points to sitting nearby on the couch as his first acoustic guitar.
From there, Willis took his musical passion and talents full circle in returning to church – this time with a guitar. Meanwhile playing music in several churches, he began playing the blues at home, moving to the public scene in 2012. Fast forward three years to 2015 where he played alongside a man with connections to one of Atlanta's concert and festival venue hotbeds, Piedmont Park. ...