---
Vincent Chancey with Kevin Bruce Harris, David Gilmore & Ronnie Burrage
---
Biography Vincent Chancey with Kevin Bruce Harris, David Gilmore & Ronnie Burrage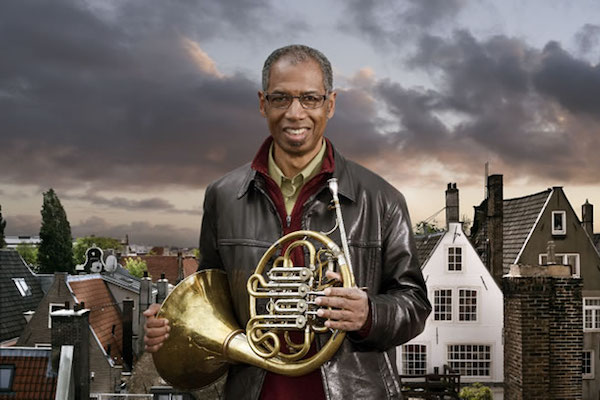 Vincent Chancey
Over the past 25 years I have built a solid reputation as an accomplished and totally dedicated french horn player, performing in a wide variety of musical contexts, and as an increasingly active composer. My first instrument as a member of the junior high school band was the cornet and later the trumpet and fluglehorn. But after hearing the french horn during rehearsals I felt a strong affinity for that instrument and was happily able to make the change. Simultaniously with my band experience in high school, I was first active in Giles Yellow Jackets and later the St. Andrews Hornets and the DesPlaines Vanguard competitive drum & bugle corps. Through high school and college, I lived a kind of musical schizophrenia, studying and playing classical music, but listening to and loving jazz. Continuing in that direction for some time, I finally decided that I needed some instruction on how to approach jazz on this instrument.
Upon graduation from the Southern Illinois University School of Music, I moved to New York to seek out and study with the long-time pioneering jazz french hornist Julius Watkins. I was able to win a N.E.A. grant to begin this study program. After several years of instruction and hard practice, I first came to prominence as a regular member of the Sun Ra Arkestra from 1976 to 1978. After that I worked sporadically for Sun Ra, making a number of recordings with the ensemble, and then worked for six years with the Carla Bley Band. In 1984, I joined Lester Bowie's Brass Fantasy and have been featured on all of the group's nine recordings. For many years, I have also been part of the David Murray Big Band in which I am featured on five CD's. I have been able to employ my talent playing with Chick Corea, Cassandra Wilson, Shirley Horn, Randy Weston, The Gil Evans Orchestra and The Mingus Orchestra. In the Contemporary Classical idiom , I have worked with Guus Janssen on varied projects in The Netherlands. I have also performed with popular artists such as Ashford and Simpson, Melba Moore, Peggy Lee, Maxwell, Aretha Franklin, Freddy Jackson, The Winans, Elvis Costello, Brandy, Charlie Haden Liberation Orchestra, Dave Douglas, singer Diana Krall and many more. In 2000 I had the honor of playing a performance for Pope John Paul II's 80th birthday concert.
I have recorded as a sideman with various artist on more than 150 albums, CD's and soundtracks. Eventually I came to the point that many musicians reach when they feel the need for more personal creative expression. I began writing music that could best express myself and my instrument. I felt that no one was writing for the french horn the way I knew it could be played. Several bands were put together over many years, which lead to my first CD. This recording entitled "Welcome Mr. Chancey" was released in 1993 on In + Out Records. A quartet was featured on this album using electric guitar, bass and drums. I enjoyed working with this group, but felt that I wanted to do something closer to the music that I had always listened to as a developing jazz musician, classic jazz. I started first by composing music that I thought worked with the way I liked to play my instrument. Soon after I was asked to do a CD of music commemorating my jazz horn teacher, Julius Watkins and his group, The Jazz Modes. In 1996 I recorded my second CD "Vincent Chancey and Next Mode" on DIW records. This one featured a Quintet with tenor saxophone, piano, bass, and drums.
The french horn is my natural voice. Throughout my career I have been devoted to the idea of achieving wider recognition for the horn as a jazz instrument and I have constantly sought to increase the capability of the instrument and overcome the inherent problems of adapting it to the vocabulary of jazz.