---
Evangelina Mascardi, Gaetano Nasillo, Sara Bennici & Anna Fontana
---
Biography Evangelina Mascardi, Gaetano Nasillo, Sara Bennici & Anna Fontana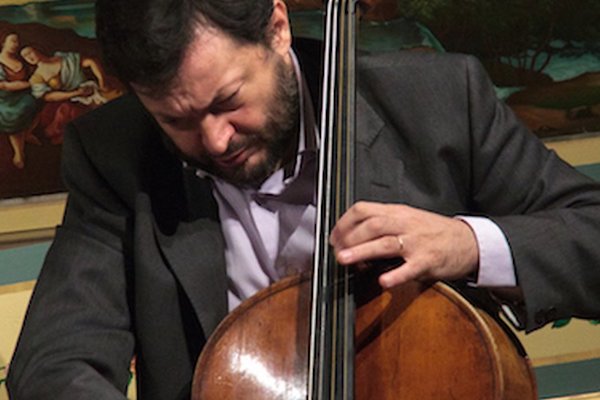 Gaetano Nasillo
is one of the most renowned baroque cellist.
He graduated at "G. Verdi" Conservatory of Milan with Rocco Filippini, with whom has also studied at "W. Stauffer Academy" in Cremona.
After having played in the most important groups of contemporary music and in main orchestras in Milan, he started approaching the performance practice on period instruments, collaborating for many years with Chiara Banchini and Jesper Christensen and learning also the viola da gamba. He attended the "Schola Cantorum Basiliensis" under the guide of Paolo Pandolfo.
Gaetano Nasillo regularly collaborates, often as soloist, with the most prestigious European ensembles of period instruments, among them: Ensemble 415, Concerto Vocale, Zefiro, Le Concert des Nations, Ensemble Aurora, Gli Angeli, performing with them in Europe, the USA, South America, Japan and Australia.
His recording production counts nowdays about 100 titles, most of which were awarded with many prizes: Diapason d'Or (A. Corelli, Concerti grossi op. VI, Ensemble 415; Muffat, l'Armonico Tributo, Ensemble 415; Monteverdi L'Orfeo, Ensemble Elyma; Conti, Cantate, Ars Antiqua Austria; A. Corelli, Sonate per violino e basso continuo op. V, Enrico Gatti; Albinoni, Sinfonie a 5 op.2, Ensemble 415; Haendel Fireworks, Zefiro); voted 10 by Repertoire and Premio Vivaldi (A. Corelli op. V, trascrizione per viola da gamba, G.Balestracci; A. Corelli, Sonate op. V per violino e basso continuo, E. Gatti,); Choc de la Musique (A. Corelli, Sonate op. V per violino e basso continuo); Preis der Deutsche Schallplattenkritik (Bonporti, Invenzioni op. X), C. Banchini); rated A by Amadeus (L. Boccherini,Sonate per violoncello; Schuster, Quartetti padovani; J.S. Bach, Offerta Musicale; Bonporti, Invenzioni op. X), Amadeus cd of the year (Lanzetti op.1).
His soloist production features two volumes of sonatas by Luigi Boccherini, the Opus 5 by Francesco Geminiani (which was acclaimed by the French magazine Diapason as one of the 30 essential recordings to appreciate the violoncello), the Salvatore Lanzetti Sonatas op. 1 (Amadeus award 2006), the Cello Concertos of Leo, Porpora, Sabatino and Fiorenza with Ensemble 415, the Antonio Caldara Sonatas (Muse d'Or Award) , the Carlo Graziani Sonatas (In Viaggio verso Breslavia) and Nel Giardino di Partenope (Neapolitan music for cello). He has also recorded with Alessandro Commellato, the Ries Sonatas for cello and fortepiano.
Gaetano Nasillo has recorded for Harmonia Mundi France, Symphonia, Teldec, Arcana, Ricordi, K617, Ambroisie, Zig-Zag Territoires, Alpha, Christophorus, Nuova Era, Bongiovanni, Stradivarius, Tactus, Brilliant, as well as for all the major classical radio stations and broadcasting companies throughout Europe and United States.
Besides teaching both modern and baroque cello at the Conservatorio G. Cantelli in Novara, Gaetano Nasillo regularly holds Masterclasses in Italy (Urbino), Spain (Daroca), and South America. In 2013 was invited by A. Abreu to partecipate as soloist at the first Decus Mundi Baroque Festival. He often takes part of the jury of international competions for baroque instruments such as Bremio Bonporti of Rovereto and Concours Corneille in Rouen.
He plays a Giuseppe Ungarini cello made in 1750.