---
Biography Alistair McGowan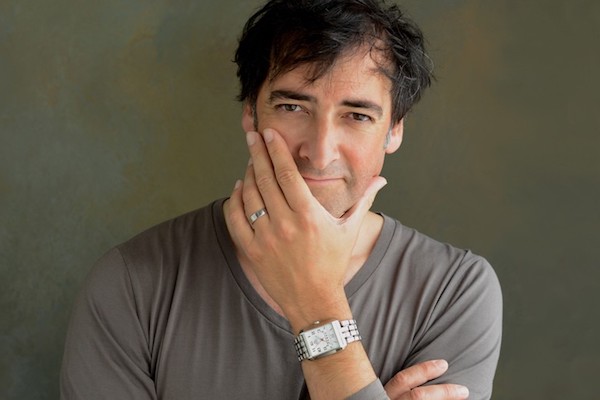 Alistair McGowan
is probably best known to British audiences for The Big Impression which was, for four years, one of BBC1's top-rating comedy programmes – winning numerous awards, including a BAFTA. In 2017, he releases 'Alistair McGowan ; The Piano Album' with Sony Classics.
After graduating from the Guildhall School of Music and Drama in 1989, Alistair began working as a stand-up comic and was soon a regular at London's Comedy Store and appeared at The Edinburgh Festival and on the 1996 Royal Variety Show. 2009 saw him return to stand-up and embark on his first solo National tour – 'The One and Many'. He toured again in 2013 with the show 'Not Just A Pretty Voice' and has been touring intermittently over the last two years with one of his comedy idols, fellow- West Midlander, Jasper Carrott, in 'An Evening Shared with Jasper Carrott and Alistair McGowan'.
As a comedian, he has appeared on countless shows since 1992 including : Des O' Connor Tonight, Auntie's Sporting Bloomers, Standing Room Only, Oddballs, Sports Personality of The Year, Hangar 17, Comedy Rocks, The Comedy Annual, Packing Them In, The Clive James Television Show, Under The Moon, and Football Focus.
From 1992-1996, he provided the voices for many of the characters on Spitting Image.
He was a regular feature on Radio 4 comedy shows including: Elvenquest, Weekending, The Nick Revell Show, Life, Death and Sex With Mike and Sue, First Impressions, The Young Postmen, Hair In The Gate, The Harpoon and he co-wrote and starred in four series of The Game's Up (a satirical sports show) on Radio Five.
Other radio work includes : 'Goldfinger' (with Ian Mckellen), 'Final Demands' (with Tom Conti), Look Away Now, Continuity, The Craig Brown Diaries, Boswell's Lives, Munchausen, The Three Brexiteers, Kind Hearts and Coronets as well as appearances in his own plays, 'Three Pieces In The Shape of a Pear,' 'The Peregrinations of a Most Musical Irishman' and 'The 'B' Word'.
He can frequently be heard on 4Extra reading Chekhov's short stories, and also read The Canterville Ghost and the Lionel Bart biography Fings Aint What They Used Ter Be.
His interest in sport saw him release two football comedy videos which became cult-viewing in the nineties : Football Backchat and The Second Leg. And, in 2011, he acheived a life-long ambition when he was part of Five Live's commentary team at Wimbledon
His theatre work includes : Kafka in Kafka's Dick and Clov in Endgame (Nottingham Playhouse), Art (Wyndham's) Khlestakov in The Government Inspector (Chichester), Ford in Merry Wives : The Musical (RSC) – with Simon Callow and Judi Dench - and The Dentist in Little Shop of Horrors (Duke of York's – for which he received an Olivier nomination), the title role in The Mikado (Carl Rosa), the Pirate King in The Pirates of Penzance, Vernon Gersh in They're Playing Our Song (Menier Chocolate Factory), The Duke in Thelma Holt's touring Measure For Measure, John in David Mamet's Oleanna (Nottingham, Lakeside) the Emcee in Rufus Norris' Cabaret (Lyric) and he took over from Rupert Everett as Prof Henry Higgins in Pygmalion alongside Kara Tointon and Dame Diana Riggg (Garrick, 2011) and played Higgins again in David Grindley's centenary touring production of Pygmalion (alongside Rula Lenska and Jamie Foreman) in 2014. In 2015, he took on the title role in Jonathan Maitland's controversial play An Evening With Jimmy Savile at the Park Theatre where he also returned a year later in Peter Quilter's 4 000 Days. In 2016, he took his own show Erik Satie's-faction to the Edinburgh Festival where it - and his piano-playing within the show - received rave reviews.
He has also taken part in several one-night gala performances including Our House at The Savoy and Follies at The Royal Albert Hall and took part in the BBC Proms in 2016 reading the work of Erik Satie, alongside French pianist, Alexandre Tharaud.
As an actor, on television, he played Spock in Tim Firth's Preston Front, Mr Kenge in Bleak House and the title role in the quirky detective show Mayo (co-writing several later episodes). He featured in Skins as a South African rugby teacher and as the evil Piero de Medici in 13-part CBBC drama Leonardo. He appeared alongside Dougreay Scott in The Words of Captain Scott and also narrated The Falklands Most Daring Raid for Channel 4.
He has hosted Have I Got News For You? appeared as one of the grumpy old men in Grumpy Guides , has presented features on The One Show, sat in Dictionary Corner on Countdown, was a winning contestant on 'Bake Off For Comic Relief' and 'Pointless Celebrities' and has also taken part in 'The Chase', 'A Question of Sport','Celebrity Mastermind' and represented Leeds University on 'Celebrity University Challenge'. He took part in '24 Hours In The Past' (alongside Colin Jackson and Anne Widdicombe) in which he had to live for a week as a Victorian, consigned children and tattoos to the vaults on 'Room 101', and has been featured on the hugely popular Who Do You Think You Are?
He appeared in the film Driving Aphrodite opposite Nia Vardalos and Richard Dreyfuss and played Norris McWhirter in David Baddiel's film The Norris McWhirter Chronicles.
He has written A Matter of Life and Death ; How To Wean A Man Off Football with Ronni Ancona – an autobiographical comedy self-help book about football as an addiction.
His first stage-play, Timing, received a nomination for 'Best New Comedy' in the whatsonstage.com awards 2010.
He has also directed Semi-Monde by Noel Coward at Guildhall School of Music and Drama in 2008, The Mikado and The Pirates of Penzance for Raymond Gubbay.
He devised the show Cocktails With Coward which he performed with his wife, Charlotte Page, for a sell-out run at the Edinburgh Festival in 2009 and at the Riverside Studios in 2010. The show was later revived under the name Sincerely Noel, toured and enjoyed a week at The Crazy Coqs in 2013.
As a pianist, he has performed in an all-night performance of Erik Satie's Vexations in the 2016 Cheltenham Music Festival and played Grieg and Satie at Birmingham Town Hall in their 2017 'All-nighter' and he has played at King's Place in three concerts for Lucy Parham with whom he has also twice performed as Rachmaninov in her words and music show, 'Elegy'.
A keen environmentalist, Alistair has never yet owned a car. He also played a key part in the saving and restoration of the art-deco cinema, The Regal, in his home-town of Evesham.