---
Gianluigi Trovesi & Stefano Montanari
---
Biography Gianluigi Trovesi & Stefano Montanari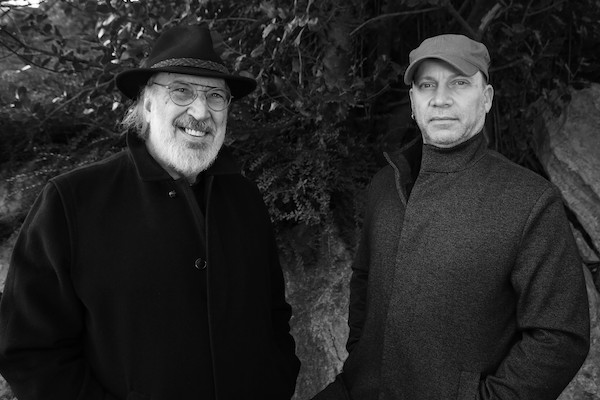 Gianluigi Trovesi
Composing or improvising creates, announces, underlines and develops emotion. The story creates the emotion, and the emotion creates the story. The emotion provides the form and consequently provides the characteristics of the possible improvisation."
Gianluigi Trovesi, almost unchallenged among improvising clarinettists in Europe, was born in 1944 into a working-class family in the small Alpine village of Nembro, near Bergamo in northern Italy. Here folk and dance music were an intrinsic part of everyday life and the young musician absorbed them eagerly. He went on to study at the Bergamo Conservatory, gaining his diploma in clarinet in 1966. Hearing Eric Dolphy play at the Milan festival in 1964 was a significant experience, but Trovesi's interests and influences embraced virtually every type of music, from Italian folk to the jazz avant-garde, which was to stand Italy's pre-eminent musical archaeologist in excellent stead in his subsequent career. By 1978, Trovesi had won first prize in a national competition for sax and clarinet and got himself a job as first alto and clarinet with the Milan Radio Big Band, a position he would occupy until 1993.
Trovesi arrived at ECM in 1994, his alto saxophone and clarinets soaring into the Skies of Europe proposed by the Italian Instabile Orchestra, perhaps the most outstanding idiosyncratic soloist in a band chock-full of them. He provided the label's runaway surprise hit of 2001 when he teamed up with his old friend, accordionist Gianni Coscia, on In cerca di cibo, a left-field recording brimful of mordant humour, improvisational wit, unrepentant nostalgia, and exceptional musicianship that roved easily between jazz and chamber music, folk and soundtrack music, with a hint of klezmer.
The duo returned in 1995 with an album of Kurt Weill and Weill-inspired improvisations, and a few years later applied a similar approach to German-born composer of French operettas, Jacques Offenbach, on Frères Jacques. Their explorations are free-wheeling and wide-ranging, likely to break into swing or rhythm and blues at a moment's notice. London Jazz News called their collaboration "irresistibly enjoyable".
Trovesi's other projects on ECM include Vaghissimo Ritratto, on which he appears with Umberto Petrin (piano) and Fulvio Maras (percussion, electronics), hailed by the Irish Times as "improvised chamber music of stunning quality and adventure, melodic grace and rhythmic freedom" and Fugace, a rampant genre-hopping adventure by an all-Italian octet. His 2008 album Trovesi All'Opera – Profumo di Violetta is a typically quirky Trovesi take on Italian opera performed, as Ivan Hewitt wrote in the Daily Telegraph, by "a turbo-charged version of a traditional Italian town band".
Stefano Montanari
graduated cum laude in Violin and Piano and received a M.A. in Chamber Music with Pier Narciso Masi at Florence's Music Academy. He then received the Soloist Diplom in Violin Performance at the Swiss- Italian School of Music in Lugano, under the guidance of Carlo Chiarappa; S. Montanari focused his studies on historically informed practice. Since 1995 he has been the Principal violin at the Accademia Bizantina in Ravenna and he collaborated with leading exponents in the field of early music, particularly with Christophe Rousset and his ensemble, Les Talents Lyriques. M° Montanari teaches Baroque Violin at the International Academy of Music in Milan and he also teached at the "E.V. Dall'Abaco" Music Conservatory in Verona. He also held master classes at the Ancient Music Academy in Urbino. He taught Baroque Violin and Chamber Music at the Music Conservatories in Cesena, Parma, Pesaro, Piacenza and at Lugano's Swiss- Italian School of Music between 1993 and 1999. Stefano Montanari is Principal Director of the "Jugendspodium Dresden-Venice" project. His method for Baroque Violin is recently published by Carisch.
Montanari made his conducting debut with an As.Li.Co. production of Le nozze di Figaro with the Orchestra I Pomeriggi Musicali di Milano, followed by Mozart's Messa KV 337 on the podium of the Accademia Bizantina. He was Konzertmeister in several performances of Concerto Köln. He participated in various concerts as both conductor and violin solo: Haydn's The Seven Last Words and Vivaldi's Four Seasons with Accademia Bizantina; series of concerts with Vivaldi and Mendelssohn repertoire with Orchestra 1813. He conducted Vivaldi's Four Seasons with the Baroque Orchestra of the Accademia Nazionale di Santa Cecilia in Rome, for a Christmas Gala Concert in 2007 and for a gala in honor of the 150th anniversary of Italy's unification, events that were both live broadcast on national television.
Highlights of his conducting career in the early years include regular collaborations with Teatro Donizetti in Bergamo (Don Gregorio; L'Elisir d'Amore; Don Pasquale and Piccinni's La Cecchina, ossia la Buona Figliuola) and Opéra de Lyon (Don Giovanni, Così fan tutte, Le nozze di Figaro); and also Don Pasquale in Mantua; L'Elisir d'Amore in Lucca; series of concerts in Canada with the ARION ensemble; Semiramide riconosciuta at the Musique Baroque de Beaune and in Santiago de Compostela; Don Giovanni at the Opera-Atelier in Toronto. He started a research project that aims at producing the critical edition of operas of the 19th Century, particularly Donizetti, in collaboration with scholars of the Hochschule der Künste Bern. Amongst his past engagements it is worth mentioning L'inganno Felice, Così Fan Tutte, La cambiale di matrimonio, L'Elisir d'amore at the Teatro La Fenice in Venice; Die Zauberfloete and Carmen (awarded as the best opera staged in 2012 season), Le Comte Ory at the Opera the Lyon; Dido and Aeneas at the Teatro Ristori in Verona where he returned conducting Rossini's Stabat Mater, Il Barbiere di Siviglia and Barocco Remix, a ballet based on baroque music at the Teatro Filarmonico; Liederabend in Florence; Il barbiere di Siviglia in Palermo; Bach's Sonatas and Partitas in Taranto; Così fan tutte in Moscow; concerts in Milan with the Orchestra I Pomeriggi Musicali and in Montréal with the Arion Baroque Orchestra as well as in Palermo, Florence, Turin and Bern. Maestro Montanari received huge acclaim for his baroque tour in Australia with the Brandeburg Cosort. In Venice, where he regularly appears both in opera and concert, he conducted also Caldara's Dafne and Cavalli's Eritrea (first performance in modern times), L'Inganno Felice and Don Giovanni.
Latest engagements include: Il Barbiere di Siviglia at the baths of Caracalla in Rome; Dido & Aeneas, Bach's B minor mass and other symphonic concerts at the Opera in Florence; Il viaggio a Reims (new production by Damiano Michieletto) at the Dutch National Opera in Amsterdam; Don Giovanni at the Arena in Verona; Le nozze di Figaro for OperaLombardia; La clemenza di Tito at the Tchaikovsky Concert Hall with the State Chamber Orchestra of Russia; Così fan tutte at the Bolshoi Theater in Moscow; Rinaldo on European tour in Brussels, Paris and Karlsruhe and a concert in Grenoble with the ensemble Il Pomo d'oro; Die Entführung aus dem Serail, Alceste, Don Giovanni (also in tour in Oman), La Cenerentola and Rodelinda in Lyon; L'elisir d'amore, Die Lustige Witwe e Il barbiere di Siviglia in Venice; Rossini's Stabat Mater with the Warsaw Philarmonic Orchestra in Warsaw; Agrippina and La clemenza di Tito in Antwerpen; Il viaggio a Reims and Le nozze di Figaro (new production by Graham Vick) and La Cenerentola at the Teatro dell'Opera in Rome; Le nozze di Figaro di Cagliari; Mosè in Egitto at the San Carlo in Naples; Don Giovanni in Moscow; La Clemenza di Tito in Antwerp; La Cenerentola at the Edinburgh Festival with the Opéra in Lyon; his debut at the Royal Opera House in London conducting Mozart's Così fan tutte; Iphigenie en Tauride in Stuttgart.