---
Album info
Album including Album cover Booklet (PDF)
1

Ahzan

07:26

2

Backseat of the Galaxy

06:21

3

Dichotomy

06:30

4

And Yet

03:46

5

Serakunda

05:41

6

In Motion

07:04

7

Isle of Nowhere

04:58

8

Gary's Theme

07:43

9

Blue Streets Up and Down

05:45

10

Lucid Air

03:14

Total Runtime

58:28
Info for In Motion

Nevessa' is a recording studio in the town of Woodstock, New York state, where pianist Marilyn Crispell is based. There she met up with drummer Richard Poole and bass player Gary Peacock in November 2014 for a session of creative improvisation. The result was ten beautiful pieces of music which document the great art of spontaneous music-making and underline the outstanding personalities of these three fantastic musicians.
"In Motion exudes rapport, whether Marilyn Crispell, Gary Peacock and Richard Poole ruminate upon attenuated melodic contours, charge through jagged motives, or ride buoyant grooves. It is the type of rapport that suggests a long incubation of materials and processes," says music journalist Bill Shoemaker in the sleeve notes. "There is the lucidity and heart that comes from the time and space needed to hear feelingly, as well as the flexibility to effortlessly pivot between starkly contrasting materials, as Crispell, Peacock and Poole do repeatedly throughout the album."
Richard Poole, drums
Marilyn Crispell, piano
Gary Peacock, bass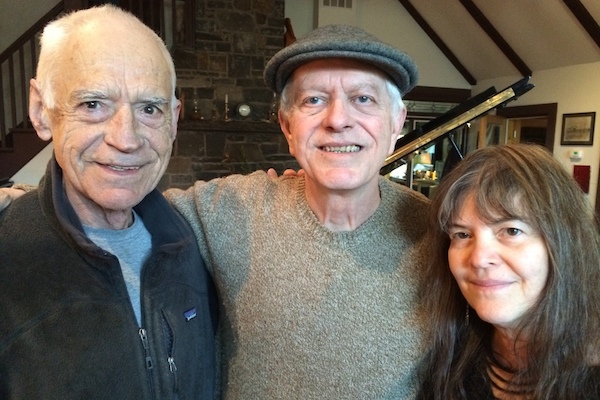 Richard Poole
is a composer, collaborator and performing musician. In addition to creating his own solo works on piano, Richard specializes in teaching and practicing the creative process in a collaborative setting.
After attending Berklee in the early 1970's, Richard moved to Miami, Florida and studied Music Composition (scholarship) at Miami International University, graduating in 1976. It is in Miami that Richard Poole experienced the city's rich multi-cultural environment, and began his journey of creating and collaborating with musicians from all over the world.
As a composer and collaborator, Richard has worked with many of the 20th century's great jazz artists, including Paul Bley, Jeff Palmer, Mark Eagen, Don Bradon, Ira Sullivan, Bill Marcus, Al Vega, Joe Diorio, Bob Thomas, Pete Minger, Tony and Dolf Castelanno, Bob Mover, Don Goldie, Geordie Macdonald; Flip Phillips, Candido, Curtis Fuller, George Garzone, Jay Corre, Rebecca Parris, Lowell Davidson, Chubby Jackson, Joe Roland, Eddie Higgins, Tony Prentis, Johnny Walker, Gary Peacock, Marilyn Crispell, Hillary Rose and Jaco Pasorious.
Richard has also performed in the entertainment business with many of the icons of the 20th century including Dezi Arnaz, Jackie Gleason, Bob Hope, Tom Sullivan, Lisette Alvarez, Ronald Reagan, Robert Goulet, Joanie Sommers, the Four Aces and Roger Williams.
Mr Poole has held concerts throughout the Northeastern United States, Canada and Europe.
Richard performs and records on piano, drums and vibraphone.
Current album releases include collaborations on vibraphone with instrumentalist Lowell Davidson (Rediscovered Session of 1988) and with pianist Patrick Battstone (Mystic River). Mystic River, highlighting an improvisational form of chamber jazz for small concert settings, has enjoyed intimate live performances in the United States.
The recurring theme with Richard Poole's work is to share the experience of creativity and collaboration through an artistic dimension. His intent is, that through, such experiences, one can apply these methodologies/experiences to their everyday life.

Booklet for In Motion