---
Album info
Album including Album cover
1

Imprint Double

07:40

2

Bourgeois's Spider

07:32

3

Éclats for Ornette

04:14

4

Simone

04:01

5

Pierino porcospino

04:19

6

D'Agala

08:13

7

Circumbent

03:54

8

Fly Whisk

07:53

9

South Side Rules

06:23

Total Runtime

54:09
Info for D'Agala

With her high-quality trio with Drew Gress and Kenny Wollesen, Sylvie Courvoisier presents her eleventh album on Intakt Records: Intakt CD 300. In both her playing and her composition she shows neoclassical influences mixed with European improvised music and the experimental nonconformismof the New York downtown scene.
The nine pieces on D'AGALA are dedicated to people who admired and influenced Courvoisier. The title tune is for pianist Geri Allen, "one of three dedicatees who passed away as this June 2017 recording was in preparation – the others being guitarist John Abercrombie and French politician, women's rights advocate and Holocaust survivor Simone Veil. Two pieces are for sculptors, Martin Puryear who merges organic and geometric forms, and Louise Bourgeois. On "Bourgeois's Spiders," Courvoisier is all over the piano – plucking or strumming strings inside, or playing with one hand inside and one on the keys, or rattling around on the metal frame. Sometimes the band sounds like a trio of percussionists; they're that rhythmically acute", writes Kevin Whitehead in the liner notes and adds: "Some pianists approach the instrument like it's a cathedral. Sylvie Courvoisier sometimes treats it like a playground".
Sylvie Courvoisier, piano
Kenny Wollesen, drums & Wollesonic
Drew Gress, bass
Recorded June 22,2017, by Ryan Streber at Oktaven Audio, Mont Vernon, New York
Mixed September 25, 2017, by James Farber at Sear Sound Studio, New York City
Mastered by Scott Hull
Produced by Mark Feldman, Sylvie Courvoisier and Intakt Records, Patrik Landolt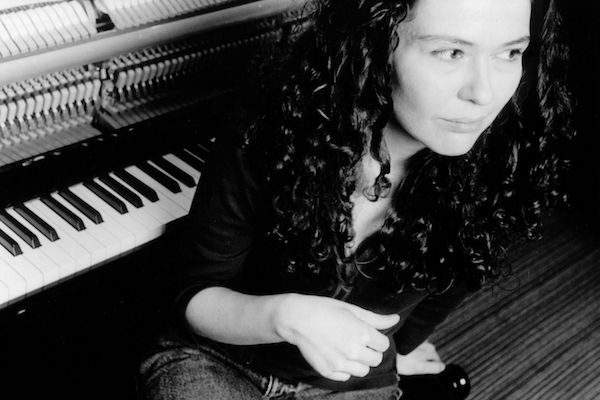 Sylvie Courvoisier
is a pianist, composer and improviser. Born in Lausanne, Switzerland, Courvoisier moved to New York in 1998 and has lived in Brooklyn since that time.
Courvoisier has led multiple groups over the years and has recorded 8 albums as a band leader and 50 albums (25 as a co-leader and 25 as a side-person) for different labels, notably ECM, Tzadik and Intakt Records. .
She has been commissioned to write music for concerts, radio, dance and theater. Since 1996, she has been touring widely with her own groups and as a side person in USA, Canada, Japan, Australia and Europe.
Courvoisier has performed and recorded with John Zorn, Mark Feldman, Yusef Lateef, Ikue Mori, Tony Oxley, Mary Halvorson, Ingrid Laubrock, Tim Berne, Joey Baron, Joëlle Léandre, Herb Robertson, Butch Morris, Evan Parker, Ellery Eskelin, Fred Frith, Nate Wooley, Tomazs Stanko, Susie Ibarra, Wadada Leo Smith and the flamenco dancer Israel Galvan among others.
Since 1998 Courvoisier has performed regularly SOLO and in DUO with Mark Feldman. Currently, she is the leader of her own TRIO with Kenny Wollesen and Drew Gress. Courvoisier is a co-leader of the Miller's Tale QUARTET with Evan Parker, Ikue Mori and Mark Feldman. Since 2000, she has been a member of Mephista, an improvising collective trio with Ikue Mori and Susie Ibarra. Courvoisier regularly performs in a number of John Zorn's groups and compositional projects including Cobra and the Bagatelle Marathon.
Since 2010, she has been working as a pianist and composer for flamenco dancer Israel Galvan's project "LA CURVA" with more than 150 performances around the world. Galvan and Courvoisier are working on a new project called CAST-A-NET with Evan Parker, Mark Feldman and Ikue Mori which will debut in the summer of 2018.
Her most recent albums include her trio D'AGALA on Intakt (2018) with Kenny Wollesen and Drew Gress; her duo with Mary Halvorson CROP CIRCLES on Relative Pitch Records (2017); MILLER'S TALE, a collective quartet with Mark Feldman, Ikue Mori, and Evan Parker on Intakt (2016); and SALT TASK a collective trio with Chris Corsano and Nate Wooley on Relative Pitch Records (2016).

This album contains no booklet.