---
Album info
Album including Album cover
I`m sorry!
Dear HIGHRESAUDIO Visitor,
due to territorial constraints and also different releases dates in each country you currently can`t purchase this album. We are updating our release dates twice a week. So, please feel free to check from time-to-time, if the album is available for your country.
We suggest, that you bookmark the album and use our Short List function.
Thank you for your understanding and patience.
Yours sincerely, HIGHRESAUDIO
Baldassare Galuppi (1706 - 1785):

1

Galuppi: Piano Sonata No. 9 in F Minor: I. Andante spiritoso

02:06

Wolfgang Amadeus Mozart (1756 - 1791):

2

Mozart: Rondo in F Major, K. 494

06:05

Carl Philipp Emanuel Bach (1714 - 1788):

3

C.P.E. Bach: Rondo II in D Minor, H. 290

03:26

Domenico Cimarosa (1749 - 1801):

4

Cimarosa: Sonata No. 42 in D Minor (Arr. Ólafsson)

02:24

Wolfgang Amadeus Mozart:

5

Mozart: Fantasia in D Minor, K. 397 (Fragment)

05:47

6

Mozart: Rondo in D Major, K. 485

03:46

Domenico Cimarosa:

7

Cimarosa: Sonata No. 55 in A Minor (Arr. Ólafsson)

02:44

Joseph Haydn (1732 - 1809):

8

Haydn: Piano Sonata in B Minor, Hob.XVI:32: I. Allegro moderato

03:04

9

Haydn: Piano Sonata in B Minor, Hob.XVI:32: II. Menuet

02:41

10

Haydn: Piano Sonata in B Minor, Hob.XVI:32: III. Finale. Presto

02:09

Wolfgang Amadeus Mozart:

11

Mozart: Kleine Gigue in G Major, K. 574

01:40

12

Mozart: Piano Sonata No. 16 in C Major, K. 545 "Sonata facile": I. Allegro

03:00

13

Mozart: Piano Sonata No. 16 in C Major, K. 545 "Sonata facile": II. Andante

04:00

14

Mozart: Piano Sonata No. 16 in C Major, K. 545 "Sonata facile": III. Rondo. Allegretto

01:43

15

Mozart: Adagio in E Flat (Arr. Ólafsson from String Quintet No. 3 in G Minor, K. 516)

08:04

Baldassare Galuppi:

16

Galuppi: Piano Sonata No. 34 in C Minor: I. Larghetto

03:07

Wolfgang Amadeus Mozart:

17

Mozart: Piano Sonata No. 14 in C Minor, K. 457: I. Molto allegro

03:55

18

Mozart: Piano Sonata No. 14 in C Minor, K. 457: II. Adagio

08:12

19

Mozart: Piano Sonata No. 14 in C Minor, K. 457: III. Allegro assai

04:31

20

Mozart: Adagio in B Minor, K. 540

07:34

21

Mozart: Ave verum corpus, K. 618 (Transcr. Liszt for Solo Piano)

04:02

Total Runtime

01:24:00
Info for Mozart & Contemporaries

Between tradition and modern: Multi-award-winning pianist Víkingur Ólafsson turns his attention to the music of Wolfgang Amadeus Mozart. Ólafsson presents some of his favourite Mozart keyboard works in the company of pieces by a selection of the composer's leading contemporaries. Juxtaposing works by Mozart, Haydn and C.P.E. Bach with rarely-recorded Galuppi and Cimarosa, Mozart & Contemporaries dispels the image of Mozart as the angelic and prodigious idiot savant, instead presenting a mature composer through music primarily dating from the 1780s: a resourceful, hard-working adult who had come to know adversity. All is artfully brought together by Ólafsson's signature thought-provoking programming.
Ólafsson comments: "I find this decade of Mozart's life and art endlessly fascinating. Mozart was not just a composer, and I feel that when he was writing for himself as a virtuoso pianist he indulged more than ever in the sublime playfulness that lay at the core of his originality and inventiveness. This is the period when Mozart was not just perfecting the Classical tradition but subtly subverting it … the shadows are darker, the nuances and ambiguities more profound."
Carl Philipp Emanuel Bach (1714–1788); Joseph Haydn (1732–1809); Baldassare Galuppi (1706–1785); and Domenico Cimarosa (1749–1801): "Perhaps all four provide a chance to calibrate the contemporary ear towards the prevailing ideas, styles and tastes of the times", comments Ólafsson. "It is my hope that this particular context, a mix of the celebrated and the obscure, can slightly alter our psychological attunement, removing some of the baggage we all bring with us to Mozart's music. This is in any case what I set out to do for myself: to approach even the best-known works of Mozart with the same freedom and childlike enthusiasm I felt upon discovering the rare and staggeringly lyrical works from the likes of Galuppi and Cimarosa."
Mozart: a bird of a different feather Mozart & Contemporaries provides a fascinating snapshot of a decade when changes were brewing, composers were experimenting, and Mozart was writing such visionary pieces as the Sonata in C minor K457. The album – the pianist's fourth for Deutsche Grammophon – also includes Ólafsson's own transcriptions: haunting arrangements of two sonatas by Cimarosa, plus a masterful solo piano transcription of the great Adagio in E flat major from Mozart's String Quintet K516. To conclude the album, Mozart's Adagio in B minor K540 quietly transitions into Franz Liszt's transcription of the motet Ave verum corpus, composed in Mozart's final year. The vocal lines' ascension to the piano's higher registers is viewed by Ólafsson as representing a final sense of death and transfiguration.
"I feel like, when I play Mozart, that I get to know myself as a musician. I get to know sides that I didn't before. He seems to reflect your innermost core in music." (Víkingur Ólafsson)
"He asks how to "deal" with Mozart: easy on first glance, but elusive and difficult once you dig deeper…His clear, agile playing, inner parts brought out, ornaments always fresh, never exaggerated, suggests he has found peace with the composer. This is just the start." (The Guardian)
Vikingur Olafsson, piano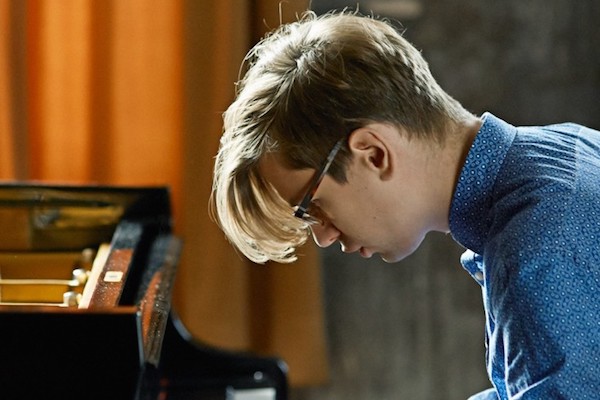 Víkingur Ólafsson
Possessing a rare combination of passionate musicality, explosive virtuosity and intellectual curiosity, Icelandic pianist Víkingur Ólafsson has won all the major prizes in his native country, including four Musician of the Year prizes at the Icelandic Music Awards as well as The Icelandic Optimism Prize.
Víkingur's 2016/17 season includes performances with NDR Elbphilhamonie Orchester and Los Angeles Philharmonic under Esa-Pekka Salonen, tour with Orkester Norden (Lawrence Foster) and concerts with Iceland Symphony Orchestra (Yan Pascal Tortelier) and MDR Sinfonieorchester (Kristjan Järvi). Since February 2016 he has taken over from Martin Fröst as Artistic Director of Vinterfest in Sweden while continuing in the same role for the award winning Reykjavík Midsummer Music, which he founded in 2012. In recital he will make his debut at Wiener Konzerthaus, Konzerthaus Berlin, Elbphilharmonie Hamburg, Louisiana Museum for Modern Art Denmark, La Folle Journée Festival as well in Leipzig and at the Istanbul Music Festival.
Víkingur signed an exclusive agreement with Deutsche Grammophon in November 2016. His debut album for DG will feature the piano works of Philip Glass and is set to be released in time for the composer's 80th birthday in January 2017. In 2015 Víkingur recorded solo works by Igor Stravinsky for the company's complete works edition of the composer and before that, he released 3 albums on his own label, Dirrindí Music. The first two were solo discs; 'Debut', (showing "exceptional perception and depth of maturity," said EPTA Journal) and 'Chopin-Bach' (prompting Piano News Magazine to say "Immense talent … you must listen to this young pianist!"). His third album was a double CD/DVD release of 'Winterreise' with bass Kristinn Sigmundsson, which won the Album of the Year award at the Icelandic Music Awards 2012.
Víkingur has premiered five piano concertos to date and worked with composers including Philip Glass, Mark Simpson and Daníel Bjarnason. He has collaborated with leading artists from diverse fields, such as Roman Signer, Lillevan and Yann Malka, and appeared at festivals such as Busoni and Transart (Bolzano), MITO SettembreMusica (Milano) and Nordic Cool (Washington DC). When it comes to his relationships with other musicians, Víkingur has worked with Sayaka Shoji, István Várdai, Martin Fröst, Pekka Kuusisto and Björk.
Away from the concert stage, Víkingur is the driving force behind numerous innovative musical projects. Most recently the classical music television series, Útúrdúr (Out-of-tune), produced for the Icelandic National Broadcasting Service in 2013-14, was broadcast to unanimous critical and public acclaim.
Víkingur grew up in Iceland where he studied with Erla Stefánsdóttir and Peter Máté. He holds Bachelor's and Master's degrees from The Juilliard School, where he studied with Jerome Lowenthal and Robert McDonald.

This album contains no booklet.