---
Album info
Album including Album cover
I`m sorry!
Dear HIGHRESAUDIO Visitor,
due to territorial constraints and also different releases dates in each country you currently can`t purchase this album. We are updating our release dates twice a week. So, please feel free to check from time-to-time, if the album is available for your country.
We suggest, that you bookmark the album and use our Short List function.
Thank you for your understanding and patience.
Yours sincerely, HIGHRESAUDIO
1

Back for More

04:15

2

Arrested

03:44

3

The Sweetest Romance

03:57

4

2Good4Me

04:01

5

My Toy

03:47

6

Get Lost

04:08

7

Turning Around

03:19

8

Man Without Shadow

04:55

9

All It Takes

04:39

10

Wet Dream

02:21

11

Too Soon

04:10

12

In Return

03:20

13

Still Waters

05:26

Total Runtime

52:02
Info for Still Waters
It should come as no great shock that 'Still Waters', the second album from French producer and Ed Banger resident Breakbot, isn't a particularly surprising or challenging listen. That's by no means a criticism - the producer and his label mates have consistently created some of the best French house and modern disco of the last decade. But if you weren't expecting groovy basslines, disco synths and feel-good funk, then we're not sure you've been paying attention. The new album from the French producer, real name Thibaut Berland, doesn't deviate drastically from the formula, but would you want it to?
On 'Still Waters', the follow-up to his 2012 debut 'By Your Side', Berland takes as much (if not more) from the funk and disco of old as from the French electro of his label mates. He has directly cited the music of Curtis Mayfield, Prince and Michael Jackson as being influential on this album, and it really isn't much of a push to hear what he means. The King of Pop's presence is unmissable, no more so than on 'Arrested' and 'My Toy' which sound like they could be revamped versions of previously unheard Jacko songs (thanks in no small part to long-time collaborator Irfane's vocals). But there's a lot more to the album than a misty-eyed recreation of the classic boogie sound. It cleverly toes the line between obvious nostalgia for '70s and '80s disco/funk, the archetypal Ed Banger production, and aspects of the neo-soul, R&B, and groovy hip-hop that has recently made the likes of Kaytranada and Soulection so popular.
It's this variation that keeps your attention in what could otherwise become slightly repetitive over the course of the thirteen tracks, were it simply a disco/funk album done in the 'French touch' style. That's not to say Berland doesn't fall back on the comfortable production tropes of the genre - there are filters and phasers aplenty, and even a couple of frustratingly clichéd appearances from a robot voice effect. But for the most part this feels like a fresh edition of the tried and tested Breakbot and Ed Banger sound.
Most confusing about this album is the timing of its release. It feels strange listening to such a feel-good summer record with seemingly-unending rain and early evening darkness outside. Berland himself has described the album as 'the perfect soundtrack for a last barbecue around a swimming pool', which makes the early February release date even more puzzling. There's no reason fans won't still be playing 'Still Waters' when summer finally arrives, but for all its strengths we fear many listeners won't have the album at the top of the pile in a few months' time. (James Kilpin, clashmusic.com)
Thibaut Berland, keyboards, production
Irfane Khan-Acito, vocals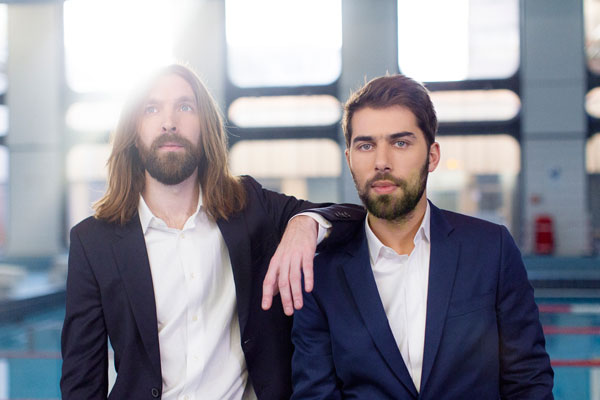 Breakbot
The story of Breakbot begins at the heart of the aughts in front of a computer with hands dancing over a keyboard. Thibaut Berland had just graduated from art school specialising in 3D animation and was working for different production companies. In his spare time, on his own, young Thibaut made a few remixes with the help of some handy softwares. His remix of 'Let There Be Light' by Justice landed on one of the duo's LPs produced by Ed Banger and its captain Pedro Winter. Following that first release, carried by the echo of MySpace, Breakbot earned himself a small reputation and started rearranging tracks for the likes of Metronomy, Digitalism and Data. He soon stopped working on images to concentrate on music.
In 2009, Breakbot signed on Ed Banger and published his first single the following year, Baby I'm Yours, a sugary retro track reflecting his best inspirations, between the Pacific pop of the Doobie Brothers and Chic's satin disco. To give his groove more shape, he called on singer Irfane's melodic voice. The singer, who is from Strasbourg with Yankee origins, had also made a name for himself in the mid-aughts by lending his Curtis Mayfield-like singing to the funky band Outlines.
Signed on the Berlin label Sonar Kollektiv, Outlines made a string of hit songs that ended up on Radio Nova's playlist, along with some great remixes for DJ Mehdi among others.
Breakbot and Irfane met toward the end of the years 2000 at a release party for Ed Banger colleague Krazy Baldhead and haven't left each other's side since.
After the Baby I'm Yours EP and a few other similar projects, Breakbot released his debut album in 2012 on Ed Banger. By Your Side, a sun-filled soundtrack with cheeky writing, where the bass line and the guitar answered each other in a rhythmic lovefest. Five of the thirteen album tracks were carried by Irfane's boogie voice.
Together, Breakbot and Irfane have presented By Your Side in all the big cities of the world on a tour that has lasted almost two years. This long meandering finally gave the two friends the idea to create a duo. Today, Breakbot isn't just a longhaired stringy guy, but a bubble in which Irfane has naturally found his place. Breakbot and Irfane are Breakbot. "I am Thibaut's break", routinely says Irfane.
In 2016, the new Breakbot version "one plus one" will release a second album, Still Waters, a new assortment of southern sunrays, with swinging images of dancefloors filled with guys in flowing trousers and bare-shouldered young girls. For this occasion, Breakbot and Irfane followed a well-oiled formula. They each cook-up outlines of rhythms and melodies that the two boys then modify, complete and prolong to reach a final draft. For Still Waters, which also contains 13 tracks, Breakbot have nonetheless tried out a few new moves: unlike the previous album, this one is more of a matrix with intricate workmanship, carved out with the help of old analogue machines rather than softwares. Some of these tracks were also happy accidents from improvisation sessions, ricochets of voices and chords born of old-school jamming sessions. Thirteen bouncy acts with Stevie Wonder and the Motown crowd in the background, spouts of funk and disco on a well-trodden dancefloor. Crafty ideas whipped-up in a vintage outfit with techno vibes and futuristic accelerations creating a perfectly current soundtrack. Tomorrow's retro.
With Still Waters, Breakbot introduces its new head along with a new uniform. With the help of art director Philippe Jarrigeon, the guy wearing short shorts and knee-high socks has become a character in a cocktail coloured costume, like a Florida prince. Image on music.

This album contains no booklet.