---
Album info
Album including Album cover Booklet (PDF)
?
Formats & Prices
| | | | |
| --- | --- | --- | --- |
| Format | Price | In Cart | Buy |
| FLAC 176.4 | $ 20.00 | | |
| FLAC 88.2 | $ 16.60 | | |
| DSD 128 | $ 22.80 | | |
| MQA | $ 20.90 | | |
Geirr Tveitt (1908 - 1981):

1

Tveitt: Eolsharpa

16:07

Christian Sinding (1865 - 1941):

2

Sinding: Sonate, op. 91: I. Allegro ma non troppo

11:53

3

Sinding: Sonate, op. 91: II. Andante

04:41

4

Sinding: Sonate, op. 91: III. Vivace

08:15

Alf Hurum (1882 - 1972):

5

Hurum: Eventyrland, op. 16: I. I den forheksede have

03:08

6

Hurum: Eventyrland, op. 16: II. Prinsessen leker med guldæblerne

03:06

7

Hurum: Eventyrland, op. 16: III. De tre trold

05:01

8

Hurum: Eventyrland, op. 16: IV. Det sner og det sner

03:07

9

Hurum: Eventyrland, op. 16: V. Tusselag

02:37

10

Hurum: Eventyrland, op. 16: VI. Nordlysdötrene

03:44

Edvard Grieg (1843 - 1907):

11

Grieg: Ballade, op. 24

23:29

Total Runtime

01:25:08
Info for Eventyr

This album is entitled "Eventyr" — a Norwegian word that conjures up fairy tales, stories of adventure and stories of fantasy. The tales and stories on this album are wild, beautiful, full of sorrow and of joy, and full of magic and love. Adventure stories inspire us and allow us to escape into the world of fantasy — and they bring us together.
Christian Grøvlen, piano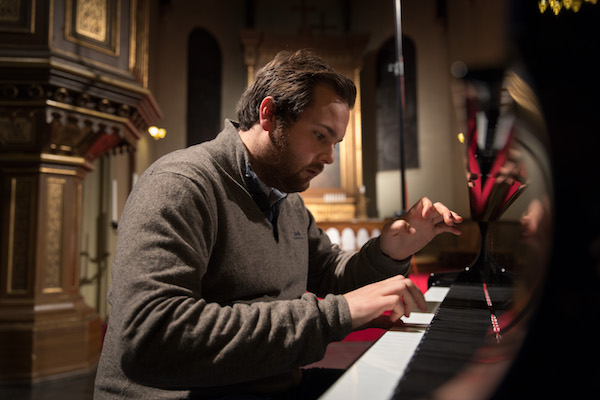 Christian Grøvlen
"(...)the last in a shining row of Norwegian piano phenomenas(...)" (klassiskmusikk.com), has played the piano since the age of 5 and is today regarded as one of Norways most prominent young and exciting artists. From the age of 15 studied with Professor Jiri Hlinka, and he still receives occasional lessons from him. Christian then entered the Norwegian Academy of Music where he studied with professor Håvard Gimse and professor Lars Anders Tomter. Christian graduated in 2015 when he made his debut in the University Aula in Oslo. He is currently based in Copenhagen where he is studying at The Royal Danish Academy of Music in the soloist program with professor Jens Elvekjær. Christian has also received artistic advice and instruction from Leif Ove Andsnes, Wolfgang Plagge and Ole Edvard Antonsen. In June 2016 he was awarded the Robert Levin Prize in Oslo. In 2017 he was given a two year grant for newly established artists by Arts Council Norway.
From his early teens he has appeared as soloist, accompanist and chamber musician. He has played at several of the largest festivals in Norway, including Festspillene i Bergen, Oslo Kammermusikkfestival, Nordlysfestivalen, Festspillene i Elverum, Vinterfestspillene and played with the Bergen Philharmonic Orchestra, Ensemble Allegria, Nordic Harmony and several other ensembles. He has also been invited to the Edvard Grieg Museum Troldhaugen almost every year for recitals since his teens.
Christian has worked with several great artist, such as Arve Tellefsen, Leif Ove Andsnes, Eldbjørg and Ragnhild Hemsing, Charlie Siem, Marianne Thorsen, Johannes Weisser, Eli Kristin Hanssveen, Knut Erik Sundquist among others. He has also worked regularly with Norwegian actor Minken Fosheim.
As a performer he has been noted for his poetic, extroverted and virtuosic playing and his large repertoire . He has a strong passion for Baroque music, J. S Bach, Rameau and Couperin in particular. Highlights from his active repertoire also includes Beethoven, Chopin, Liszt and the late romantic composers such as Sergei Rachmaninov and Leopold Godowsky, as well the music of Maurice Ravel, Claude Debussy, Alban Berg and Francis Poulenc. Grøvlen is also a composer. with his first commissioned work to be premiered in Aril 2017 by the Trondheim Soloists. His first album with keyboard works by Bach was recorded on the acclaimed Norwegian Label 2L and is expected to be released medio 2017.

Booklet for Eventyr