---
Album info
Album including Album cover
Franz Joseph Haydn (1732 - 1809): Cello Concerto No. 1 in C Major, Hob. VIIb:1:

1

Cello Concerto No. 1 in C Major, Hob. VIIb:1: I. Moderato

11:00

2

Cello Concerto No. 1 in C Major, Hob. VIIb:1: II. Adagio

09:19

3

Cello Concerto No. 1 in C Major, Hob. VIIb:1: III. Finale: Allegro molto

06:26

Gaspar Cassadó (1897 - 1966): Cello Concerto in D Major (After Mozart's Horn Concerto in E-Flat Major, K. 447):

4

Cello Concerto in D Major (After Mozart's Horn Concerto in E-Flat Major, K. 447): I. Allegro

08:22

5

Cello Concerto in D Major (After Mozart's Horn Concerto in E-Flat Major, K. 447): II. Romanze: Larghetto

05:46

6

Cello Concerto in D Major (After Mozart's Horn Concerto in E-Flat Major, K. 447): III. Allegro

05:47

Carl Philipp Emanuel Bach (1714 - 1788): Cello Concerto in B-Flat Major, Wq. 171, H. 436:

7

Cello Concerto in B-Flat Major, Wq. 171, H. 436: I. Allegretto

07:42

8

Cello Concerto in B-Flat Major, Wq. 171, H. 436: II. Adagio

07:30

9

Cello Concerto in B-Flat Major, Wq. 171, H. 436: III. Allegro assai

06:25

Total Runtime

01:08:17
Info for Haydn, Cassado & C.P.E. Bach: Cello Concertos

Cellist Valentin Radutiu presents this new release alongside the Munchener Kammerorchester, conducted by Stephan Frucht. + For this album, Radutiu has chosen works by Haydn, Mozart, and CPE Bach. + Frederik Hnssen of the Berliner Tagespiegel writes of Radutiu, "As long as young performers with such passion are still on the rise, no one needs to worry about the future of classical music."
"Enjoyable performances of these three classical concertos by cellist Valentin Radutiu." (MusicWeb International)
Valentin Radutiu, cello
Münchener Kammerorchester
Stephan Frucht, conductor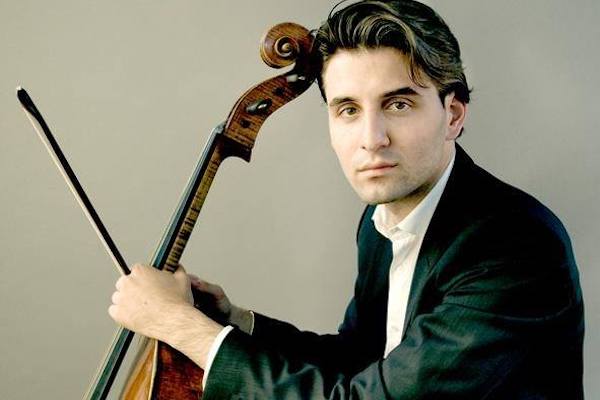 Valentin Radutiu
Praised by the Süddeutsche Zeitung forhis"glowing, distinctive and exciting masculine tone" as "one of the great cello-talents of our time" (Süddeutsche Zeitung, 15.10.2013), cellist Valentin Radutiu was born in Munich in 1986 and received his first cello lessons from his father at the age of six. He later studied in Salzburg, Vienna and Berlin with Clemens Hagen, Heinrich Schiff und David Geringas.
Valentin Radutiu has won national and international competitions, was distinguished several times at the "Jugend musiziert" competition and the Dotzauer Competition in Dresden, and won first prize at the International Karl Davidov Competition in Riga. In 2011 he was honored with the Music Prize of German Business, one of the most important prizes for up-and-coming young musicians in Germany. In 2012 Valentin Radutiu won second prize at the International Enescu Competition in Bucharest.
Starting with the 2012–13 season, Valentin Radutiu will be promoted by Bayer Kultur in its "stART" project. The goal of stART is to support young artists with intensive, tailored collaboration for a period of three years – both through regular concert appearances in Leverkusen and in the region, as well as by sponsoring specific artistic ideas and projects.
Valentin Radutiu has performed with the Deutsches Symphonie-Orchester Berlin, the Symphonieorchester des MDR, Münchener Kammerorchester, Camerata Salzburg, Bucharest's Filarmonica Enescu and the Radio-Symphony-Orchestra, the Latvian National Symphony Orchestra, Hong Kong Sinfonietta, Südwestdeutsches Kammerorchester Pforzheim, Prague Philharmonia, Stuttgarter Kammerorchester and the World Youth Symphony Orchestra and has appeared at the Beriner Philharmonie, Munich Prinzregententheater and Philharmonie, the Konzerthaus Berlin, Philharmonic Hall Riga, Bucharest Atheneum, Hong Kong City Hall, as well as numerous festivals (including the Schleswig-Holstein Musik Festival, Heidelberger Frühling, Cellobiennale Amsterdam, Honk Kong Arts Festival, SoNoRo, Fürstensaal Classix, Klangspuren Tirol).
His chamber music partners include the Hagen Quartett, Ib Hausmann, Evgeni Bozhanov, Diana Ketler, Igor Ozim, Alina Pogostkina, Antje Weithaas and the 12 cellists of the Berlin Philharmonic.
With his piano collaborator Per Rundberg, Radutiu has released several CD recordings: In addition to the 2011 debut CD an album with French works by Lalo, Ravel and Magnard is available; the 2014 release of the Complete works for cello and piano by George Enescu was praised by critics as a benchmark recording (Haenssler Classic). Radutiu's intensive collaboration with the composer and conductor Peter Ruzicka is documented by his premier recording of Ruzicka's cello concerto and cello chamber music.
In 2015, Radutiu's album "Remembering the rain" with jazz pianist Benjamin Schaefer will be released, as well as a CD with the Münchner Kammerorchester and cello concertos by Haydn, CPE Bach and Mozart.
Upcoming highlights are appearances in the Munich Herkulessaal (Dvorak cello concerto with Prague Philharmonia), recitals with pianist Evgeni Bozhanov at the Schleswig Hostein Musikfestival and concerts with the Deutsche Radiophilharmonie and Pablo Gonzales.
Radutiu plays a cello made by Francesco Ruggieri (Cremona, 1685).

This album contains no booklet.