---
Album info
Album including Album cover Booklet (PDF)
Robert Schumann (1810 - 1856): Spanisches Liederspiel, Op.74:

1

Spanisches Liederspiel, Op.74: In der Nacht

04:24

Clara Schumann (1819 - 1896): 3 Romances, Op.11:

2

3 Romances, Op.11: II. Andante - Allegro passionato - Andante

05:59

Robert Schumann: 3 Gesänge, Op.31:

3

3 Gesänge, Op.31: I. Die Löwenbraut

07:53

Clara Schumann:

4

Wenn ich ein Vöglein wär

01:08

Robert Schumann: 3 Gesänge, Op.31:

5

3 Zweistimmige Lieder, Op.43: Wenn ich ein Vöglein wär

01:27

3 Zweistimmige Lieder, Op.43:

6

Myrthen, Op.25: XV. Aus Den Hebräischen Gesängen (Mein Herz I=st Schwer)

04:32

Dichterliebe, Op.48:

7

Dichterliebe, Op.48: I. Im wunderschönen Monat Mai

01:32

8

Dichterliebe, Op.48: II. Aus meinen Tränen sprießen

00:45

9

Dichterliebe, Op.48: III. Die Rose, die Lilie

00:34

10

Dichterliebe, Op.48: IV. Wenn ich in deine Augen seh'

01:31

11

Dichterliebe, Op.48: V. Ich will meine Seele tauchen

00:55

12

Dichterliebe, Op.48: VI. Im Rhein, im heiligen Strome

02:28

13

Dichterliebe, Op.48: VII. Ich grolle nicht

01:27

14

Dichterliebe, Op.48: VIII. Und wüssten's die Blumen

01:12

15

Dichterliebe, Op.48: IX. Das ist ein Flöten und Geigen

01:17

16

Dichterliebe, Op.48: X. Hör' ich das Liedchen klingen

01:46

17

Dichterliebe, Op.48: XI. Ein Jüngling liebt ein Mädchen

00:52

18

Dichterliebe, Op.48: XII. Am leuchtenden Sommermorgen

02:16

19

Dichterliebe, Op.48: XIII. Ich hab' im Traum geweinet

02:36

20

Dichterliebe, Op.48: XIV. Allnächtlich im Traume

01:22

21

Dichterliebe, Op.48: XV. Aus alten Märchen winkt es

02:06

22

Dichterliebe, Op.48: XVI. Die alten, bösen Lieder

04:00

Sechs frühe Lieder Op. Post. (WoO 21):

23

Sechs frühe Lieder Op. Post. (WoO 21): Kurzes Erwachen

02:16

5 Lieder und Gesänge, Op.127:

24

5 Lieder und Gesänge, Op.127: I. Sängers Trost

02:05

3 Romanzen, Op.28:

25

3 Romanzen, Op.28: I. Sehr Markirt

03:22

26

3 Romanzen, Op.28: II. Einfach

03:23

4 Gesänge, Op.142:

27

4 Gesänge, Op.142: IV. Mein Wagen rollet langsam

03:03

Total Runtime

01:06:11
Info for Schumann: Dichterliebe

Julian Prégardien decided to record the Dichterliebe cycle after he came across the new Bärenreiter edition; he went on to explore the work in concerts with his constant accompanist, Eric Le Sage, inserting other works by Robert and also by Clara Schumann, whose bicentenary is celebrated in 2019. When Clara played the Dichterliebe in the 1860s, she used to slip extracts from Kreisleriana between the songs. Prégardien asked Eric Le Sage to record the same extracts on a Blüthner piano of 1856, the year of Roberts death, and also include Romances composed by both Robert and Clara at a time when their future marriage was still uncertain. The sublime ballade Löwenbraut also forms part of the programme a reminder of the young Roberts anguish on Claras departure. At Juliens suggestion, Sandrine Piau was invited to sing three duets: a simple Canon composed by Clara, and two duets by Robert, Wenn ich ein Vöglein wär, and the sublime In der Nacht. Four further songs complete the album: Sängers Trost, a short piece in belcanto style; Kurzes Erwachen, composed by Robert at the age of just eighteen; Aus den hebräischen Gesängen, a very melancholy song; an extract from the cycle Myrthen (Roberts wedding present to Clara); and Mein Wagen rollet langsam, a song that was included in the composers first version of Dichterliebe.
Julian Pregardien, Tenor
Eric Le Sage, Klavier
Sandrine Piau, Sopran (Tracks 1, 3, 4, 5)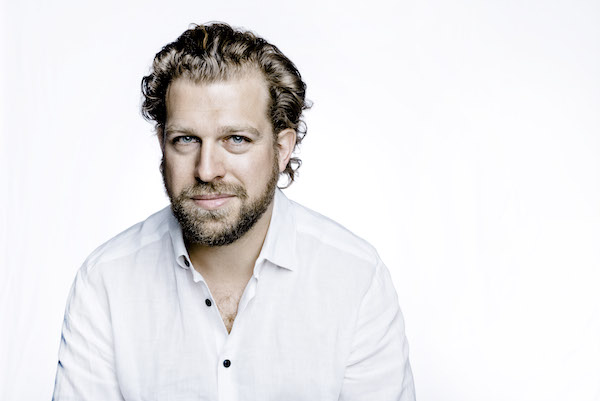 Julian Prégardien
Born in Frankfurt in 1984, tenor Julian Prégardien was trained in the choirs of Limburg Cathedral. After having studied voice in Freiburg and at the Aix-en-Provence Opera Festival Academy, he was a member of the soloist ensemble of Frankfurt Opera from 2009 to 2013. In parallel, he developed an international solo career, collaborating particularly often with conductors specialized in historical performance practice. 2008 marked his first collaboration with René Jacobs, his participation in a widely hailed recording of Bach's St John Passion with La Chapelle Rhénane, and his début performances at the Theater an der Wien (in Gluck's Ezio) and at Opéra de Monte Carlo (in Haydn's L'infedeltà delusa). His first Lieder recitals took place as a member of the "Young Elite" at Mecklenburg-Vorpommern Festival, as one of the "Jeunes Étoiles" at the Menuhin Festival in Gstaad, and at Rheingau Music Festival. In 2010 he went on European tour as soloist with Collegium Vocale Gent and Concerto Köln in Bach's Christmas Oratorio.
In the meantime, Prégardien has become one of the outstanding young vocalists on the international scene. In recent years he gave his début at Aix-en-Provence Festival, at Hamburg State Opera, at Bavarian State Opera in Munich, and at the Opéra Comique in Paris. Salzburg Festival has been regularly inviting for concert appearances since 2015; now he will give his first stage performance in Salzburg in 2018 as Narraboth in Richard Strauss's Salome, staged by Romeo Castellucci, with the Vienna Philharmonic conducted by Franz Welser-Möst.
Kent Nagano regularly invites Prégardien to perform with the two orchestras of which he is Music Director: Montreal Symphony Orchestra and Hamburg State Opera. Sharing the stage with his father Christoph Prégardien, Julian also sang the title role in a concert performance of Mozart's Idomeneo with the ensemble Concerto Köln, likewise with Nagano conducting.
Julian Prégardien has collaborated with René Jacobs and with Christophe Rousset in a great number of projects featuring opera and concert repertoire of the Baroque and Classical eras, including works by Lully, Charpentier, Rameau, Carissimi, Pergolesi, Bach, and Mozart.
He has sung the role of the Evangelist in widely hailed recordings of Bach's St John Passion and St. Matthew Passion with the Bavarian Radio Choir and Concerto Köln; in 2018 he will go on tour with Basel Chamber Orchestra in Bach's Christmas Oratorio; then, in 2019, he will sing the St. Matthew Passion with the Bach Collegium Japan. Prégardien will teach a master class in November 2018 on the subject of the St John Passion in collaboration with McGill University, the Montreal Bach Festival, the Université de Montréal, and the Conservatoire de Musique.
In his career, Julian Prégardien lays particular emphasis on Lied recitals along with chamber music projects. He was one of the vocalists selected to participate in the complete performance of the Lieder of Franz Schubert at the Schubertiade in Hohenems and Schwarzenberg (Austria), at Wigmore Hall, and at the new Boulez Hall in Berlin. Along with this father and the early music ensemble Anima Eterna conducted by Jos van Immerseel, he conceived a special Monteverdi recital featuring excerpts from the operas Ulisse and Orfeo along with madrigals: the programme was featured at the Salzburg Whitsun Festival, at Dresden Music Festival and at Versailles Castle.
In the course of the 2018/2019 season, Prégardien will perform Lied recitals with pianists Kristian Bezuidenhout, Michael Gees, Martin Helmchen, Eric le Sage, Rudi Spring, and Lars Vogt.
Prégardien has launched the media platform P.RHÉI, a multimedia editorial project that throws new light on the performance history and practice of Schubert's Winterreise. The project includes a recording of Hans Zender's orchestral version of Winterreise, to be released on the Alpha Classics label in 2018.
In November 2017, Julian Prégardien was appointed Professor of Voice at the Hochschule für Musik und Theater in Munich. He is a member of the Schumann Network and a patron of Canto elementar, a programme that actively supports children's singing activities in Kindergärten.

Booklet for Schumann: Dichterliebe