---
Album info
Album including Album cover
I`m sorry!
Dear HIGHRESAUDIO Visitor,
due to territorial constraints and also different releases dates in each country you currently can`t purchase this album. We are updating our release dates twice a week. So, please feel free to check from time-to-time, if the album is available for your country.
We suggest, that you bookmark the album and use our Short List function.
Thank you for your understanding and patience.
Yours sincerely, HIGHRESAUDIO
Claude Debussy (1862 - 1918):

1

Debussy: La damoiselle élue, L. 62: Prélude

03:51

Jean-Philippe Rameau (1683 - 1764):

2

Rameau:Le Rappel des oiseaux

02:40

3

Rameau: 6. Rigaudons 1, 2 & Double

01:01

4

Rameau: Musette en rondeau

03:13

5

Rameau: Tambourin

00:56

6

Rameau: La Villageoise

01:19

7

Rameau: Gigues en rondeau 1 & 2

03:42

Claude Debussy:

8

Debussy: Estampes, L. 100: 3. Jardins sous la pluie

03:57

9

Debussy: Children's Corner, L. 113: 3. Serenade for the Doll

01:58

10

Debussy: Children's Corner, L. 113: 4. The Snow Is Dancing

02:24

Jean-Philippe Rameau:

11

Rameau: Les tendres plaintes

02:36

12

Rameau: Les tourbillons

01:42

13

Rameau: L'entretien des Muses

02:58

Claude Debussy:

14

Debussy: Préludes / Book 1, L. 117: 6. Des pas sur la neige

03:52

Jean-Philippe Rameau:

15

Rameau: La joyeuse

00:57

16

Rameau: Les Cyclopes

02:52

17

Rameau. The Arts and the Hours

04:46

Claude Debussy:

18

Debussy: Préludes / Book 1, L. 117: 8. La fille aux cheveux de lin

02:23

19

Debussy: Préludes / Book 2, L. 123: 8. Ondine

04:13

20

Rameau: Cinquième concert: 2. La Cupis

04:11

Jean-Philippe Rameau:

21

Rameau: Quatrième concert: 2. L'indiscrète

01:06

22

Rameau: Quatrième concert: 3. La Rameau

02:13

23

Rameau: La Poule

02:39

24

Rameau: L'Enharmonique

03:53

25

Rameau: Menuets 1 & 2

02:43

26

Rameau: Les Sauvages

01:22

27

Rameau: L'Égyptienne

02:12

Claude Debussy:

28

Debussy: Images - Book 1, L. 110: 2. Hommage à Rameau

07:14

Total Runtime

01:18:53
Info for Debussy – Rameau

Hailed by the Los Angeles Times as an artist who "creates unique aural landscapes," Icelandic pianist V¡kingur Olafsson continues his acclaimed recording partnership with Deutsche Grammophon with the release of Debussy & Rameau. Following two albums featured in NPR Music's Top 10 Classical Albums (Glass in 2017 and Bach in 2018), Olafsson`s third album pairs works by two French composers separated by well over a century: Jean-Philippe Rameau and Claude Debussy.
Fresh from his hugely acclaimed and multi-award-winning album Johann Sebastian Bach, Icelandic pianist Víkingur Ólafsson's third Deutsche Grammophon recording pairs works by two revolutionary French composers separated by a century and a half: Jean-Philippe Rameau and Claude Debussy.
Debussy is most often called an impressionist. "People get lost a little bit in sound for the sake of sound", Ólafsson comments. But the composer was also "a real perfectionist… there is this incredibly refined structure at work." Rameau, "the bad boy of the French baroque", likewise combined a strong sense of structure with a fondness for breaking conventions: "He broke the rules and paved the way for new ideas, new creativity, new spontaneity." What unites the two composers, Ólafsson comments, is "a kind of freedom and discipline, juxtaposed".
The album 'Debussy · Rameau' alternates music by the two composers, creating an enthralling dialogue between them. Works are drawn from across both composers' careers, with the Debussy selection including well-known miniatures such as La Fille aux cheveux de lin as well as the less familiar Prelude to La Damoiselle élue arranged for piano solo. Rameau's works are mainly drawn from his Pièces de clavecin collections of between 1724 and 1741. One of the album's centrepieces is Ólafsson's own Rameau arrangement The Arts and the Hours.
"For me, Rameau is up there with Handel, Scarlatti, and second only to Bach," said Ólafsson as he introduced the evening. "It is simply genius keyboard writing.". His new album juxtaposes Rameau's music with that of Debussy, describing it as a "dialogue" between the two composers. He said that together they "defeat time and space with music".
Ólafsson gave the audience an insight into his repertoire choices for the album and performed a selection of works, including Debussy's Prélude from La Damoiselle élue, Rameau's Le Rappel des Oiseaux and his own transcription of an interlude from the opera Les Boréades entitled 'The Arts and the Hours'.
Víkingur Ólafsson's Debussy Rameau follows his critically-acclaimed 2019 recording Johann Sebastian Bach which was on numerous album of the year lists and named one of the greatest ever Bach recordings by Gramophone, plus it won Best Instrumental and overall Album of the Year at the BBC Music Magazine Awards 2019. Ólafsson was honoured at the Opus Klassik Awards, he was named Gramophone's Artist of the Year and Limelight's International Artist of the Year.
Víkingur Ólafsson, piano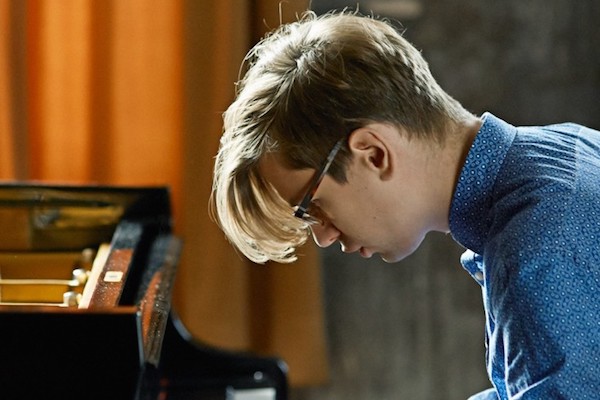 Víkingur Ólafsson
Possessing a rare combination of passionate musicality, explosive virtuosity and intellectual curiosity, Icelandic pianist Víkingur Ólafsson has won all the major prizes in his native country, including four Musician of the Year prizes at the Icelandic Music Awards as well as The Icelandic Optimism Prize.
Víkingur's 2016/17 season includes performances with NDR Elbphilhamonie Orchester and Los Angeles Philharmonic under Esa-Pekka Salonen, tour with Orkester Norden (Lawrence Foster) and concerts with Iceland Symphony Orchestra (Yan Pascal Tortelier) and MDR Sinfonieorchester (Kristjan Järvi). Since February 2016 he has taken over from Martin Fröst as Artistic Director of Vinterfest in Sweden while continuing in the same role for the award winning Reykjavík Midsummer Music, which he founded in 2012. In recital he will make his debut at Wiener Konzerthaus, Konzerthaus Berlin, Elbphilharmonie Hamburg, Louisiana Museum for Modern Art Denmark, La Folle Journée Festival as well in Leipzig and at the Istanbul Music Festival.
Víkingur signed an exclusive agreement with Deutsche Grammophon in November 2016. His debut album for DG will feature the piano works of Philip Glass and is set to be released in time for the composer's 80th birthday in January 2017. In 2015 Víkingur recorded solo works by Igor Stravinsky for the company's complete works edition of the composer and before that, he released 3 albums on his own label, Dirrindí Music. The first two were solo discs; 'Debut', (showing "exceptional perception and depth of maturity," said EPTA Journal) and 'Chopin-Bach' (prompting Piano News Magazine to say "Immense talent … you must listen to this young pianist!"). His third album was a double CD/DVD release of 'Winterreise' with bass Kristinn Sigmundsson, which won the Album of the Year award at the Icelandic Music Awards 2012.
Víkingur has premiered five piano concertos to date and worked with composers including Philip Glass, Mark Simpson and Daníel Bjarnason. He has collaborated with leading artists from diverse fields, such as Roman Signer, Lillevan and Yann Malka, and appeared at festivals such as Busoni and Transart (Bolzano), MITO SettembreMusica (Milano) and Nordic Cool (Washington DC). When it comes to his relationships with other musicians, Víkingur has worked with Sayaka Shoji, István Várdai, Martin Fröst, Pekka Kuusisto and Björk.
Away from the concert stage, Víkingur is the driving force behind numerous innovative musical projects. Most recently the classical music television series, Útúrdúr (Out-of-tune), produced for the Icelandic National Broadcasting Service in 2013-14, was broadcast to unanimous critical and public acclaim.
Víkingur grew up in Iceland where he studied with Erla Stefánsdóttir and Peter Máté. He holds Bachelor's and Master's degrees from The Juilliard School, where he studied with Jerome Lowenthal and Robert McDonald.

This album contains no booklet.